Kafta Batata Recipe | Dawat | Abida Baloch | Lebanese Food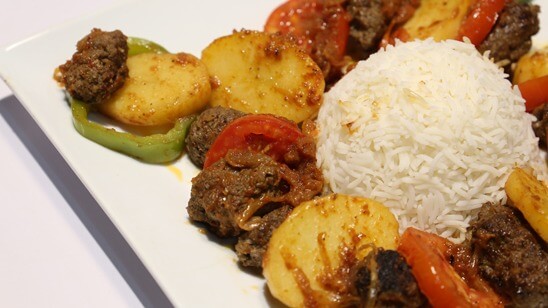 Mar 21, 2023 at 03:29 AM (GMT -04:00)

Check out the Kafta Batata Recipe in Urdu. Learn how to make best Kafta Batata Recipe , cooking at its finest by chef Abida Baloch at Masala TV show Dawat. Check all the Pakistan Cooking recipes in Urdu of Masala TV. Also Check Kafta Batata Recipe , ingredients and complete Method.
Kafta Batata is just the change of taste you are looking for. Try making this authentic Lebanese dish at home and enjoy every ounce of it!
Watch this Masala TV video to learn how to make Kafta Batata,Murgh Khaas and Aish El Saraya Recipes. This show of Dawat with Chef Abida Baloch aired on 30 July 2020.
Ingredients for kafta patties:
Chopped coriander ½ cup
Onion chopped 1
Beef minced 300 gm
All spice powder 1 tablespoon
Cumin 1 teaspoon
Cinnamon 1 teaspoon
Coriander 1 teaspoon
Paprika pepper ⅛ teaspoon
Salt 1 teaspoon
Black pepper ½ teaspoon
Tatar powder 1 tbsp
For Stew:
Oil 1/2 cup
Potatoes sliced 6-8
Onion sliced 1
Tomatoes sliced 2
Green pepper sliced ½
Tomato sauce 1 cup
Salt to taste
Rice to serve
Methods:
Mix all ingredients of kafta give a shape of oval and form into kabab fry well. For stew heat oil add potato slices fry well. Fry onion add tomato puree and tender potato. Add salt and black pepper cook. Add kafta kabab, capsicum and tomato sliced, give simmer. Serve with rice.
Ingredients for Custard:
Milk 1/2 liter
Condensed milk 1 cup
Cream 1 cup
Corn flour 5 tablespoon
Rose water 2 teaspoon
For Sweet Syrup:
Water 1 cup
Sugar 1 cup
Lemon juice 1 tablespoon
Rose water 1 tablespoon
Other Ingredients:
Toasted rusk 20
Crushed pistachios to garnish
Rose petals to garnish
Method:
For Sweet Syrup: Heat a small saucepan and add sugar, water, and lemon juice. Once the sugar has completely dissolved, add rose water Stir well and bring to a steady boil. As soon as it starts to boil, switch off the flame and let the sugar syrup cool down.
Line the square dish with bread rusk side by side. You can either make a single layer or a double layer of rusk, according to your choice. Pour the sugar syrup over the rusk and set aside to let it soak and soften for some time.
For Custard: Take half cup of cold milk (from 1/2 liter) and mix in cornflour. Whisk well to remove all the lumps. In a saucepan combine together rest of the milk, cream, condensed milk, rose water, 1/2 cup cornflour-milk. Heat it on the medium flame and keep stirring to avoid any lumps. As you keep stirring, the custard will slowly start to thicken but maintain a pouring consistency. This will take around 5 minutes.
Slightly cool the custard for few minutes and then pour it over the soaked bread rusk by spreading it evenly. Sprinkle crushed pistachios on the top along with rose petals and set it in the refrigerator for 4 to 5 hours.
Cut into square pieces and serve chilled.

Kafta Batata Recipe in Urdu and English
At Masala TV you can check complete Kafta Batata Recipe in Urdu and English. This is one of the best recipes by chef Abida Baloch at Masala TV show Dawat. Check out the other best recipes of chefs Abida Baloch.
Top relevant recipes of Kafta Batata Recipe in Urdu