Kofta Aalu Recipe | Tarka | Masala TV | Rida Aftab | Desi Food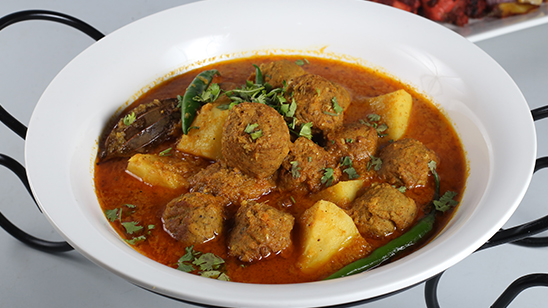 Sep 23, 2023 at 07:53 AM (GMT -04:00)

Check out the Kofta Aalu Recipe in Urdu. Learn how to make best Kofta Aalu Recipe , cooking at its finest by chef Rida Aftab at Masala TV show Tarka. Check all the Pakistan Cooking recipes in Urdu of Masala TV. Also Check Kofta Aalu Recipe , ingredients and complete Method.
Here is the step by step recipe of Kofta Aalu that you can make anytime and for any occasion. A recipe that can never go wrong in a desi household.
Watch this Masala TV video to learn how to make Kofta Aalu , Pizza Sandwich and Tandoori Chicken Recipes. This show of Tarka with Chef Rida Aftab aired on 24 September 2021.
Ingredients:
Chicken balls 1packet
Potatoes 2
Yogurt 1cup
Tomatoes ground ½ cup
Onion paste 1cup
Dried fenugreek 1tsp
Cumin 1tsp
Black pepper 1tsp
Bay leaves 2
Red chili 2tsp
Salt 1tsp
Turmeric 1tsp
All spice powder ½ tsp
Coriander as required
Green chilies as required
Oil ½ cup
Ginger garlic 2tsp
Method:
Heat oil and fry chicken koftas and remove it. now in oil add fenugreek seeds ,cumin ,black pepper and bay leaves add .then add red chili powder ,salt ,turmeric ,all spices and ginger garlic add .after this add onion and roast well .now add yogurt and grinded tomatoes .then 2 cup of water and potatoes add .when potatoes tender then add koftas ,green chili and green coriander mix and stove off after 5 minutes .
Ingredients:
Boneless chicken ½ kg
Bread 1
Ketchup 1 cup
Mayonnaise 1 cup
Oregano 1 tsp
Crushed red chili 1 tsp
All spice 1 tsp
Salt ½ tsp
Garlic 1 tsp
Olives 6
Capsicum 1
Mozzarella cheese ½ cup
Parmesan powder as required
Oil 4 tbsp
Method:
Put crushed red chili, salt, all spice, garlic and oil on chicken and leave for 10 minutes. Now put it in pan and cook on high flame. Then grease a pan and put layer of bread. Then add ketchup and chicken. Put bread slices again. Then add mayonnaise, ketchup, chicken, cheese, Parmesan powder, olives and capsicum and bake it.
Ingredients:
Chicken ½ kg
Cumin (Ground, Roasted) 1 tsp
Crushed Pomegranate seeds 2 tbsp
Chaat Masala 1 tbsp
Red Chili Powder 1 tsp
Salt 1 tsp
Black Pepper Powder 1 tsp
Lemon Juice 4 tbsp
Oil ½ cup
All Spice Powder 1 tsp
Carom seeds 1 tsp
Yogurt ½ cup
Green Chilies 2
Onion 2
Tomato 2
Ginger Garlic 1 tbsp
Beet root water 4 tbsp
METHOD:
In a clean bowl, add yogurt, roasted ground cumin, ground pomegranate seeds, chaat masala, red chili powder, salt, black pepper powder, oil, lime juice, all spice powder, celery powder, ginger garlic and beet root water. Mix everything well and set aside. Meanwhile, give cuts on the chicken and pour all the yogurt mixture evenly and marinate for 1 hour. Once it is well marinated, heat oil in a wok and and cook the chicken for at least 20 minutes, until the water dries.
After it is done, transfer the chicken on a baking tray, add tomatoes and onions on the side of the tray and grill it for 10 minutes. Serve hot.

Kofta Aalu Recipe in Urdu and English
At Masala TV you can check complete Kofta Aalu Recipe in Urdu and English. This is one of the best recipes by chef Rida Aftab at Masala TV show Tarka. Check out the other best recipes of chefs Rida Aftab.
Top relevant recipes of Kofta Aalu Recipe in Urdu