Kolhapuri Egg Curry Recipe | Dawat | Abida Baloch | Desi Food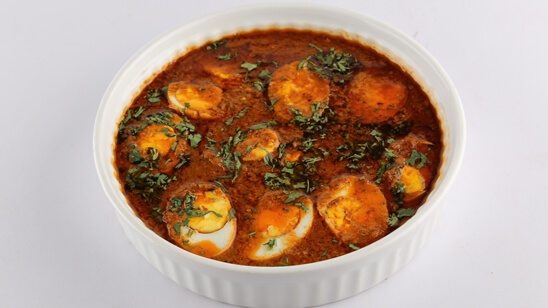 Sep 25, 2023 at 03:16 PM (GMT -04:00)

Check out the Kolhapuri Egg Curry Recipe in Urdu. Learn how to make best Kolhapuri Egg Curry Recipe , cooking at its finest by chef Abida Baloch at Masala TV show Dawat. Check all the Pakistan Cooking recipes in Urdu of Masala TV. Also Check Kolhapuri Egg Curry Recipe , ingredients and complete Method.
A spicy, full of taste, and an easy Desi Egg Curry with hard boiled eggs cooked in aromatic Desi spices and coconut. This simple egg curry is the best way to serve Indian Dinner under 25 minutes!
Watch this Masala TV video to learn how to make Kolhapuri Egg Curry and Paya Masala Recipes. This show of Dawat with Chef Abida Baloch aired on 7 December 2020 .
Ingredients:
Eggs (boiled and peeled) 5
Oil 1/2 cup
Tomato puree 3 medium
Turmeric powder 1/2 tsp
Red chili powder 1/4 tsp
Salt to taste
Fresh coriander for garnish
For Kolhapuri Masala:
Kashmiri red chilies 2
Coriander seeds 1 tbsp
Cumin seeds 1 tsp
Desiccated coconut 1tsp
Sesame seeds 1 tsp
Whole black peppercorns 2-3
Cinnamon stick 1
Poppy seeds 1/2 tsp
Fenugreek seeds a pinch
Fennel seeds 1/2 tsp
Other Ingredients:
Onion (chopped) 1
Garlic 5 cloves
Fresh coriander as required
Oil 1 tbsp
Method:
For Kolhapuri Masala:
In a heavy bottomed pan, roast all the dry ingredients until you can get aromatic smell coming from the spices. Once roasted, transfer to another bowl and keep it aside. In the same pan, add 2 tablespoons of oil. Once the oil is heated up, add the onions and the garlic and sauté until it is cooked and translucent and lightly browned. Once done, turn off the heat and allow it to cool slightly. Once the roasted spices cools down and the onion garlic has cooled down, blend all of them together including the coriander leaves to make a smooth paste. Apply 1/4 Tsp turmeric and 1/4 Tsp chili powder on the surface of boiled eggs and fry them golden. Keep aside. Heat the remaining oil in the heavy bottomed pan again and add the ground spice mixture and salt, Fry till the oil surfaces
After the masala is done, add tomato puree and allow the masala to simmer more on very low flame. The oil will start floating again after a few minutes, at which point drop the golden fried eggs in the masala and switch off the flame.
Remove the egg masala in the serving dish and garnish with fresh coriander. Serve hot
Ingredients:
Mutton trotters 4
Clarified butter 1 cup
Onions 2
Garlic 1- ½ tbsp
Ginger 1 tbsp
Paya masala ½ packet
Red chili powder 1-½ tbsp
Salt 2 tsp
Turmeric powder 1tsp
Coriander powder 1 tbsp
Yogurt 1cup
Water 6-7 cups
All spice powder 1 tbsp
Fresh coriander for garnish
Green chilies for garnish
Ginger (julienne) for garnish
Lemon wedges as required
Red chili 1 tsp
Method:
Boil trotters with ginger and garlic. Then strain trotters and keep stock aside. Cook trotters in clarified butter. Then dissolve salt, turmeric, red chili powder, paya masala and coriander powder in water and keep aside. Now add these dissolved spices in trotters and cook well. Beat yogurt well then add to trotters and cook well. When oil comes up then add stock and cook. Add all spice powder. In last give onion and red chili sizzling to trotters. Then add fresh coriander, lemon wedges, ginger and green chilies then serve.

Kolhapuri Egg Curry Recipe in Urdu and English
At Masala TV you can check complete Kolhapuri Egg Curry Recipe in Urdu and English. This is one of the best recipes by chef Abida Baloch at Masala TV show Dawat. Check out the other best recipes of chefs Abida Baloch.
Top relevant recipes of Kolhapuri Egg Curry Recipe in Urdu