Korean Beef Bulgogi Recipe | Food Diaries | Chef Zarnak Sidhwa | Fusion Food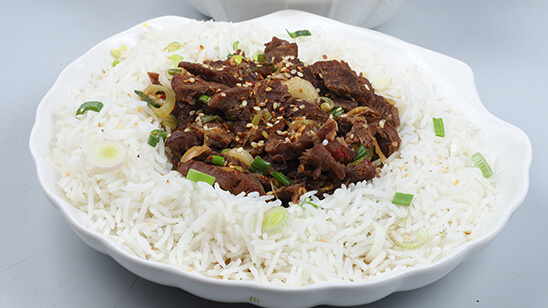 Nov 28, 2023 at 08:25 PM (GMT -05:00)

Check out the Korean Beef Bulgogi Recipe in Urdu. Learn how to make best Korean Beef Bulgogi Recipe , cooking at its finest by chef Zarnak Sidhwa at Masala TV show Food Diaries. Check all the Pakistan Cooking recipes in Urdu of Masala TV. Also Check Korean Beef Bulgogi Recipe , ingredients and complete Method.
Korean Beef Bulgogi is a popular Korean dish that pleases everyone's taste buds!
Watch this Masala TV video to learn how to make Korean Beef Bulgogi and Coconut Tart Recipes. This show of Food Diaries with Chef Zarnak Sidhwa aired on 23 June 2021.
Ingredients:
Beef undercut strips ½ kg
Soy sauce 1/3 cup
Brown sugar 1/4 cup
Sesame seeds 2 tbsp
Sesame oil 1 tbsp
Garlic (minced) 3 cloves
Red chili flakes 1/2 tsp
Ginger (ground) 1/2 tsp
Oyster sauce 2 tsp
Green onions (sliced) 1/2 cup
Oil as required
Method:
Combine soy sauce, brown sugar, sesame seeds, sesame oil, garlic, red chili flakes, ginger, and oyster sauce. Mix the beef strips until well coated. Let marinade for 1 hour in the refrigerator. Heat a wok over high heat. Pour the meat in with the marinade and cook on high until meat is cooked through. This should take less than 5 minutes. Do not overcook or the beef will harden. Serve hot over rice and top with green onions.
Ingredients For The Short crust Pastry:
Unsalted butter (chilled and cubed) 120 gm
Icing sugar 25 gm
Egg yolk 1
Flour 200 gm
Salt a pinch
For The Coconut Filling:
Eggs 2
Caster sugar 150 gm
Coconut milk 60 gm
Milk 60 gm
Butter (melted) 50 gm
Yellow food coloring 3 drops
Desiccated coconut 90 gm
Method:
To make the pastry, mix flour, icing sugar and salt together. Add chilled butter cubes and rub into the flour until the mixture resembles breadcrumbs. Add egg yolk, and cut into the flour-butter mixture with a dough scraper until the dough starts to come together. Finish up kneading by hand until the dough is smooth. Do not over-knead or else the pastry will be tough. Refrigerate while you make the filling.
To make the coconut filling, combine eggs, sugar, milk, coconut milk and yellow food color. Add in melted butter and desiccated coconut and stir to combine well.
Line the tart moulds with pastry dough, pressing gently into the molds. The thickness should ideally be between 3 – 4 mm. Line the tart shells with a cut square of baking paper. Fill with baking beans or rice. OR instead of using weights, lightly prick the base with a fork. Bake in the oven for 10 to 15 minutes, or until the tart shells are a light golden brown. Remove the baking beans and baking paper. Spoon the coconut filling into each tart shell. Do not spoon too much liquid, leaving about a 2-mm border around the tart edge clear of filling. Note: If desired, strain the coconut filling before filling. Do not press any juices out from the flesh when you do this, as it should be soaked as heavily as possible. Then, fill tart shells with the flesh. Finally, spoon just enough of the liquid custard to fill up to almost the edge of the tart. Don't overdo it, otherwise the custard will bubble over the edges of the shells during baking.
Bake for 25 to 30 minutes or until coconut tops brown evenly. Bake for a few minutes longer if you like the crusted tops. Remove from oven and let the tarts cool in their moulds for 15 minutes. Gently remove from tart moulds and cool on a baking rack.

Korean Beef Bulgogi Recipe in Urdu and English
At Masala TV you can check complete Korean Beef Bulgogi Recipe in Urdu and English. This is one of the best recipes by chef Zarnak Sidhwa at Masala TV show Food Diaries. Check out the other best recipes of chefs Zarnak Sidhwa.
Top relevant recipes of Korean Beef Bulgogi Recipe in Urdu