Korean Grilled Chicken Recipe | Dawat | Abida Baloch | Korean Food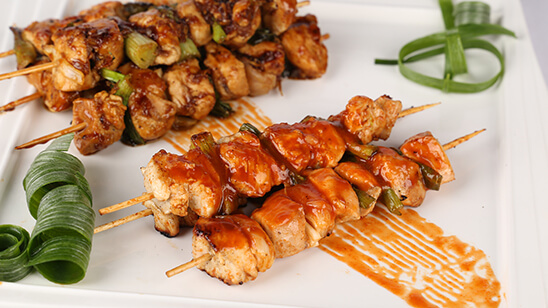 Sep 22, 2023 at 04:46 PM (GMT -04:00)

Check out the Korean Grilled Chicken Recipe in Urdu. Learn how to make best Korean Grilled Chicken Recipe , cooking at its finest by chef Abida Baloch at Masala TV show Dawat. Check all the Pakistan Cooking recipes in Urdu of Masala TV. Also Check Korean Grilled Chicken Recipe , ingredients and complete Method.
Korean Grilled Chicken is fiery, wholesome and delicious. Take a break from your regular grilled chicken recipes and give it a Korean twist this time.
Watch this Masala TV video to learn how to make Korean Grilled Chicken and Eggplant Balls with Noodles Recipes. This show of Dawat with Chef Abida Baloch aired on 5 January 2021.
Ingredients For Chicken:
Boneless chicken 500 gm
Rice vinegar 2 tbsp
Salt to taste
Black pepper to taste
Oil 2 tbsp
Spring onion 1 cup
For Dakkochi Sauce:
Tomato ketchup 1/4 cup
Korean chili paste 2 tbsp
Sweet sauce 1/4 cup
Soy sauce 1 tbsp
Sesame oil 2 tsp
Minced garlic 1/2 tsp
Sriracha 1 tbsp
Black pepper 1/4 tsp
For The Sweet Sauce:
Soy sauce 1/2 cup
Honey 3 tbsp
Brown sugar 3tabs
Minced ginger 1 tsp
Minced garlic 1 tsp
Water 2 Tbsp
Corn flour 1/2 Tbsp
Method:
Soak 6 to 8 bamboo skewers in water at least 30 minutes to an hour. Combine all ingredients of dakkochi sauce in a medium bowl. Mix them well. Set it aside until needed. Combine all the ingredients of sweet sauce in a sauce pan and boil it over medium low heat until it starts lightly bubbling. In the mean time, combine the water and corn flour in a small bowl and whisk it well set aside. It should be runny.
Combine all the ingredients of chicken and Put through chicken and green onion pieces onto a skewer in alternating order. Make sure all the meat and green onions are tightly packed. Place the chicken skewers on a grill cook them over medium low heat and start brushing your choice of sauce onto the chicken and green onions, turn the skewer over again and brush the sauce. Continue to turn the skewers and brush the sauce on the skewers until the chicken is fully cooked, Serve immediately.
Ingredients:
Spaghetti (boiled) 1packet
Oil 2 tbsp
Onion (diced) 1 medium
Garlic (minced) 3 cloves
Eggplant (chopped) 2 medium
Basil (chopped) 1/2 cup
Red chili flakes 1tsp
Bread crumbs 1 cup
Italian seasoning 1 tsp
Salt to taste
For The Sauce:
Tomato ketchup 4 tbsp
Soy sauce 4 tbsp
Chili sauce 4 tabs
Yogurt 4 tbsp
Salt and pepper to taste
Oil 4 tbsp
Method:
Preheat the oven at 180 c. Heat oil in medium skillet over medium heat. Add the onion and sauté until soft and translucent. Add the garlic and continue to sauté about 1 minute more. Add the eggplant and continue to cook for about an additional 10-15 minutes, flipping occasionally, or until the eggplant is soft. Allow to cool. Place the eggplant mixture into a large mixing bowl, and stir in all remaining ingredients and then shape the mixture into 1-inch balls and bake or fry them. Mix all the ingredients of sauce and cook them in a pan until become thickened. Now mix with Noodles and serve with balls and garnish with basil leaves.

Korean Grilled Chicken Recipe in Urdu and English
At Masala TV you can check complete Korean Grilled Chicken Recipe in Urdu and English. This is one of the best recipes by chef Abida Baloch at Masala TV show Dawat. Check out the other best recipes of chefs Abida Baloch.
Top relevant recipes of Korean Grilled Chicken Recipe in Urdu