Lemon Mousse Recipe | Food Diaries | Zarnak Sidhwa | Dessert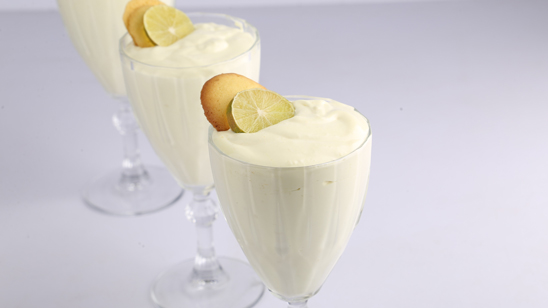 Jun 19, 2021 at 05:17 PM (GMT -04:00)

Check out the Lemon Mousse Recipe in Urdu. Learn how to make best Lemon Mousse Recipe , cooking at its finest by chef Zarnak Sidhwa at Masala TV show Food Diaries. Check all the Pakistan Cooking recipes in Urdu of Masala TV. Also Check Lemon Mousse Recipe , ingredients and complete Method.
Lemon Mousse has a a fluffy texture combined with zesty and creamy flavors that taste like heaven. Try this mousse today!
Watch this Masala TV video to learn how to make Lemon Mousse and Japanese Rice Crackers Recipes. This show of Food Diaries with Chef Zarnak Sidhwa aired on 3 November 2020.
Ingredients:
caster sugar 2/3 cup
lemons, rind finely grated, juiced 2 large
Egg yolks 2
cream cheese 1/2 cup
sour cream 1/4 cup
cream 3/4 cup
To garnish:
Few crushed almond biscuits few
Finely grated lemon as required
Method:
Rub sugar and 1 tbsp lemon rind between fingertips until moist and fragrant. Whisk in 1/3 cup lemon juice and the egg yolks until well combined. Place the bowl over a medium saucepan of simmering water. Using an electric mixer, whisk the lemon mixture for 6 minutes or until light, fluffy and thick enough to coat back of a spoon. Set aside for 10 minutes to cool. Beat the cream cheese and sour cream into the lemon mixture until well combined. Gently fold in the whipped cream until combined. Divide mousse among serving bowls. Place in the fridge to chill for 1 hour or until set. Sprinkle the crushed almond biscuits and extra lemon rind over the mousse to serve.
Ingredients for Whole Spices:
Bay leaves 2
Cloves 4
Cardamoms 4
Star anise 1
Cinnamon 1
Mace 2
Cumin seeds 1tsp
Nigella ½ tsp
For Ground Spices:
Coriander Powder ½ tsp
Kashmiri Red Chilli Powder ½ tsp
all spice powder ¼ tsp
Other Ingredients:
Rice flour ½ cup
Cooked rice ½ cup
Butter (unsalted) 2 tbsp
Ginger ¼ tsp
Garlic minced ¼ tsp
Salt to taste
Water or Vegetable stock as required
Method:
Heat butter, add the bay leaves, star anise, cardamom, nigella seeds, cinnamon and cumin and saute till the aromas are released. Once done mix in the coriander powder, chilli powder, all spice powder, ginger and garlic and fry for a few seconds. Turn off the heat and cover with a lid and let this spicy mix rest for about half an hour. Remove the bay leaf, cardamom peels, cloves, mace and cinnamon stick from the spicy butter. Mix in the cooked rice and sifted rice flour and salt to the spicy butter and bring the mixture together. Knead into a firm dough. You may add water if needed. This depends on how moist or dry your cooked rice is. Roll out the Rice Crackers dough and cut out desired shapes. Place on a baking tray lined with silicon sheet. Bake at 150 degrees for 10 minutes. Flip the crackers and continue to cook for another 5 minutes till the rice crackers turn light brown and crisp. Allow the Rice Crackers to cool and store in an airtight jar once completely cooled.

Lemon Mousse Recipe in Urdu and English
At Masala TV you can check complete Lemon Mousse Recipe in Urdu and English. This is one of the best recipes by chef Zarnak Sidhwa at Masala TV show Food Diaries. Check out the other best recipes of chefs Zarnak Sidhwa.
Top relevant recipes of Lemon Mousse Recipe in Urdu