Nargisi Koftay Recipe | Zubaida Tariq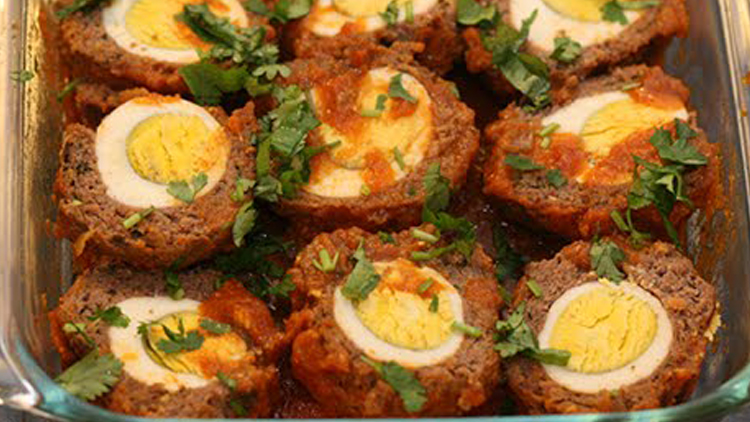 Jul 01, 2022 at 06:15 PM (GMT -04:00)

Check out the Nargisi Koftay Recipe in Urdu. Learn how to make best Nargisi Koftay Recipe, cooking at its finest by chef Zubaida Tariq at Masala TV show . Check all the Pakistan Cooking recipes in Urdu of Masala TV. Also Check Nargisi Koftay Recipe, ingredients and complete Method.
Ingredients
Eggs 8
Beef / Mutton Mince 1 kg
Onions 2
Almonds 6
Black Peppercorns 8
Small Cardamom 8
Salt to taste
Black Cumin 1 tsp
Red Chili Powder 1 tsp
Roasted Black Gram 2 tbsp
Poppy Seeds 2 tbsp
For Salan:
Yogurt ½ cup
Chopped Onions 3
Clarified Butter/ Oil 1 cup
Small Cardamom 4
All Spice Powder 1 tsp
Red Chili 1 tbsp
Ginger Garlic Paste 1 tbsp
Coriander Powder 2 tbsp
Salt to taste
Methods
Boil ½ mince and keep the other half unboiled.
Chop onion and fry till golden brown. Take it out and let it dry.
Grind together, poppy seeds, cumin, chopped almonds, black peppercorn, salt, 2 tbsp roasted gram, black cumin, black cumin, small cardamom and red chili and grind together.
Add in grinded Masala in the boiled mince and add crushed onion and chop evething together. mix in beaten egg and mix everything together.
Take mince in your hand and keep an egg in between and make a kabab.
Heat oil and fry all the nargisi koftay.
In ½ cup yogurt, add in 1 tbsp all spices, 2 tbsp coriander powder. Small cardamom,ginger garlic paste and salt and half of the onion.
Cook this Masala and add in koftas in it. Add in 1 cup hot water.
When oil separates, simmer it for 5 mins.
Dish it out.
Garnish it with fried onions and serve.

Nargisi Koftay Recipe in Urdu and English
At Masala TV you can check complete Nargisi Koftay Recipe in Urdu and English. This is one of the best recipes by chef Zubaida Tariq at Masala TV show . Check out the other best recipes of chefs Zubaida Tariq.
Top relevant recipes of Nargisi Koftay Recipe in Urdu