Nuggets Salad Recipe | Tarka | Rida Aftab | Desi Food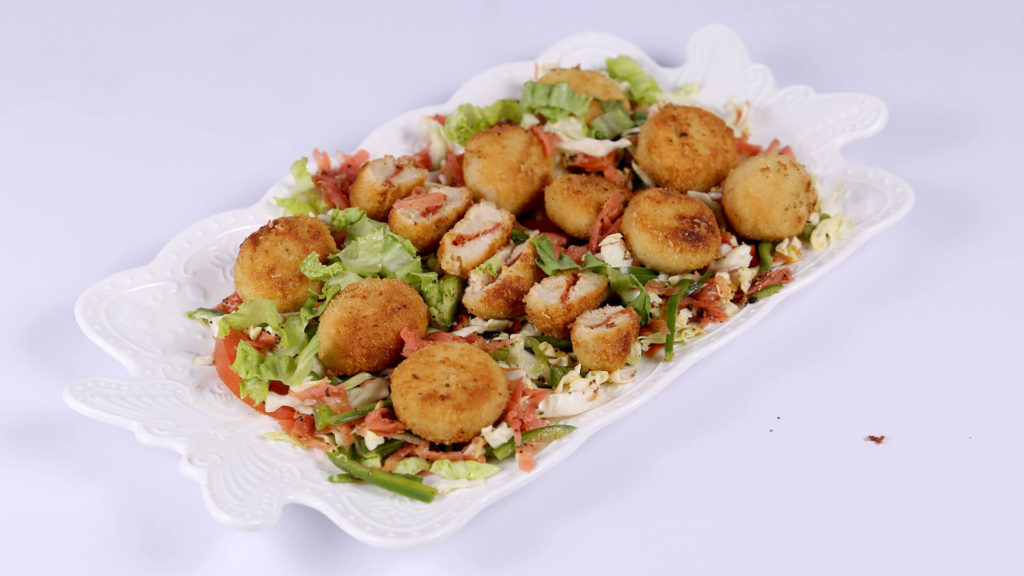 Aug 15, 2022 at 11:39 PM (GMT -04:00)

Check out the Nuggets Salad Recipe in Urdu. Learn how to make best Nuggets Salad Recipe, cooking at its finest by chef Rida Aftab at Masala TV show Tarka. Check all the Pakistan Cooking recipes in Urdu of Masala TV. Also Check Nuggets Salad Recipe, ingredients and complete Method.
Nuggets Salad is the perfect way to enjoy your salad. Healthy and tasty, this can be consumed by everyone!
Watch this Masala TV video to learn how to make Nuggets Salad ,Special Yakhni Pulao and Chicken Kastoori Recipes. This show of Tarka with Chef Rida Aftab aired on 7 January 2020.
Ingredients:
Nuggets 1packet
Cabbage 1cup
Carrot 1
Tomatoes 1
Black pepper ½ tsp
Salt ½ tsp
Chili sauce 1tsp
Onion 1
Coriander ½ bunch
Lemon juice 1tbsp
Olive oil 1tbsp
Method:
Fry nuggets and set aside, now cut the veggies finely , now in a bowl add veggies, nuggets , black pepper, salt , coriander , lemon juice, chili sauce and olive oil and mix and serve.
Ingredients:
Beef Meat ½ kg
Rice (soak for ½ hour) ½ kg
Tomatoes 250 gm
Green chilies 10
Onion 2
Salt 2 tsp
Fennel seeds 2 tsp
Whole coriander 2 tsp
Cumin 1 tsp
Cardamoms 4
Black cumin 1 tsp
Black pepper (whole) 1 tsp
Bay leaves 2
Ginger garlic paste 1 tsp
Mint leaves 1 bunch
Oil ½ cup
Method:
Boil ½ kg meat with 1 onion, 250 gm tomato, 2 tsp whole coriander, 2 tsp fennel seeds, 2 tsp salt and 4 glass of water on low flame. Turn the flame off when meat is tender and the stock is reduced to half. In another pan heat ½ cup oil and fry onion till light golden. Add whole spices along with 1 tsp ginger garlic paste and boiled meat and cook for 1-2 minutes. Add stock, when boils add rice. When water dries add mint leaves and green chilies. Cover and cook for 15 minutes on low flame. Dish out and serve.
Ingredients:
Chicken ½ kg
Ginger Garlic Paste 1 tbsp
Garam Masala Powder 1 tsp
Lemon Juice 4 tbsp
Black Pepper 1 tsp
White Chili ½ tsp
Salt 1 tsp
Butter 50 gm
Red Chilies (crushed) 1 tsp
Cumin Seeds (roasted) 1 tsp
Pistachios Powder 2 tbsp
Cheddar Cheese 1 cup
Oil 4 tbsp
METHOD:
• Marinate chicken with black pepper, white chili, ginger garlic paste, crushed red chili, roasted cumin seeds, pistachios powder , salt,       garam masala powder, lemon juice, butter and leave it half hour.
• In a pan, heat oil add chicken and leave it for 20 minutes.
• When chicken are tender and dries water.
• In a tary pour chicken and bake for 5 minutes.
• Chicken kastoori masala is ready.

Nuggets Salad Recipe in Urdu and English
At Masala TV you can check complete Nuggets Salad Recipe in Urdu and English. This is one of the best recipes by chef Rida Aftab at Masala TV show Tarka. Check out the other best recipes of chefs Rida Aftab.
Top relevant recipes of Nuggets Salad Recipe in Urdu