Nutty Khoya Tart Recipe | Food Diaries | Zarnak Sidhwa | Dessert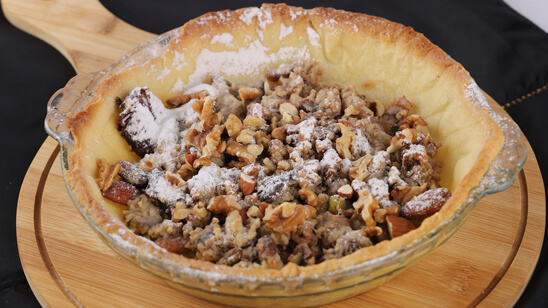 Mar 21, 2023 at 03:07 AM (GMT -04:00)

Check out the Nutty Khoya Tart Recipe in Urdu. Learn how to make best Nutty Khoya Tart Recipe , cooking at its finest by chef Zarnak Sidhwa at Masala TV show Food Diaries. Check all the Pakistan Cooking recipes in Urdu of Masala TV. Also Check Nutty Khoya Tart Recipe , ingredients and complete Method.
Nutty Khoya Tart is the perfect solution for your sweet cravings. You and your loved ones will have an absolute blast having this one!
Watch this Masala TV video to learn how to make Nutty Khoya Tart , Spinach Pancakes and Tomato chutney Recipes. This show of Food Diaries with Chef Zarnak Sidhwa aired on 26 January 2021.
Ingredients:
Pastry:
Flour 1 cup
caster sugar 3 tbsp
Ghee 3 tbsp
Silver paper to garnish
Filling:
Khoya crumbled 1 cup
Ghee 1 1/2 tbsp
Cashew nuts chopped 10-12
Almonds chopped 10-12
Walnuts chopped 6-8
Pistachios chopped 10-12
Pitted dates chopped 1/2 cup
Dried figs chopped 1/2 cup
Green cardamom powder 1/2 tsp
Method:
For the pastry, mix flour with caster sugar and rub in the ghee using your fingertips till it resembles bread crumbs. Add 3-4 tbsp water and mix well to form stiff dough. Allow to rest for 30 minutes. To make the filling, heat ½ tbsp ghee, fry cashew nuts, almonds, walnuts and pistachios. Set aside. Add ½ tbsp ghee to the same pan, sauté dates and figs. Add green cardamom powder and mix. Mix the dates-fig mixture with the nuts. Add khoya to the same pan and sauté for a few seconds. Take it off the heat and transfer into the same bowl and mix. Let the mixture cool. Roll out the dough, large enough to cover the base and the sides of the tart shell. Roll the rolling pin on the rim of the tart shell so that extra dough gets cut off. Place a butter paper over the dough and poke all over with a fork, spread some dried beans or rice over it. This will prevent the dough from rising while baking. Bake at 180 degrees C for 15-20 minutes. Remove the beans and let the tart cool. Spread the filling in tart shell evenly. Place the tart on a baking tray and place the tray back in the oven and bake for 5 minutes. Transfer the tart onto a serving plate, dust icing sugar on top and garnish with silver warq.
Ingredients for the pancakes:
Spinach purée 1 cup
Semolina 1/2 cup
Oats ground 1/2 cup
Rice flour 1 tbsp
yogurt 1/4 cup
Ginger paste 1/4 tsp
Garlic paste 1/2 tsp
Water 1 cup
Salt to taste
For the stuffing :
carrots, julienned 2
onion, thinly sliced 1
Green capsicum, julienned 1
Salt to taste
Oil 1 tbsp
Mustard seeds 2 tsp
Curry leaves a handful
Method:
Mix all the ingredients for the pancakes except water. Add water gradually until you get a pancake batter consistency. Mix well and let it sit for 10 minutes. The mixture may become a bit thick at this point as oats and semolina absorb water. Thin it up a bit as needed.
While the batter is resting, heat oil in a pan. Add mustard seeds, let them crackle. Add curry leaves followed by julienned carrots. Add salt, onion and capsicum. Sauté and set aside. To make the pancakes, heat a crepe pan or griddle and brush with oil and add a ladle full of batter. When the edges start crisping and the top is dry, flip the pancake and let it crisp on the other side. You may add some oil if needed. Put the cooked vegetables on the top and fold in half or roll as a wrap. Serve with tomato chutney or peanut chutney. Or spread the chutney on the pancake, add the vegetables and roll like a wrap.
Ingredients:
Tomatoes cut in half 1 kg
Cloves garlic chopped 7 cloves
Dry red chilies 7 cloves
Cumin seeds 1/2 tsp
Coriander seeds 1/2 tsp
Black peppercorns 1/2 tsp
Mustard seeds 1/2 tsp.
Curry leaves handful
Salt to taste
Oil 2 tbsp
Method:
Heat oil. Add mustard, cumin and coriander seeds. When they crackle add garlic, red chillies, black peppercorns and curry leaves. Sauté for about 1 minute. Do not brown the garlic. Add tomatoes. Cook on low heat until the tomatoes are soft. Add salt. Mix well. Let it cook for another minute. When this is cool blend it with a hand blender into a coarse paste. Serve with savory pancakes or as a spread. Or toss some spaghetti in the chutney.

Nutty Khoya Tart Recipe in Urdu and English
At Masala TV you can check complete Nutty Khoya Tart Recipe in Urdu and English. This is one of the best recipes by chef Zarnak Sidhwa at Masala TV show Food Diaries. Check out the other best recipes of chefs Zarnak Sidhwa.
Top relevant recipes of Nutty Khoya Tart Recipe in Urdu