Qeema Cholay Recipe | Lazzat | Samina Jalil | Desi Food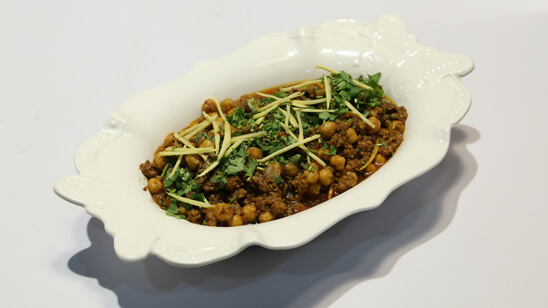 Aug 08, 2022 at 07:07 PM (GMT -04:00)

Check out the Qeema Cholay Recipe in Urdu. Learn how to make best Qeema Cholay Recipe , cooking at its finest by chef Samina Jalil at Masala TV show Lazzat. Check all the Pakistan Cooking recipes in Urdu of Masala TV. Also Check Qeema Cholay Recipe , ingredients and complete Method.
Tired of the same old qeema recipes? Try out this Qeema Cholay recipe that tastes amazingly different!
Watch this Masala TV video to learn how to make Qeema Cholay ,Chicken 555 Gravy and Bondi Borani Raita Gravy Recipes. This show of Tarka with Chef Rida Aftab aired on 15 July 2020.
Ingredients:
Mince (beef) ½ kg
Chickpeas (boiled) 2 cups
Onions (chopped) 2
Tomato paste 2
Yogurt ½ cup
Ginger Garlic Paste 1 tsp
Oil ¾ cup
Coriander Leaves as required
Green Chilies as required
Salt to taste
Red Chili Powder 1 tsp
Turmeric ½ tsp
Ginger (chopped) 1 tbsp
Whole all spice 1 tbsp
All spice Powder 1 tsp
Nigella Seeds ¾ tsp
Coriander Powder 1 tsp
Cumin Seeds (chopped) 1 tsp
Method:
In a pan, add onion and fry. Now add mince, salt, red chili powder, yogurt, tomato paste, ginger garlic paste and mix. Add garam masala and fry well. Then add water and cook until chicken is done. Dry the water, now fry well. Add garam masala powder, ginger, coriander, cumin seeds, boiled chickpeas, nigella seeds and fry.
Ingredients:
Chicken boneless ½ kg
Tandoori masala 1-1/2 tbsp
Chaat masala 1 tsp
Corn flour 1 tbsp
Flour 4 tbsp
Coriander powder 1 tsp
Salt to taste
Lemon juice 1 tbsp
Ginger garlic paste 1 tbsp
Turmeric ½ tsp
Red chili powder 1 tsp
Oil for frying
Ingredients for Gravy:
Chopped onion 2
Tomato puree ½ cup
Chopped green chilies 3-4
Ginger garlic 1 tbsp
Fresh fenugreek 2 tbsp
Dried fenugreek ½ tsp
Red chili powder 1 tsp
Cumin powder ½ tsp
Salt to taste
Butter 2 tbsp
Oil 4 tbsp
Green coriander for garnish
Method:
Marinate chicken with all ingredients. Heat oil add chicken fry well. For gravy heat oil and butter add onion, ginger garlic and chopped green chilies fry well. Add tomato puree, fresh fenugreek, red chili powder, salt and cumin power cook well. Add fry chicken mix well. Add dried fenugreek mix. Remove in a dish, garnish with green coriander and boiled rice, serve.
Ingredients:
Bondiyan soaked 1 cup
Eggplant slices as required
Mint as required
Red chili powder ½ tsp
Salt 1 tsp
Roasted and crushed cumin 1 tsp
Black salt ½ tsp
Yogurt ½ kg
Garlic (fried) 1 tbsp
Green coriander as required
Oil for fry
Method:
Cut bondiyan in round shape. Now remove bondiyan from water and squeeze well. Then in the yogurt add salt, black salt, chopped mint and roasted, crushed cumin. Whisk well. Now in a dish place a bit of yogurt. Then add fried bondiyan. Now add the remaining yogurt and bondiyan. Mix well. In the end garnish with coriander, fried garlic and red chili powder. Serve hot.

Qeema Cholay Recipe in Urdu and English
At Masala TV you can check complete Qeema Cholay Recipe in Urdu and English. This is one of the best recipes by chef Samina Jalil at Masala TV show Lazzat. Check out the other best recipes of chefs Samina Jalil.
Top relevant recipes of Qeema Cholay Recipe in Urdu