Rabri Kheer Recipe | Lazzat | Samina Jalil | Dessert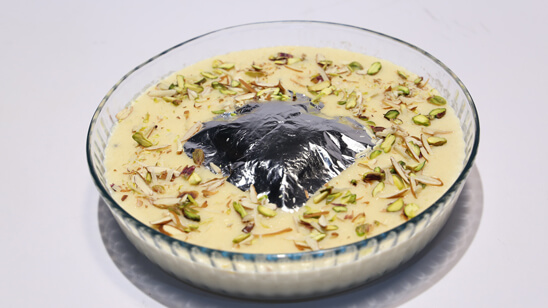 Sep 21, 2023 at 10:48 AM (GMT -04:00)

Check out the Rabri Kheer Recipe in Urdu. Learn how to make best Rabri Kheer Recipe , cooking at its finest by chef Samina Jalil at Masala TV show Lazzat. Check all the Pakistan Cooking recipes in Urdu of Masala TV. Also Check Rabri Kheer Recipe , ingredients and complete Method.
Rabri Kheer is an elite classic dessert that we all crave for! Try this recipe today if you want to taste the best Rabri Kheer in town!
Watch this Masala TV video to learn how to make Rabri Kheer , Moroccan Rib Roast and Classic Biryani Recipes. This show of Lazzat with Chef Samina Jalil aired on 3 August 2020.
Ingredients :
Milk 1-1/2 liters
Boiled rice 3/4 cups
Sugar ¼ cup
Rabri 250 grams
Screw pine essence few drops
Small cardamom 4/5
Finely chopped Almonds and pistachios for garnishing
Method :
After boiling the milk add boiled rice and small cardamom mix and let it cook. Then add sugar and cook till its thick then add Screw pine and switch off the flame. Few drops in the dish of Screw pine essence and add
Rabri with almonds and pistachios and garnish it with silver wraps. Serve when it cools down.
Ingredients:
Mutton ribs 1-1/4 kilo
Coriander (crushed) 2 tbsp
White cumin (crushed) 1tbsp
Red chili (crushed) 1tbsp
Salt 1-1/2 tsp
Garlic (finely crushed) 1tbsp
Lemon peel 1-1/2tbsp
Olive oil 2-3 tbsp
Melted butter 2-3 tbsp
Mixed steamed vegetables as required
Method:
Mix all the spices in a bowl except olive oil. put cuts on the meat and marinate it with the spices for 24 hours.then in a open dish set it on high flame and add two cups of water till the meat tenders. Add olive oil when the meat is roasted. Serve it with steamed vegetables.
Ingredients:
Mutton 1kg
Rice 750g
Clarified butter 1cup
Bay leaf 1
Ginger (chopped) 4tbsp
Yellow food (color) 2 pinch
Nutmeg, mace (powder) 1tsp
Garlic (thick powder) 2
Water 1cup
Yogurt 1-1/2cup
Whole all spices 1tbsp
Small cardamom 15
Saffron 2tsp
Salt as per taste
Method:
in a pan add mutton, salt and 2 cup of waters, when the meat half tenders switch of the flame. now heat clarified butter and add garlic and all spices with 4 cups of water to cook for 10mins. Then add bay leaf to cook till the meat tenders and 2-1/2 cup of yeast remains and dish out the half yeast from the pot. Now in yogurt add yellow food color and ginger chopped. Now in rice add salt and all spices and cook till gets a boil. Set the meat in the pan on an other side and the ginger yogurt and add saffron in milk. After that add nutmeg, mace in the rice. Now add the food color in water. Now add the remaining yeast cook it at high flame and then simmer it to serve.

Rabri Kheer Recipe in Urdu and English
At Masala TV you can check complete Rabri Kheer Recipe in Urdu and English. This is one of the best recipes by chef Samina Jalil at Masala TV show Lazzat. Check out the other best recipes of chefs Samina Jalil.
Top relevant recipes of Rabri Kheer Recipe in Urdu