Red Bean Salad Recipe | Dawat | Abida Baloch |Appetizer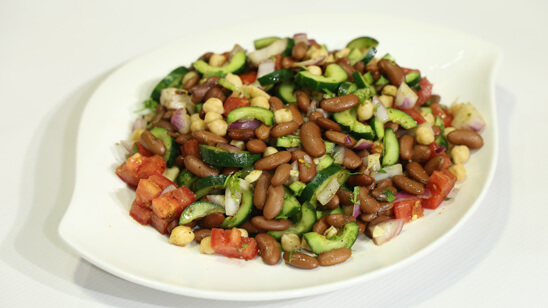 May 12, 2021 at 10:39 PM (GMT -04:00)

Check out the Red Bean Salad Recipe in Urdu. Learn how to make best Red Bean Salad Recipe , cooking at its finest by chef Abida Baloch at Masala TV show Dawat. Check all the Pakistan Cooking recipes in Urdu of Masala TV. Also Check Red Bean Salad Recipe , ingredients and complete Method.
Make the best tasting Red Bean Salad with this very well seasoned and balanced Red Bean Salad Recipe at home!
Watch this Masala TV video to learn how to make Red Bean Salad and Chocolate Blackout Cake Recipes. This show of Dawat with Chef Abida Baloch aired on 11 September 2020.
Ingredients:
Cooked kidney beans 2 cups
Cooked chickpeas 1 cup
Onion (diced) 1 small
Tomatoes (diced) 1 cup
Fresh coriander 1 cup
Cucumbers (peeled, seeded and diced) 2 medium
Chopped fresh mint leaves 2 tbsp
For Lemon Dressing:
Olive oil ¼ cup
Lemon juice ¼ cup
Garlic (minced) 3 cloves
Salt ¾ tsp
Red pepper flakes a pinch
Chaat masala 1 tsp
Method:
In a bowl, combine cooked kidney beans, cooked chickpeas, onion, tomatoes, fresh coriander, cucumbers and fresh mint leaves.
For the lemon dressing, In a bowl, whisk together the olive oil, lemon juice, garlic, salt, red pepper flakes and chaat masala. Then pour the dressing over the vegetables mixture and toss thoroughly. Serve immediately.
IngredientsFor The Cake:
Unsalted butter 1/2 cup
All-purpose flour 2 1/4 cups
Sugar 1 cup
Brown sugar 1 cup
Cocoa powder ¾ cup
Baking powder 1 tsp
Baking soda 1tsp
Salt ½ tsp
Butter milk 1 cup
Coffee ½ cup
Oil ¼ cup
Eggs 3
For The Ganache:
Dark chocolate 500 gm
Cream 200ml
For Chocolate Syrup:
Boiling water ½ cup
Cocoa powder ½ cup
Sugar ½ cup
For Decoration:
Dark mini chocolate chips 1 cup
Method:
For Ganache, Add chocolate and cream into a large microwave safe bowl and microwave for about 20 seconds at a time, mixing each time until smooth. Cover with plastic wrap and set aside to set.
For The Cake, Preheat the oven to 180°. Then brusha double 9-inch round cake tin with oil. Line the bottom with parchment paper and set aside. Now in a bowl add the flour, cocoa powder, sugar, baking powder, baking soda and salt. Mix until well combined. Then add milk, coffee, oil and eggs. Beat well until smooth. Now add the cake batter to the cake tin and bake it for about 40 minutes, or until a toothpick inserted in the center comes out with a few moist crumbs attached. Remove and allow the cake cool for 15 minutes.
For Chocolate syrup, In a bowl add the sugar, cocoa powder and boiling water. Mix until smooth. Set aside.
To assemble the cake, Brush the cake with chocolate syrup using a pastry brush. Then pipe a layer of ganache on top. Use a small offset spatula to spread evenly. Pipe ganache around the sides of the cake and use the small spatula to even the top and sides of the cake. Finish off by adding the small chocolate chips around the sides of the cake before serving.

Red Bean Salad Recipe in Urdu and English
At Masala TV you can check complete Red Bean Salad Recipe in Urdu and English. This is one of the best recipes by chef Abida Baloch at Masala TV show Dawat. Check out the other best recipes of chefs Abida Baloch.
Top relevant recipes of Red Bean Salad Recipe in Urdu