Stir Fried Noodles Recipe | Food Diaries | Zarnak Sidhwa | Chinese Food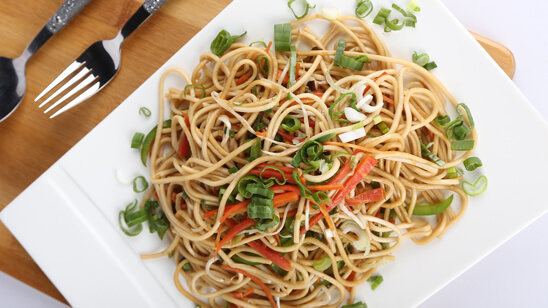 Aug 15, 2022 at 11:47 PM (GMT -04:00)

Check out the Stir Fried Noodles Recipe in Urdu. Learn how to make best Stir Fried Noodles Recipe , cooking at its finest by chef Zarnak Sidhwa at Masala TV show Food Diaries. Check all the Pakistan Cooking recipes in Urdu of Masala TV. Also Check Stir Fried Noodles Recipe , ingredients and complete Method.
Stir Fry Noodles are a classic that we have been in love with for years now. These are easy to prepare and taste like a bite of heaven.
Watch this Masala TV video to learn how to make Stir Fried Noodles and Orange Chicken Recipes. This show of Food Diaries with Chef Zarnak Sidhwa aired on 13 January 2020.
Ingredients:
Egg noodles 150gm
Oil 1 tbsp
Ginger, chopped 2½
Garlic cloves, chopped 2
Carrot , cut into matchsticks 1
Capsicum, sliced 1
Peas 1 cup
Spring onions chopped 2
Beansprouts 85gm
Soya sauce 2 tbsp
White wine vinegar 1 tsp
Method:
Boil the noodles and set aside. Meanwhile, heat the oil in a wok, stir-fry the ginger, garlic, carrot, capsicum and add peas. Add the drained noodles to the pan with the onions and beansprouts, then stir-fry for 2 minutes. Mix together the soya sauce and vinegar, stir into the pan. Divide between individual plates or bowls and serve immediately.
Ingredients:
Oil for Frying
boneless Chicken, cubed ½ kg
Egg Whites 4
Corn flour 2 tbsp
Sauce:
Orange Juice 1/2 cup
Soya Sauce 1 tbsp
Brown Sugar 1 tbsp
Rice Vinegar 1 tbsp
Sesame Oil 1/4 tsp
Salt as required
Crushed Red chilies as required
Garlic, Minced 1 clove
Minced Ginger 2 tsp
Corn flour 1 tsp
Orange zest 1
Water 1/4 cup
Green Onions, Sliced 2
METHOD:
Mix the corn flour and egg whites. Add in the chicken and marinate for 10 minutes. For the sauce, boil the orange juice, soya sauce, sugar, vinegar, sesame oil, salt, crushed red chilies, garlic, ginger, orange zest together. Heat until bubbling and starting to thicken. Whisk together the corn flour and 1/4 cup water and add to the sauce. Mix in and thicken for 1 minute. Deep fry chicken in hot oil until light golden. Drain on a plate lined with paper. Toss the chicken in the sauce and serve immediately with orange zest and sliced green onions on the top.

Stir Fried Noodles Recipe in Urdu and English
At Masala TV you can check complete Stir Fried Noodles Recipe in Urdu and English. This is one of the best recipes by chef Zarnak Sidhwa at Masala TV show Food Diaries. Check out the other best recipes of chefs Zarnak Sidhwa.
Top relevant recipes of Stir Fried Noodles Recipe in Urdu