Suji Pakori Recipe | Masala Mornings | Shireen Anwer | Masala Tv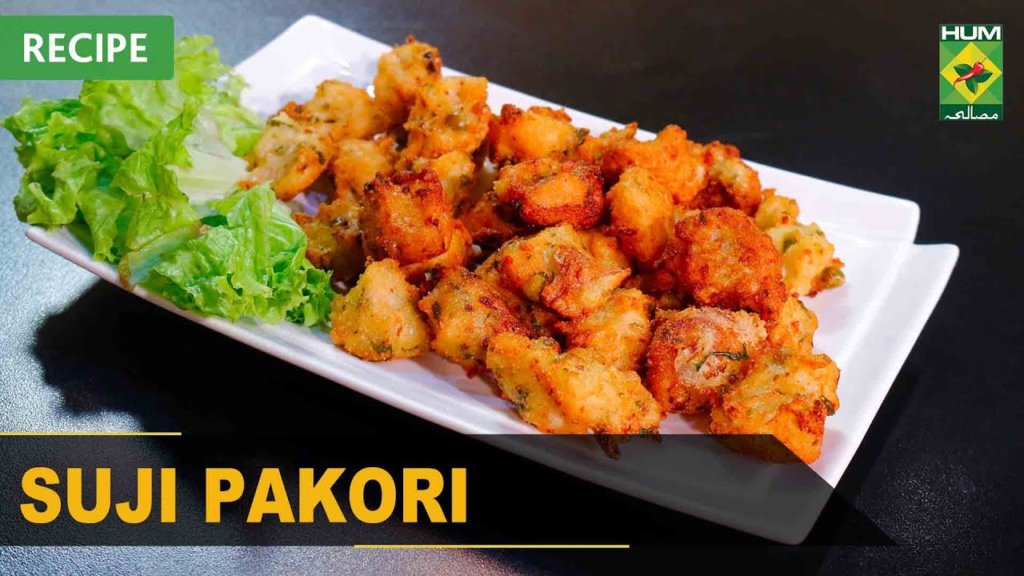 Sep 23, 2023 at 12:39 AM (GMT -04:00)

Check out the Suji Pakori Recipe in Urdu. Learn how to make best Suji Pakori Recipe , cooking at its finest by chef Shireen Anwar at Masala TV show Masala Mornings. Check all the Pakistan Cooking recipes in Urdu of Masala TV. Also Check Suji Pakori Recipe , ingredients and complete Method.
The best Desi food recipes right at your finger tips. Subscribe to Masala Tv Recipes YouTube channel and never miss an updates !
Subscribe To Masala TV Recipes YouTube Channel! https://bit.ly/MasalaTV
Suji Pakori Recipe will help you achieve the perfect combination of flavours. Try out this very yummy recipe!
#SujiPakori #NorthernChicken #MasalaTv #Foodie #food
Watch this Masala TV video to learn how to make Suji Pakori, Northern Chicken and Coconut Egg Curry Recipe.
Ingredients
Chicken 1 kg cut into 4 pcs
Salt 1 tsp
Onion 1 grated
Ginger garlic 1 tbsp
Coriander seeds crushed 1 ½ tsp
Chili powder 1 ½ tsp
Allspice 1 tsp
Tandoori color a pinch
Yogurt ¾ cup
Lemon juice 3 tbsp
Melted butter 2 tbsp
Crushed black pepper 1 tsp
Chat masala 1 tsp
Onion rings for serving
Tomatoes sliced for serving
METHOD
Prick chicken pcs, marinate with salt, onion, ginger garlic, add in dry spices, color, yogurt and lemon juice, rub the mixture well on the chicken, leave it for marinate for 2 hours, grease a baking tin and cook chicken on 180 D for 40 mins, 20 mins on each side, brushing with butter after 20 mins, when chicken done sprinkle with freshly ground pepper, serve on a bed of saffron rice, garnish with onion rings, tomato rings and lemon.
Ingredients
Tomatoes 4 remove skin by boiling and blend
Brown onion ½ cup crushed
Ginger Garlic paste 1 tbsp
Almonds grinded 1 tbsp
Chili powder 1 ½ tsp
Turmeric ½ tsp
Crushed coriander 1 ½ tsp
Green chilies 2 julienne
Coconut milk ½ cup
Gram flour 1 tbsp
Salt 1 tsp heaped
Boiled eggs 6
METHOD
Blend the cooked tomatoes after removing the skin, heat oil, add brown onion with seasonings, ginger garlic paste and ¼ cup water, put in the blended tomatoes, coconut milk, cook till boiling, simmer for 15 mins till thick, half and add the eggs, cook for 5 mins more, serve with roti or paratha.
Ingredients
Semolina 1 cup heaped
Water 8 tbsp
Yogurt 1 cup
Peas boiled ¼ cup
Green chilies 2 chopped
Onion ½ cup chopped
Salt 1 tsp
Coriander leaves chopped 1 tbsp
Crushed red pepper 1 tsp
Curry leaves chopped 2 tbsp
METHOD
Put semolina in a bowl, add water and yogurt, keep aside for 15 mins, add the peas, Heat 2 tbsp oil, chopped chilies, add curry leaves and add to the semolina with the chopped onion, salt, crushed red pepper and coriander leaves, mould the mixture into little balls, deep fry until brown, serve hot with chutney.

Suji Pakori Recipe in Urdu and English
At Masala TV you can check complete Suji Pakori Recipe in Urdu and English. This is one of the best recipes by chef Shireen Anwar at Masala TV show Masala Mornings. Check out the other best recipes of chefs Shireen Anwar.
Top relevant recipes of Suji Pakori Recipe in Urdu