Tikka Karahi Recipe | Masala Mornings | Shireen Anwar | Desi Food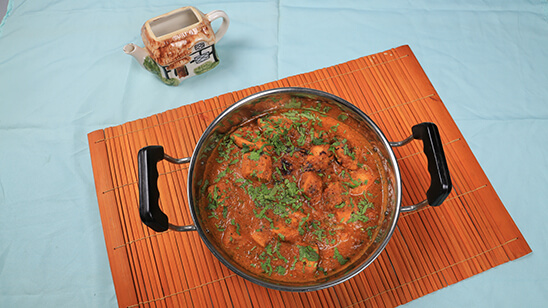 Aug 09, 2022 at 07:17 AM (GMT -04:00)

Check out the Tikka Karahi Recipe in Urdu. Learn how to make best Tikka Karahi Recipe , cooking at its finest by chef Shireen Anwar at Masala TV show Masala Mornings. Check all the Pakistan Cooking recipes in Urdu of Masala TV. Also Check Tikka Karahi Recipe , ingredients and complete Method.
Tikka Karahi is one of kind recipe. It has a wonderful blend of ginger, tomatoes, green chilies and all things nice. Trust us, you'll love this one !
Watch this Masala TV video to learn how to make Tikka Karahi , Classic Refrigerator Cheese Cake And Aalu Aur Daal Bada Bun Recipes. This show of Masala Mornings with Shireen Anwar aired on 2 April 2021.
Ingredients:
Chicken tikka boti 1 packet
Oil ¾ cup
Salt 1 tsp leveled
Karahi masala 2 tbsp
Chicken tikka masala 2 tbsp
Ginger garlic 1 tbsp heaped
Tomatoes 4 whole peeled
Green chilies 4 chopped
Dried fenugreek ½ tsp
Allspice ½ tsp
Coriander leaves chopped 2-3 tbsp
Crushed coriander 1 tsp heaped
Crushed cumin 1tsp heaped
METHOD:
Heat oil in a wok, add chicken tikka boti with ginger garlic, peeled whole tomatoes, cover and cook for 15 mins, open and crush the tomatoes well, add in tikka and karahi masala with salt, cover and cook till chicken tender. Lastly add coriander, cumin, allspice, chopped greens, leave it on dum for 5 mins, serve with nan.
Ingredients:
Biscuits crushed 3 cups
Butter melted 5 ounce
Cream cheese softened 250 gm
Condensed milk 1 cup
Lemon rind 1 tbsp
Lemon juice 4 tbsp
Gelatin 2 tbsp leveled
Water ¼ cup
Chilled cream 8 ounces
Caramel sauce to drizzle
METHOD:
Crush biscuits, mix with butter and press evenly over base and size of a 8 inch spring foam tin, cover and chill for 30 mins. Beat cream cheese till smooth, add in condensed milk, lemon juice, lemon rind, and fold in dissolved gelatin. Lastly fold in the chilled cream, mix, pour on base, chill till firm and set, serve drizzled with lotus sauce or caramel sauce.
Ingredients for Aalu Patty:
Potatoes 250 gm peeled, boiled and mashed
Oil 1 tbsp
Salt ½ tsp
Crushed red pepper ½ tsp
Mustard seeds ¼ tsp
Green chili 1 small chopped
Corn flour 1 tsp heaped
Egg ½ beaten
Ingredients for Daal Patty:
Bengal gram 1 cup soaked and boiled
Salt ½ tsp
Cumin seeds ½ tsp
Chili powder ½ tsp
Water 1 cup
Egg ½ beaten
Corn flour or Gram flour 1 tbsp
Extra Ingredients:
Buns 6
Chutney prepared as required
Cucumber sliced as required
Onion sliced as required
Tomato sliced as required
Salad leaves as required
Ingredients for Chutney:
Mint ½ cup
Coriander 1 cup
Onion 2 tbsp
Green chilies 6
Salt ½ tsp
Garlic 1 tsp
Sugar 1 tbsp
Lemon juice 4 tbsp
METHOD FOR AALU PATTY:
Mix all in mash potato mixture, make patty and pan fry.
METHOD FOR CHANA DAAL PATTY
Mix all well, make patty and pan fry.
METHOD FOR CHUTNEY:
Grind all together and mix with 3-4 tbsp of whipped curd.
TO ASSEMBLE:
Cut bun, spread chatni, arrange 1 patty, veggies, center of another bun, again chatni, second patty, salad leaf, veggies, cover with final bun, serve with chatni.

Tikka Karahi Recipe in Urdu and English
At Masala TV you can check complete Tikka Karahi Recipe in Urdu and English. This is one of the best recipes by chef Shireen Anwar at Masala TV show Masala Mornings. Check out the other best recipes of chefs Shireen Anwar.
Top relevant recipes of Tikka Karahi Recipe in Urdu