Turkish Pide Recipe | Masala Mornings | Shireen Anwar | Turkish Food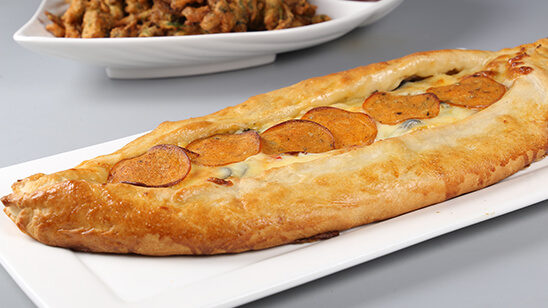 Sep 24, 2023 at 04:31 PM (GMT -04:00)

Check out the Turkish Pide Recipe in Urdu. Learn how to make best Turkish Pide Recipe , cooking at its finest by chef Shireen Anwar at Masala TV show Masala Mornings. Check all the Pakistan Cooking recipes in Urdu of Masala TV. Also Check Turkish Pide Recipe , ingredients and complete Method.
This Turkish pide is basically a Turkish flat bread with beef and vegetables filling! It is one of the most popular snacks in Turkey.
Watch this Masala TV video to learn how to make Turkish Pide and Mumbai dhaba pakoray Recipes. This show of Masala Mornings with Shireen Anwar aired on 19 April 2021.
Ingredients for dough:
Flour 4 cups
Salt 1 ½ tsp (mix together)
Instant yeast 1 tsp
Sugar 2 tsp heaped
Oil ¼ cup
Warm water 1 ½ cup or as required to knead
Ingredients for filling:
Mince meat 400 gm
Onion 1 chopped
Green pepper finely chopped ½
Red pepper finely chopped ½
Mushrooms 4 thinly sliced
Black olives as required
Oregano 1 tbsp
Sweet corn ½ cup
Cheddar cheese ½ cup
Mozzarella cheese 1 cup
Tomato paste 2 tbsp
Bologna slices as required
Cream cheese 2 tbsp
Butter 2 tbsp
Method:
Make filling by cooking the mince with salt, pepper, crushed red pepper, ginger garlic, onion and tomato paste, cook until done paste and boiled. When the dough is double, transfer the dough on smooth surface, sprinkle flour and cut into 8 small pieces, now put the balls into a oven tray and again leave to rise until double, take one ball and roll into a long oval, spread with filling in the center, spreading slightly, top with filling, cheese, bologna, butter and cream cheese, fold the corner edges over the filling and pinch the two corner edges, it should look pointy, brush the edges of the dough with egg yolk, put to bake on 200 d till golden brown, remove, cut into slices and serve. MethodPut all the ingredients together in a bowl and knead to a soft dough, leave to rise in a greased bowl for 45 mins until double in volume, the dough should be soft, punch down the dough.
Ingredients:
Gram flour 1 cup heaped
Rice flour ½ cup
Sliced onion 1
Green onion ½ cup chopped
Green chilies 4 chopped
Coriander leaves chopped 2 tbsp
Spinach very finely chopperized ½ cup
potato grated 1
Salt 1 tsp
Crushed red pepper 1tsp
Whole cumin 1 tsp
Soda ¼ tsp
Water to make batter
Method:
Make thick batter with basin, rice flour and seasonings. Just before frying, add soda, beat well, add all the veggies and deep fry. Serve with chatni.

Turkish Pide Recipe in Urdu and English
At Masala TV you can check complete Turkish Pide Recipe in Urdu and English. This is one of the best recipes by chef Shireen Anwar at Masala TV show Masala Mornings. Check out the other best recipes of chefs Shireen Anwar.
Top relevant recipes of Turkish Pide Recipe in Urdu