Veggie Chow Mein Recipe | Dawat | Abida Baloch | Chinese Food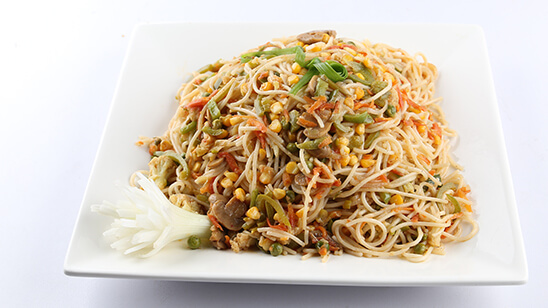 Jan 25, 2021 at 12:04 AM (GMT -05:00)

Check out the Veggie Chow Mein Recipe in Urdu. Learn how to make best Veggie Chow Mein Recipe , cooking at its finest by chef Abida Baloch at Masala TV show Dawat. Check all the Pakistan Cooking recipes in Urdu of Masala TV. Also Check Veggie Chow Mein Recipe , ingredients and complete Method.
Loaded Veggie Chow Mein is perfect for kids. This is the best way to make them fall in love with vegetables by combining them in their favorite food.
Watch this Masala TV video to learn how to make Loaded Veggie Chowmein and Cheesy Chicken Mash Pie Recipes. This show of Dawat with Chef Abida Baloch aired on 1 December 2020 .
Ingredients:
Oil ¼ cup
Chowmein noodle 1 packet
Sliced onion ½ cup
Green pepper ½ cup
Carrot (julienned) ½ cup
Minced garlic 1 tbsp
Salt to taste
Black pepper as required
Chopped cabbage ½ cup
Sliced mushrooms ½ cup
Peas ½ cup
Corn ⅓ cup
Water 2 tbsp
Corn flour 2 tsp
Soy sauce 2-½ tbsp
Chili sauce 1-½ tbsp
Rice vinegar 1-½ tbsp
Sugar 2 tsp
White pepper 1 tsp
Bean sprouts ½ cup
Sliced spring onion for garnish
Method:
Heat oil then saute noodles with salt and pepper and set aside. Mix water, corn flour, rice vinegar, soy sauce, chili sauce and set aside. Heat oil adds garlic then add vegetables and saute now add sauce mixture and cook for 4 minutes. Now add bean sprouts, noodles and mix. Garnish with spring onion and serve.
Ingredients:
chicken breasts (diced) 300gm
Onion (diced) 1
Garlic (minced) 2 cloves
Butter 3 tbsp
Flour 1 tbsp
Mustard powder 1/2 tsp
Paprika 1/4 tsp
Whole milk 2 cups
Cheddar cheese 1 cup
Mozzarella cheese 1 cup
Mashed potato 1/2 kg
Spring onions, chopped 4
Salt, black pepper to taste
Spring onion to serve
Method:
Heat oil in a frying pan, add chicken breasts and fry off until golden, crisp and tender. Remove from the pan.
Add half your butter to the pan. When melted, add onion and fry for 5-10 mins until soft and starting to caramelise. Add garlic and cook out for 1 min. Add the rest of your butter into the pan and, once melted, add your flour. Cook out for 2 mins, then gradually pour in milk in whisking all the while until you have a smooth sauce. Add half cheddar, paprika, salt and pepper. Stir until your cheese melts. Pop your chicken back in the pan and stir until everything is coated.
Mash your cooked potatoes .Stir through spring onion, remaining cheddar and salt until totally combined. Take a handful and roll into a tennis ball size, then repeat with your remaining potato. Pour your chicken mixture into a dish and top with your potato balls. Lay your mozzarella over the top, then take to the oven to bake for 25 mins. Sprinkle with spring onion then serve!

Veggie Chow Mein Recipe in Urdu and English
At Masala TV you can check complete Veggie Chow Mein Recipe in Urdu and English. This is one of the best recipes by chef Abida Baloch at Masala TV show Dawat. Check out the other best recipes of chefs Abida Baloch.
Top relevant recipes of Veggie Chow Mein Recipe in Urdu