Waffles Sweet Recipe | Lively Weekends | Kiran Khan | 08 October 2022 | Masala TV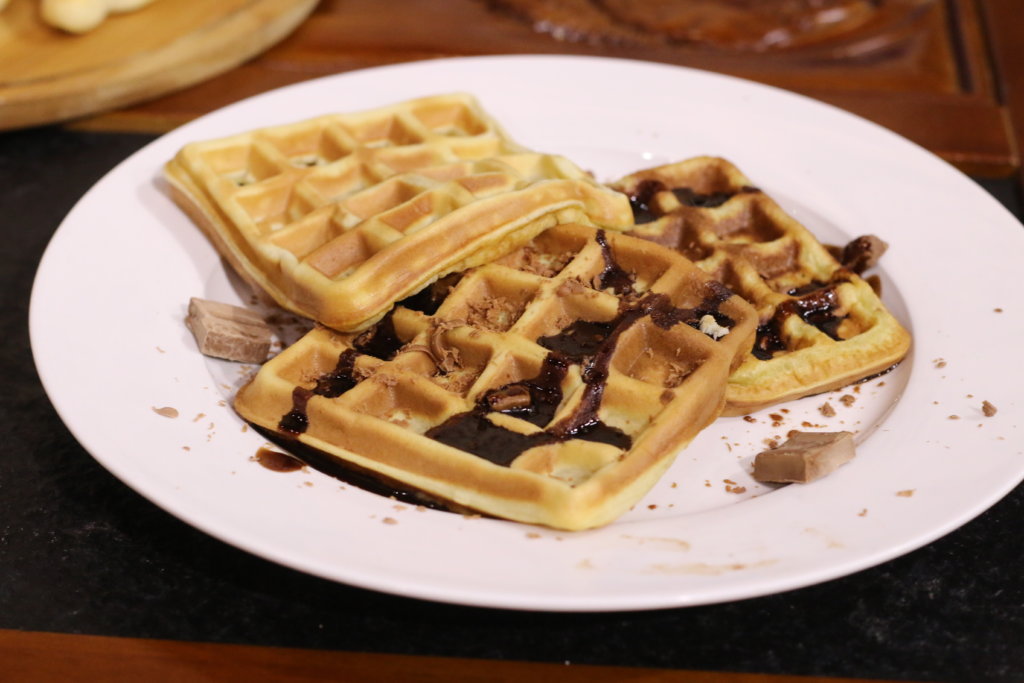 Sep 23, 2023 at 07:59 AM (GMT -04:00)

Check out the Waffles Sweet Recipe in Urdu. Learn how to make best Waffles Sweet Recipe , cooking at its finest by chef at Masala TV show Lively Weekend. Check all the Pakistan Cooking recipes in Urdu of Masala TV. Also Check Waffles Sweet Recipe , ingredients and complete Method.
Subscribe To Masala TV Recipes YouTube Channel! https://bit.ly/MasalaTV
We bet you have never had as good as this one! This Waffles Sweet is one of the best in town.
Watch this Masala TV video to learn how to make Waffles Sweet, Lamb Chops And No knead soft Buns recipe.
Ingredients
Lamb chops 500g
Salt and pepper to taste
Ginger garlic paste 1 tbsp
Chili paste 3 tbsp
Tomato paste 4 tbsp
Sriracha sauce 1 tbsp
Soy sauce 2 tsp
Crushed chilies ½ tbsp
Honey 1 tbsp
Lemon juice 1
Method
Add lamb chops to a bowl. Add salt and pepper. Add ginger, garlic and chili paste
Mix everything thoroughly. Refrigerate for 2 hr. Oil a skillet pan with a small amount of oil. Add chops and cook on medium heat for roughly 5 minutes. Place the lid on an for 15 mins and allow to cook on medium heat. After this time flip the chop over and cook other side for the same 15 mins Occasionally check on the chops, make sure they aren't sticking to the pan, and add water if required to prevent this.
Prepare the sauce using ingredients mentioned above (use alternative chilli sauce if you prefer).Return to your chops and check if they are cooked and dry out any excess water using a high flame. You will need to continually stir the chop around to prevent them from burning . Once all the water has gone add your sauce and mix in. mPreheat the grill and cook your chops in the oven for 5 mins. Remove from grill and stir a little remaining sauce Ready to serve
Ingredients:
Eggs 6
Butter 100 gram
Sugar (caster) 1 cup
Baking soda 1 tsp
Vanilla essence 1 tsp
Milk 2 cups
Flour 2 ½ cups
Chocolate 1small pack
Chocolate sauce for topping
Method
Take a blender add all ingredients except chocolate and blend well.
Heat the waffles tray pour the batter in the tray add chocolate pieces each on every waffle now close the lid and cook until done serve hot with chocolate sauce.
Ingredients:
Milk warm 1 cup
Egg 1
Sugar 3 tbsp
Salt 1 tsp
Flour 3 cup
Instant yeast 2 tsp
Butter ¼ cup
Egg 1
Milk 2 tbsp
Method:
In a large bowl add all the ingredients and mix well with wooden spoon and make a dough and in greased bowl cover with plastic wrap and roof it for overnight.
Before baking give rest outside for 90 minutes to normal temperature.
Divide into12 portions make ball and cover with kitchen towel and for another proofing for 15 minutes or until double in size.
Flatten the dough ball with the palm and make roll into log.
Place it the greased baking dish and cover for another proofing for 30 minutes or until double in size.
Brush with egg wash
Bake on preheated oven on 180 c for 25 minutes.
Brush with melted butter and enjoy with tea.

Waffles Sweet Recipe in Urdu and English
At Masala TV you can check complete Waffles Sweet Recipe in Urdu and English. This is one of the best recipes by chef at Masala TV show Lively Weekend. Check out the other best recipes of chefs .
Top relevant recipes of Waffles Sweet Recipe in Urdu