Date Cookies Recipe | Food Diaries | Zarnak Sidhwa | Bakery Items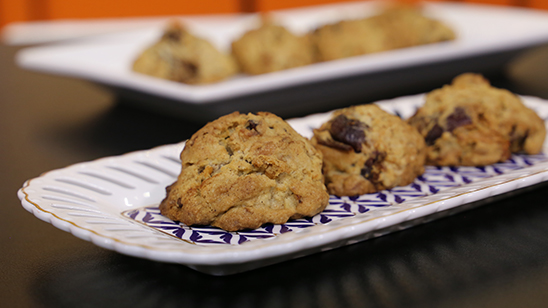 Sep 28, 2023 at 03:38 AM (GMT -04:00)

Check out the Date Cookies Recipe in Urdu. Learn how to make best Date Cookies Recipe , cooking at its finest by chef Zarnak Sidhwa at Masala TV show Food Diaries. Check all the Pakistan Cooking recipes in Urdu of Masala TV. Also Check Date Cookies Recipe , ingredients and complete Method.
Date Cookies are one of the best there are. These are certainly the most delectable ones you have tried.
Watch this Masala TV video to learn how to make Date Cookies , Malpura Waffles and Rabdi ice cream Recipes. This show of Food Diaries with Chef Zarnak Sidhwa aired on 13 April 2021.
Ingredients:
Butter 1/2 cup
Caster sugar 2/3 cup
Eggs 1-1/2
Flour 1-1/2 cups
Baking soda 1/2 tsp
Ground cinnamon 1/4 tsp
Ground cloves 1/8 tsp
Water 1 tsp
Chopped pitted dates 3/4 cup
Chopped walnuts 1/2 cup
Method:
Beat the butter and sugar until light and fluffy. Add the eggs. Add in the flour, baking soda, cinnamon and cloves. Add the water, dates and chopped walnuts. Cover and chill for 1 hour. Drop by rounded spoonful onto cookie sheets. Bake at 180 degrees c for 8-10 minutes. Allow cookies to cool on baking sheet for 5 minutes before removing to a wire rack to cool completely.
Ingredients:
Flour 1 cup
Semolina 1/4 cup
Banana ripe 1/2
Grated coconut 2tbsp
Fennel seeds 1 tsp
Whole dried milk 2 tbsp
Condensed milk 1 tbsp
Melted clarified butter 1 tbsp
Method:
Mix all ingredients and keep batter covered for 30 minutes. Cook a ladleful in waffle maker till golden and done. Let cool. Serve with rabdi ice-cream.
Ingredients:
Bread slices 2
Milk 2 cups
Condensed milk 200 gm
Caster sugar 2 tbsp
Cardamom powder 1/4 tsp
Cream 2 cups
Topping:
Honey 2 tbsp
Almonds and pistachios chopped few
Method:
Remove the crusts from the bread slices and tear into small pieces. Place in a food processor, and process into fine breadcrumbs. Set aside. Meanwhile, boil milk adds condensed milk, breadcrumbs and sugar. Simmer over medium flame, stirring continuously, for 10-12 minutes or until the mixture thickens. Add cardamom powder. Remove from heat. Let the milk mixture cool. Once cold, fold in the whipped cream and mix well and then transfer to an airtight box and place in the freezer overnight. Before serving, top each scoop of ice cream with honey. Garnish with pistachios and almonds. Serve a scoop on top of the malpura waffles.

Date Cookies Recipe in Urdu and English
At Masala TV you can check complete Date Cookies Recipe in Urdu and English. This is one of the best recipes by chef Zarnak Sidhwa at Masala TV show Food Diaries. Check out the other best recipes of chefs Zarnak Sidhwa.
Top relevant recipes of Date Cookies Recipe in Urdu