Afghani Pulao Recipe | Quick Recipes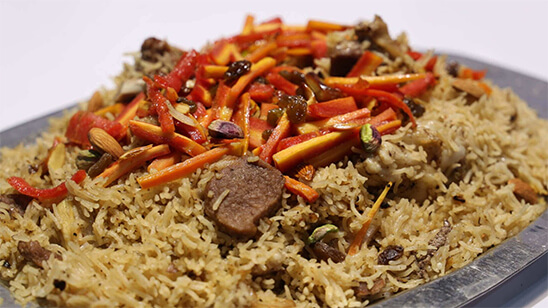 Mar 03, 2021 at 04:27 AM (GMT -05:00)

Check out the Afghani Pulao Recipe in Urdu. Learn how to make best Afghani Pulao Recipe, cooking at its finest by chef at Masala TV show . Check all the Pakistan Cooking recipes in Urdu of Masala TV. Also Check Afghani Pulao Recipe, ingredients and complete Method.
Afghani Pulao is infused with tasty spices and drool-worthy ingredients like basmati rice, dry fruits and beef!
Ingredients:
Beef 1 kg
Basmati rice ½ kg
Carrots ½ kg
Black pepper 1 tbsp
Raisins 4 tbsp
Calrified butter ½ cup
Salt 1 tsp
Almonds 100g
Ginger garlic paste 1 tbsp
All spice powder 2 tsp
Onion 1
Oil 2 tbsp
Sugar 2 tbsp
Dry fruits as per choice
Raisins as per choice
Water 2 tbsp
Oil 2 tbsp
Method:
• Boil beef in water and ginger garlic paste.
• Then in ghee add 1 onion and fry until it gets brown.
• Add beef, black pepper and salt in it.
• When it starts to boil, then add the soaked rice and 1 tbsp red chili powder. Cook it and then let it simmer.
• For caramel, let sugar melt well and become caramelized.
• In the caramelized sugar add carrots, raisins, mixed chopped dry fruits, 2 tbsp oil and 2 tbsp sugar and cook it for 2 minutes.
• Once the rice is done, dish it out.
• Garnish it everything you caramelized and left over dry fruits.
A national Afghani dish which has become very common in Pakistan as well as other countries around the world is Kabuli Rice Recipe. The name of the dish comes from a city of Afghanistan Kabul. While a true authentic kabuli pulao recipe might only be found in Afghanistan, but since a lot of Afghanis have immigrated to Pakistan, they have started sharing their culture with Pakistanis, which means a lot of Pakistanis have also mastered that perfect Kabuli Pulao recipe.
Afghani Pulao consists of:
Rice
Lamb
Spices
Stock or water
All this is used in a twostep method of cooking, no matter which Afghani pulao recipe you follow, all of them have almost similar steps to it, and even though the steps might look a little complicated, the dish is actually very easy to make. The basic process of cooking an Afghani Pulao recipe starts with keeping the rice in the water and letting them soak for a bit, then taking your lamb and cooking it till it gets brown, add onion to the put and other spices, and mix them together and cook the meat a little more. A trick mentioned in almost every kabuli pulao recipe in Urdu is that to check whether the meat is tender or not, take a fork and insert it in the meat, if it goes in easily it is tender enough if not then it needs to be cooked a little more. After this, add stock to the water and add more spices, let it cook for a bit, then separate the broth and meat. Next step is a very interesting one, you have to caramelize the sugar which will serve as the topping for your dish. Then cook the meat and rice together and your pulao will be ready. Every Afghani Pulao Recipe in Urdu ends with the toppings, it could be the caramelized sugar, nuts, toasted nuts, dry fruits usually golden raisins etc. Even though an authentic kabuli dish is pure mixture of lamb and rice but you can always use chicken instead of lamb if that is something you would like more.
So you can try your kabuli pulao today only by following the simple steps mentioned above. It might seem complicated in the first go, but once you are able to master this dish your guests will keep coming back for some more kabuli pulao.

Afghani Pulao Recipe in Urdu and English
At Masala TV you can check complete Afghani Pulao Recipe in Urdu and English. This is one of the best recipes by chef at Masala TV show . Check out the other best recipes of chefs .
Top relevant recipes of Afghani Pulao Recipe in Urdu