Chicken & Spinach Roulade Recipe | Dawat | Abida Baloch | French Food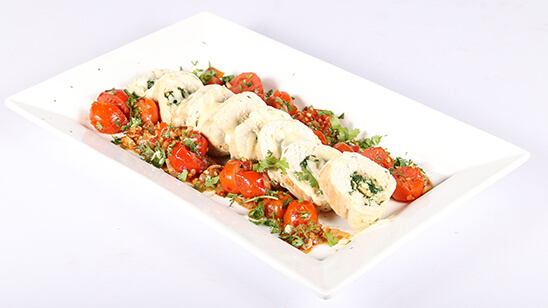 Feb 04, 2023 at 06:59 AM (GMT -05:00)

Check out the Chicken & Spinach Roulade Recipe in Urdu. Learn how to make best Chicken & Spinach Roulade Recipe , cooking at its finest by chef Abida Baloch at Masala TV show Dawat. Check all the Pakistan Cooking recipes in Urdu of Masala TV. Also Check Chicken & Spinach Roulade Recipe , ingredients and complete Method.
This Chicken and Spinach Roulade will make you appreciate chicken on a different level. Its filled with cheese and spinach.
Watch this Masala TV video to learn how to make Chicken and Spinach Roulade ,Greek Spinach Pie And Thai Chicken Broccoli Wraps Recipes.This show of Dawat with Chef Abida Baloch aired on 10 March 2020.
Ingredients:
Boneless chicken breasts 2
Mozzarella cheese grated 4 tbsp
Spinach chopped 1 cup
Mushroom sliced 2
Oil 2 tbsp
Garlic chopped 3 cloves
Onion finely chopped 1
Cherry Tomatoes halved 1 cup
Basil 1 tsp
Crushed red chilies 1 tsp
Salt to taste
Green coriander for garnish
Black pepper to taste
Method:
Cut chicken breast in butterfly style. Cover with plastic wrap and bash with hammer. Sauté spinach with salt, black pepper and mushroom sliced. Add grated mozzarella cheese. Apply batter on chicken breast and again roll it. Cover with plastic wraps cook in steam or pan. for sauce heat oil add garlic fry well. Add onion and cherry tomatoes cook well. Add salt, basil and crushed red chilies cook for 1 to 2 minute. When chicken is done cut into pieces and pour sauce on it. Garnish with green coriander & serve.
Ingredients:
Oil 3 tbsp
Onion chopped 1
Green onions chopped 1 bunch
Garlic minced 2 cloves
Spinach chopped 2 bunch
Chopped green coriander 1/2 cup
Eggs beaten 2
Cheddar cheese 1/2 cup
Mozzarella cheese 1/2 cup
Phyllo dough 8 sheets
Oil 1/4 cup
Method:
Pre heat oven. Heat oil fry garlic. Add onion, green onion and spinach cook well. When water is dried out add salt, black pepper and green coriander mix well. Remove from flame mix both cheese, also add eggs. After that add a layer of pastry in 9 pan. apply oil on it. Add filling, again apply oil on pastry and bake till golden color comes.
Ingredients:
sugar 1tsp
creamy peanut butter 2 tbsp
soy sauce 3 tbsp
water 2 to 3 tbsp
garlic minced 2 cloves
boneless chicken breasts 300gm
garlic 1/2 tsp
oil 2 tbsp
broccoli thinly sliced 2 cups
lemon juice 1 tbsp
carrot shredded 2 tbsp
Salt, Black pepper to taste
onion sliced 1
gingerroot minced 1 tsp
flour tortillas 4
Method:
Sugar peanut butter water garlic soya sauce mix kar ln
Chicken pa garlic salt paper laga dn
Pan main chicken paka ln 2 tsp oil k sath.
Same pan main 2tsp oil add kar k broccoli carrot onion lemon juice salt and pepper add kar k pakan ginger add karen or sath hi
peanut butter wala mixture add kar dn.
Wraps ko fold kar ln chicken or broccoli mixture k sath or serve Karen

Chicken & Spinach Roulade Recipe in Urdu and English
At Masala TV you can check complete Chicken & Spinach Roulade Recipe in Urdu and English. This is one of the best recipes by chef Abida Baloch at Masala TV show Dawat. Check out the other best recipes of chefs Abida Baloch.
Top relevant recipes of Chicken & Spinach Roulade Recipe in Urdu