Chocolate Cupcakes Recipe | Evening With Shireen | Chef Shireen Anwar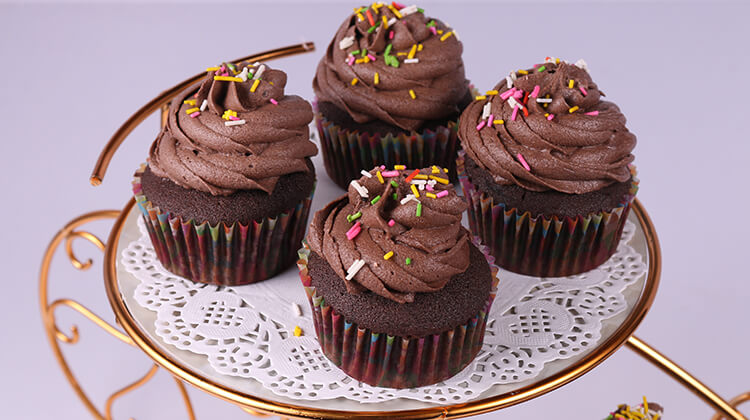 Sep 22, 2023 at 05:23 PM (GMT -04:00)

Check out the Chocolate Cupcakes Recipe in Urdu. Learn how to make best Chocolate Cupcakes Recipe, cooking at its finest by chef Shireen Anwar at Masala TV show Evening with Shireen. Check all the Pakistan Cooking recipes in Urdu of Masala TV. Also Check Chocolate Cupcakes Recipe, ingredients and complete Method.
The cupcake is so moist, it melts in your mouth and the frosting is made with real melted chocolate for a silky smooth, super chocolatey frosting you won't want to stop eating!
Watch this Masala TV video to learn how to make Chocolate Cupcakes,Tiramisu frappe and Flat pita shawarma pizza. This show of Evening With Shireen with Chef Shireen Anwar aired on 4 October 2019.
Ingredients for cupcake:
Butter 4 ounces
Dark chocolate melted 2 ounces
Oil 3 tbsp
Coco powder 4 tbsp heaped
Flour ¾ cup
Baking soda ½ tsp
Baking powder 1 tsp
Salt ¼ tsp
Eggs 3
Caster sugar ¾ cup
Vanilla essence 1 tsp
Sour cream ½ cup
Hot coffee ½ tsp
Ingredients for frosting:
Chocolate melted 100 gm
Butter 100 gm
Cream cheese 100 gm
Three in one coffee creamer 1 packet
Instant coffee 1 tsp
Icing sugar 1 ½ cup sieved
Whipped cream to taste
Method for cupcakes:
Melt butter and chocolate together then put all the ingredients in one bowl for cupcakes and beat for 3 mins, fill cupcake liners ¾ and bake at 180 d for 15 mins or until done.
Method for frosting
Melt chocolate and cool at room temperature, add in soften butter and cream cheese and beat well, start adding icing sugar and coffee flavors, beat until smooth and fluffy, put in piping bags and decorate.
Ingredients:
Coffee 1 tbsp
Chilled water 1 cup
Sugar 2 tbsp
Milk ½ cup
Sponge fingers 4
Cream cheese 3 tbsp heaped
Coffee creamer 1 packet
Vanilla ice cream 2 cups
Grated chocolate 3 tbsp
Whipped cream for topping
Coco to dust on top
cream ½ cup
Method:
Blend together all the ingredients, top with whipped cream, dust with coco, and serve with sponge fingers.
Ingredients for pita bread:
Flour 3 cups
Instant yeast 1 ½ tsp
Oil 1 tbsp
Salt 1 tsp
Sugar 1 tbsp
Warm water to knead the dough
Ingredient for topping:
Tikka boti chopped ½ packet
Vinegar ¼ cup
Soya sauce 3 tbsp
Black pepper crushed 1 tsp
Baking powder ½ tsp
Chopped garlic 1 tsp
Cream 3 tbsp
Oil ¼ cup
Paprika 1 tsp
Cumin roasted & crushed 1 tsp
Ingredients to assemble pizza
Oregano for topping 1 tbsp
Garlic hummus ½ cup
Cream cheese ½ cup
Cream ½ cup
Mozzarella cheese 1 cup
Jalapenos ½ cup
Onion sliced ½ cup
Capsicum ½ cup
Mozzarella cheese 2 cups
Method for dough
Mix all the ingredients together in a bowl, knead into a soft dough, let it rest for only 15 mins, roll out 2 large pizzas, bake in pre-heated oven on 200 d for just 10 mins, remove from the oven, slightly cool and do the topping. Knead the dough just before 30 mins you need to use.
Method:
On your baked pizza dough spread with cream cheese and cream mixture, then spread garlic humus, then mozzarella cheese, then cooked ch

Chocolate Cupcakes Recipe in Urdu and English
At Masala TV you can check complete Chocolate Cupcakes Recipe in Urdu and English. This is one of the best recipes by chef Shireen Anwar at Masala TV show Evening with Shireen. Check out the other best recipes of chefs Shireen Anwar.
Top relevant recipes of Chocolate Cupcakes Recipe in Urdu