Coffee Malted Cookies Recipe | Food Diaries | Zarnak Sidhwa | Bakery Items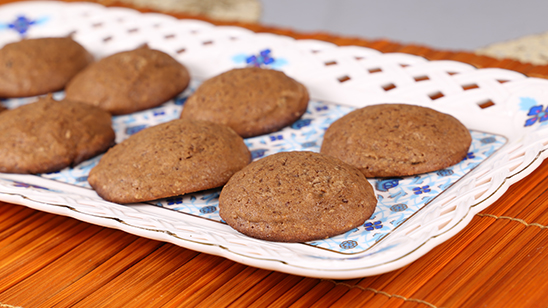 Feb 06, 2023 at 11:58 PM (GMT -05:00)

Check out the Coffee Malted Cookies Recipe in Urdu. Learn how to make best Coffee Malted Cookies Recipe , cooking at its finest by chef Zarnak Sidhwa at Masala TV show Food Diaries. Check all the Pakistan Cooking recipes in Urdu of Masala TV. Also Check Coffee Malted Cookies Recipe , ingredients and complete Method.
This Double Chocolate Chip Cookies recipe will have you falling in love! Try this out and thank us later.
Watch this Masala TV video to learn how to make Coffee Malted Cookies and BBQ Chicken Pizza Recipes. This show of Food Diaries with Chef Zarnak Sidhwa aired on 24 March 2021.
Ingredients:
Flour 1- 1/2 cups
Milk powder 1/4 cup
Baking powder 1/2 tsp
Unsalted butter 8 tbsp
Caster sugar 1/2 cup
Packed brown sugar 1/4 cup
Coffee 1 tbsp
Salt 1/2 tsp
Egg 1
Egg yolk 1
Vanilla essence 1 tsp
Method:
Mix the flour, malt powder and baking powder. Beat the butter, caster and brown sugars, coffee and salt. Beat in the egg, yolk and vanilla essence. Add the dry ingredients, dough will be crumbly, knead and gather it into a ball. Roll the dough into balls and place them an inch apart on baking sheets. Bake the cookies at 180 degrees C for 14 minutes, rotating the baking sheets top to bottom and front to back after 8 minutes. The cookies will be soft and golden only around the edges; they will firm as they cool. Transfer the sheets to racks and then, after about 10 minutes, carefully lift the cookies onto the racks to cool completely.
Ingredients:
For Sauce:
Tomato paste 1 cup
Dark brown sugar ¼ cup
Apple cider vinegar 2 tsp
Mustard 1 tsp
Soy sauce 3 tbsp
Tabasco sauce 2 tbsp
For Pizza Base:
warm water 1 cup
honey 1 tbsp
yeast 2 tsp
flour 3 cups
salt 1 tsp
olive oil 2 tbsp
For Topping:
Chicken breast (boiled & shredded) 1
Pineapple chunks ½ cup
Mozzarella cheese (grated) 1 cup
Method:
For sauce mix everything together. For dough pour warm water into a small bowl; stir in honey until dissolved. Add the yeast, stirring until dissolved. Let stand until creamy, about 10 minutes. In a large bowl, combine the flour and salt. Add yeast mixture and olive oil; stir well to combine. When the dough has pulled together, turn it out onto a lightly floured surface and knead in more flour until the dough is no longer sticky. Lightly oil a large bowl, place the dough in the bowl and turn to coat with oil. Cover with a damp cloth and let rise in a warm place until doubled in volume, about 1 hour. Punch down the risen dough on a floured surface. Divide into two equal portions. Allow the dough to relax for a minute, then roll each portion out into a thin circle. Place on lightly oiled pizza pans.
Spread the barbecue sauce evenly over pizza dough. Top with chicken, pineapple and cheese. Bake at 200 degrees C in a preheated oven for 20 minutes or until cheese is lightly browned.

Coffee Malted Cookies Recipe in Urdu and English
At Masala TV you can check complete Coffee Malted Cookies Recipe in Urdu and English. This is one of the best recipes by chef Zarnak Sidhwa at Masala TV show Food Diaries. Check out the other best recipes of chefs Zarnak Sidhwa.
Top relevant recipes of Coffee Malted Cookies Recipe in Urdu