Coffee Mille Feuille Recipe | Masala Mornings | Masala TV | Shireen Anwar | Dessert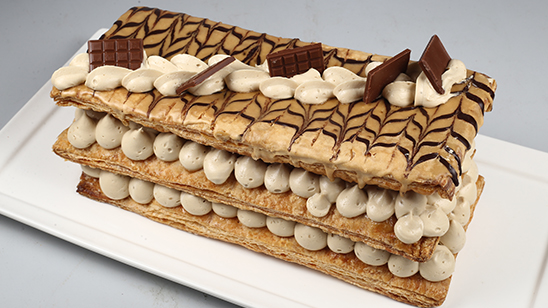 Sep 25, 2023 at 03:26 PM (GMT -04:00)

Check out the Coffee Mille Feuille Recipe in Urdu. Learn how to make best Coffee Mille Feuille Recipe , cooking at its finest by chef Shireen Anwar at Masala TV show Masala Mornings. Check all the Pakistan Cooking recipes in Urdu of Masala TV. Also Check Coffee Mille Feuille Recipe , ingredients and complete Method.
Coffee Mille Feuille Recipe is by far the easiest to make! Try it out and treat your loved ones.
Watch this Masala TV video to learn how to make Coffee Mille Feuille and French Apple Cake Recipes. This show of Masala Mornings with Chef Shireen Anwar aired on 6 July 2021.
Ingredients:
Puff pastry as required
Pastry cream as required
Whipped cream 200gm
Ingredients for icing :
Icing sugar 100gm
Coffee powder ½ tsp
Fresh milk as required
Dark chocolate melted 50gm
Ingredients for pastry cream:
Whole milk 500 grams
Coffee powder 1 tbsp
Egg yolk 4
Egg 1
White sugar 110 grams
Butter 110 grams
Vanilla extracts ¼ tsp
Corn starch 85 gram
Method:
Rollout the puff dough in a rectangular shape and mark it to get the equal sizes for mille feuille. Cut into 4"x3" sizes in rectangular shapes, place them on a baking mat with some distance cover it with another mat & tray and bake it at 200 c for 10 to 12 minutes .remove from oven, cool it down properly, stack 3 with pastry cream and garnish with icing.
Method for pastry cream :
In a deep clean pan simmer whole milk with instant coffee .Take a clean bowl and make slurry just by whisking together yolks, sugar, corn starch & vanilla extract. Temper the slurry with some hot milk and put it back again in the rest of the milk and cook on very low flame till it thickens fully. When it starts bubbling cook it for more two minutes while whisking continuously. Remove from heat and let it cool down a bit and then add in butter. Whisk it well to make it creamy. Use accordingly
Method for icing: In a clean bowl mix sugar with some milk to make a thick but runny slurry. Spread on top layer and garnish with chocolate.
Ingredients:
Apples 2
Plain flour 120gm
Butter 100 grams
Brown sugar 50 grams
Milk luke warm 50 ml
Baking powder 1/5 tsp
Vanilla extracts ½tsp
Salt pinch
Eggs 2
Caster sugar 1 tsp
Ingredients for butterscotch sauce:
Butter 100 gm
Brown sugar 150 gm
Dairy flavor cream 200 gm
Vanilla extract ½ tsp
Method for cake:
In a deep clean bowl, sieve together all dry items and keep aside.
Now beat butter & sugar for couple of minutes then add in eggs one at a time, beat well. Then add all dry ingredients, milk and give it a good mix. Add in sliced apple and mix it gently with the help of spatula .pour the batter in a greased cake pan or loaf pan. Sprinkle caster sugar on top and garnish it with some apple slices now bake it at 160 c for 40 to 45 minutes.
Method for butterscotch sauce:
Cook all above together for 10 minutes on low flame after first boil.
lastly serve the cake with butter scotch sauce .

Coffee Mille Feuille Recipe in Urdu and English
At Masala TV you can check complete Coffee Mille Feuille Recipe in Urdu and English. This is one of the best recipes by chef Shireen Anwar at Masala TV show Masala Mornings. Check out the other best recipes of chefs Shireen Anwar.
Top relevant recipes of Coffee Mille Feuille Recipe in Urdu