Creamy Caramel Kheer Recipe | Lazzat | Samina Jalil | Dessert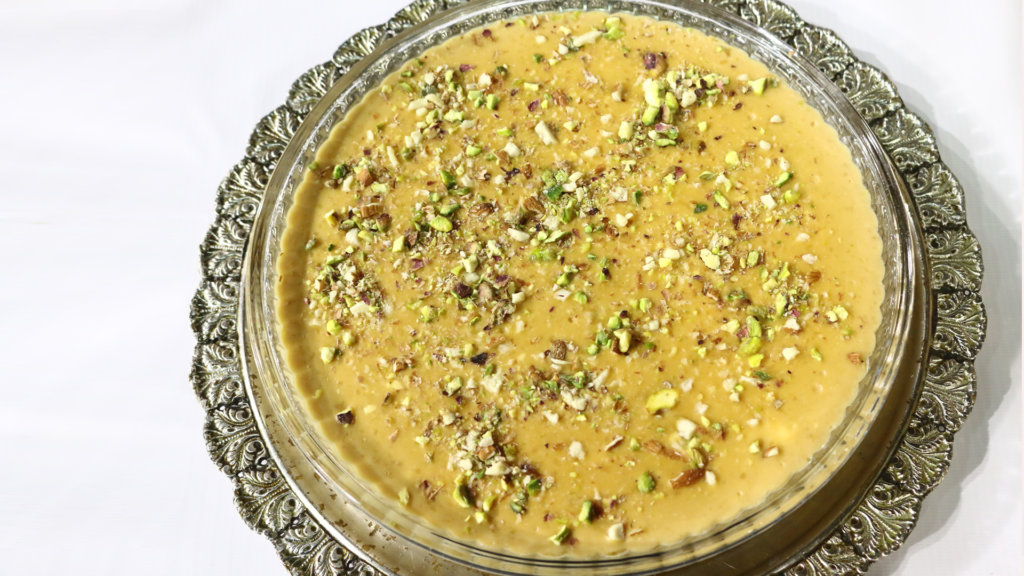 Mar 23, 2023 at 02:18 PM (GMT -04:00)

Check out the Creamy Caramel Kheer Recipe in Urdu. Learn how to make best Creamy Caramel Kheer Recipe , cooking at its finest by chef Samina Jalil at Masala TV show Lazzat. Check all the Pakistan Cooking recipes in Urdu of Masala TV. Also Check Creamy Caramel Kheer Recipe , ingredients and complete Method.
The fusion of caramel and the traditional kheer taste will have you falling in love with this dessert. Try this Creamy Caramel Kheer today!
Watch this Masala TV video to learn how to make Creamy Caramel Kheer , Gola kabab Qeema fry And Mutton Masala Biryani Recipes. This show of Lazzat with Chef Samina Jalil aired on 26 May 2020.
Ingredients:
Milk 1 liter
Boiled rice 1 cup
Cream ½ cup
Almonds, pistachio for garnish
Ingredients for caramel:
Sugar ¾ cup
Clarified butter 2 tbsp
Method:
Cook rice in milk till it become thick. Add cream mix well. Heat clarified butter for caramel. Add sugar cook till it dissolved and become caramel. Add ¾ cup of water mix well. Mix in kheer cook for 5 minute, remove in a dish garnish with almond and pistachio, serve.
Ingredients:
Mince (beef) 500 gm
Papaya 2 tbsp
Red Chili Powder 1-1/2 tsp
All Spice Powder ½ tsp
Green Chili Paste 1 tbsp
Fried Onion Paste ½ cup
Yogurt ½ cup
Clarified Butter ½ cup
Ginger Garlic Paste 1 tbsp
Nutmeg, Mace Powder ½ tsp
Kabab Chini Powder ½ tsp
Green Cardamom Powder ½ tsp
Butter 2 tbsp
Coal 1 piece
Onion, Ginger for garnish
Method:
In a mince add all the given ingredients and leave it 3 to 4 hours.
Now cook until done
After this , give coal steam.
Then heat ghee cooked mince and fry.
In the end, take it out in a dish.
Garnish with ginger , onion and serve.
Ingredients for Masala:
Mutton 750 gm
Ginger Garlic Paste 1-1/2 tbsp
Salt 1-1/2 tsp
Red Chilli Powder 1 tbsp
Turmeric ½ tsp
Coriander Powder 1 tbsp
Whole Garam Masala 1 tbsp
Onion (chopped) 2
Tomatoes 2
Ingredients for Rice:
Rice (boiled) 500 gm
Mix Garam Masala 1 tbsp
Bay Leaf 1
Ingredients:
Corainder Leaves 1 bunch
Mint Leaves ½ bunch
Green Chillies 7-8
Lemon Slices 6-8
Plums 8-10
Yogurt ¾ cup
Fried Onion ½ cup
Ghee ¾ cup
Yellow Food Color as required
Nutmeg, Mace Powder ½ tsp
Kewra Water 1-1/2 tsp
Tomatoes 2
Method:
In a mutton, add ginger garlic paste, salt, red chillies, turmeric, coriander powder,whole mix garam masala, onion, tomatoes, water and cook until mutton is done and 3 cup of stock are left.
Now add this mixture into pan, take it out 2 cup of stock.
Then add coriander leaves, mint leaves, tomatoes, green chillies, nutmeg, mace powder, soaked plums, kewra water, fried onion, yellow food color, yogurt and mix.
Then add mix garam masala , bay leaf and boiled rice.
After this, heat ghee add remaining stock.
Add yellow food color and let it simmer for few minutes , then take it out.

Creamy Caramel Kheer Recipe in Urdu and English
At Masala TV you can check complete Creamy Caramel Kheer Recipe in Urdu and English. This is one of the best recipes by chef Samina Jalil at Masala TV show Lazzat. Check out the other best recipes of chefs Samina Jalil.
Top relevant recipes of Creamy Caramel Kheer Recipe in Urdu