Cupcakes Recipe | Food Diaries | Chef Zarnak Sidhwa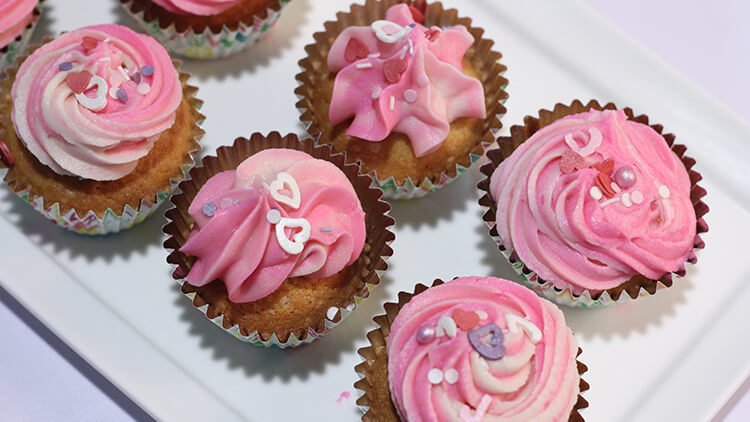 Aug 03, 2020 at 08:07 AM (GMT -04:00)

Check out the Cupcakes Recipe in Urdu. Learn how to make best Cupcakes Recipe, cooking at its finest by chef Zarnak Sidhwa at Masala TV show Food Diaries. Check all the Pakistan Cooking recipes in Urdu of Masala TV. Also Check Cupcakes Recipe, ingredients and complete Method.
Easy cupcakes for every event! You can make these in less than 30 minutes and serve as you please.
Watch this Masala TV video to learn how to make Cupcakes and Sabzi Biryani Recipes. This show of Food Diaries with Chef Zarnak Sidhwa aired on 15 November 2019.
Ingredients:
Butter 175gm
Flour 175gm
Caster sugar 175gm
Baking powder 1 tsp
Eggs 3
Vanilla essence ½ tsp
For Icing:
Butter 175gm
Vanilla essence ½ tsp
Milk 2-3 tbsp
Icing sugar 350gm
Pink food color few drops
Pink hearts/sprinkles for decoration
Method:
Put all the cake ingredients into a large bowl and beat until smooth. Divide the mixture evenly between the paper cases. Bake at 180 degrees C for 20-25 minutes, or until the cakes are well risen and firm on top. Transfer to a wire rack to cool.
Make the icing: put the butter, vanilla essence, two tablespoons milk, half the icing sugar in a bowl and beat until smooth. Beat in the remaining icing sugar, and pour in the rest of the milk if needed to make the icing the right consistency. Put half of the icing into another bowl and color it pale pink. Carefully spoon this down one side of a piping bag fitted with a star-shaped nozzle, then spoon the non-colored icing down the other side of the bag. Twist the end of the bag to seal the icing in. Pipe swirls of the icing on top of each cupcake. Scatter with the edible pink hearts, or sprinkles, to decorate.
Ingredients:
Soaked rice 1-1/2 cups
Green peas ½ cup
Chopped carrot 1
Cauliflower ¼ small
Chopped French beans 4-5
Chopped tomatoes 2
Onions 3
Saffron 4-5 strands
Milk ¼ cup
Salt to taste
Oil 2 tbsp
Clarified butter 3 tbsp
Chopped ginger 1 inch piece
Cumin seeds 1 tsp
Chopped green chilies 2
Black cardamoms 2
Green cardamoms 4
Cloves 4-5
Cinnamon 1 inch stick
Bay leaf 1
Chopped coriander 2 tbsp
Yogurt ½ cup
Red chili powder 1 tsp
Coriander powder 1 tbsp
Turmeric powder ½ tsp
Chopped mint 1 tbsp
Screw pine water few drops
Raita to serve
Method:
Chop one onion and slice the remaining two. Soak saffron in warm milk. Cook the rice with water and salt. Drain and set aside. Fry sliced onions in oil till golden and set aside. Add chopped onion, ginger, cumin seeds, green chilies, black cardamoms, green cardamoms, cloves, cinnamon and bay leaf. Mix in peas, carrot, cauliflower, French beans, tomato, coriander leaves, yogurt, red chili powder, coriander powder, turmeric powder, salt and water. Cook covered until done. To assemble, put half the rice in a deep pan and add half the vegetables, add the rest of the rice. Sprinkle saffron, browned onions, mint leaves and screw pine water on rice and simmer on low heat. Serve hot with a raita.

Cupcakes Recipe in Urdu and English
At Masala TV you can check complete Cupcakes Recipe in Urdu and English. This is one of the best recipes by chef Zarnak Sidhwa at Masala TV show Food Diaries. Check out the other best recipes of chefs Zarnak Sidhwa.
Top relevant recipes of Cupcakes Recipe in Urdu