Easy Flourless Cookies Recipe | Food Diaries | Chef Zarnak Sidhwa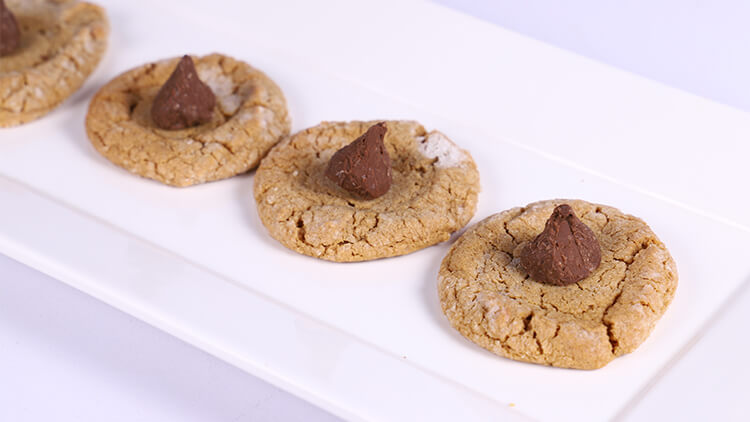 Jan 26, 2023 at 10:49 PM (GMT -05:00)

Check out the Easy Flourless Cookies Recipe in Urdu. Learn how to make best Easy Flourless Cookies Recipe, cooking at its finest by chef Zarnak Sidhwa at Masala TV show Food Diaries. Check all the Pakistan Cooking recipes in Urdu of Masala TV. Also Check Easy Flourless Cookies Recipe, ingredients and complete Method.
Going for something gluten-free? Then take a look at this amazing cookie recipe that will make your day and share your feedback with us.
Watch this Masala TV video to learn how to make Flourless Cookies ,Biscuits and Gravy and Large Flaky Biscuits. This show of Food Diaries with Chef Zarnak Sidhwa aired on 11 October 2019.
Ingredients:
Creamy peanut butter 1 cup
Caster sugar ½ cup
Sugar to garnish
Brown sugar ½ cup
Egg 1
Salt ¼ tsp
Vanilla essence ½ tsp
Chocolate kisses as required
Sugar to coat
Method:
In a bowl, combine all ingredients except for the chocolate kisses. Press dough together into a ball, wrap tightly, and chill in fridge 30 minutes. Shape dough into 1-inch balls. Roll each ball in sugar to coat. Place on lined cookie sheet. Lightly press down with your thumb. Bake at 180 degrees C for 7 minutes or until lightly golden but still very soft. Do not over bake. Once removed from oven, gently press a chocolate kiss into the center of each cookie. Cool about a minute on cookie sheet, and then transfer to wire rack to finish cooling.
Ingredients:
Oil 2 tbsp
Chopped onion 1
Minced garlic 3 cloves
Minced mutton or beef 1/2 kg
Flour 3 tbsp
Milk 2-2/3 cups
Salt to taste
Ground black pepper as required
Large flaky biscuits 8-10
Chopped parsley ¼ cup
Method:
Heat oil. Add onion and garlic. Add mince, stirring to crumble it up well and brown it. Add flour, gently stirring until fully incorporated. Add milk and stir well to combine. Add ½ tsp salt and ½ tsp black pepper. Bring mixture to low boil, stirring, until sauce is thickened to desired gravy consistency. It should be rich gravy, yet thin enough to evenly pour into casserole. Grease bottom of a baking dish and layer half of the biscuit quarters evenly onto bottom.
Evenly spoon the gravy over baked biscuits. Place remaining biscuit quarters evenly on top of gravy. Cover loosely with foil and bake 14 minutes. Remove foil and continue baking 10 more minutes or until tops are puffy and golden brown. Serve immediately
Ingredients:
Flour 2-1/2 cups
Baking powder 2 tbsp
Caster sugar 1 tbsp
Salt 1 tsp
Cold butter ½ cup
Cold buttermilk 1 cup
Melted butter to brush
Method:
Whisk together flour, baking powder, sugar, and salt. Using a box grater, grate butter over the flour mixture and quickly toss to incorporate. Then make a well in the middle of the dough and pour in 1 cup buttermilk. Stir until just beginning to come together, and then dump out onto your work surface. Bring your dough together into a rectangle, about 1" thick. Fold the dough into thirds, like folding a letter to put into an envelope. Using a rolling pin, gently pat back into a 1" thick rectangle, and repeat the folding process two more times. Work fast so the butter does not melt. Once dough is folded three times, roll into a 1" thick rectangle again. Using a 2" round cookie cutter, quickly press down (don't twist!) to cut out the biscuits and place onto baking sheet. Brush tops of biscuits with melted butter and bake at 200 degrees c until flaky and tops are lightly golden, about 20 minutes. Serve warm.

Easy Flourless Cookies Recipe in Urdu and English
At Masala TV you can check complete Easy Flourless Cookies Recipe in Urdu and English. This is one of the best recipes by chef Zarnak Sidhwa at Masala TV show Food Diaries. Check out the other best recipes of chefs Zarnak Sidhwa.
Top relevant recipes of Easy Flourless Cookies Recipe in Urdu