Egg Biryani Recipe | Dawat | Abida Baloch | Desi Food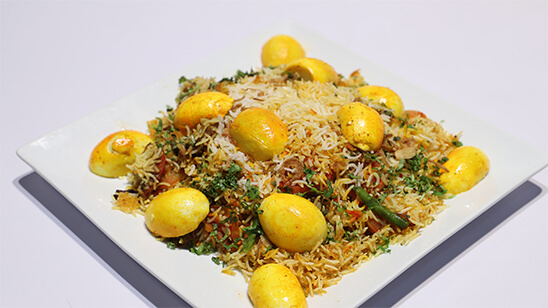 Jul 01, 2022 at 06:17 PM (GMT -04:00)

Check out the Egg Biryani Recipe in Urdu. Learn how to make best Egg Biryani Recipe , cooking at its finest by chef Abida Baloch at Masala TV show Dawat. Check all the Pakistan Cooking recipes in Urdu of Masala TV. Also Check Egg Biryani Recipe , ingredients and complete Method.
Egg Biryani is the best tasting dinner that we all need after a tiring day. Try this wonderful tasting Biryani at home today!
Watch this Masala TV video to Learn how to make Egg Biryani and Makhana Firni Recipes. This show of Dawat with Chef Abida Baloch aired on 2 October 2020.
Ingredients:
Boiled rice 2 cup
Onions (fried) 2
Ginger garlic paste 1 tbsp
Green coriander as required
Oil 1/2
Tomatoes slices 3
Whole spices 1tbsp
Black pepper powder 1/2 tsp
Coriander powder 2 tbsp
All spice powder 1 tbsp
Turmeric 1/2 tsp
Cayenne red chili powder 1 tsp
Red chili powder 1tbsp
Salt to taste
Eggs 6
Yellow food color a pinch
Method:
Place 6 eggs In a large bowl and sprinkle red chili powder, turmeric, and salt. Coat it well. Then heat oil in a pan add the eggs and sauté for 2 minutes on low flame.
Now in pan heat oil add all the whole spices and sauté for a minute. Add ginger garlic paste, all powdered spices and sauté on medium heat. Then add fried onions and sauté. Now add water, and cover cook for another 2 minutes. Then layer cooked rice with cooked masala, add sliced tomato, green coriander and yellow color. Cover the pan and let cook for 10 minutes on slow flame. Serve with fried eggs.
If you can think of one dish which represents Pakistan it will be biryani. Everyone around the country absolutely love biryani it is like the main dish. It is present at almost every occasion be it a wedding, a birthday, Eid or any other party, it cannot be complete without a good plate of biryani. What is great about the craze of biryani is that people have come up with different variations of biryani. They have opened up home businesses following that perfect yet unique recipe taught to them by their ancestors, which has also led to an increased competition between the businesses because everyone is so great in their own way.
There is a famous sindhi biryani, chicken biryani, vegetable biryani, kabuli biryani and so much more. So if you are getting tired of eating chicken but you can't stop eating biryani, here is a perfect variation for you, Egg biryani! Replacing chicken with eggs could be great if you are bored of eating chicken every now and then and also to give an extra special flavor to your biryani. Such biryani is called ande ki biryani in the local language.
There are so many egg biryani recipes available for you to try, best part is all them are very easy to make. The ingredients used in egg biryani recipe are very similar to those used in the regular biryani. According to the egg biryani recipe in urdu, all you have to do is boil eggs and add to your delicious biryani. There are three different ways to make it, either you can make it in an instant pot, pressure cooker or a normal pot depending on how quickly you want it to be cooked. Anda briyani recipes includes ingredients like spices, onions, garlic, chilies, tomato, turmeric, yogurt, eggs and rice of course.
So all you have to do is, to follow a perfect anda biryani recipe you need to focus on all the steps. When to add eggs, how to boil them, when to add rice, all these minor details could be very important for that perfect recipe.
A fun thing about biryani lovers is that they even have made variation within the main categories of biryani, within the egg biryani, there is Hyderabadi egg biryani and egg dum biryani too. So choose your favourtie one and follow the egg biryani recipe in Urdu to make it to perfection.
Ingredients:
Clarified butter 2 tbsp
Ferox 2 cups
Milk 1 litre
Saffron a pinch
Sugar 1/4 cup
Cardamom powder 1 tsp
Rice flour 1tbsp
Almond and pistachio for Garnish
Method:
Heat ghee in a pan, add ferox and fry until they are crispy. Then crush the ferox to make a powder. Now heat milk in a pan add saffron strands in it. Let the milk cook on low heat until it is reduced to half. Then add the ferox powder, rice flour in the milk and cook until the mixture thicken to a Firni consistency. Now add sugar and cardamom powder and cook for another minute. Allow it to chill for few hours before serving.

Egg Biryani Recipe in Urdu and English
At Masala TV you can check complete Egg Biryani Recipe in Urdu and English. This is one of the best recipes by chef Abida Baloch at Masala TV show Dawat. Check out the other best recipes of chefs Abida Baloch.
Top relevant recipes of Egg Biryani Recipe in Urdu