Gul e Firdaus Recipe | Food Diaries | Zarnak Sidhwa | Dessert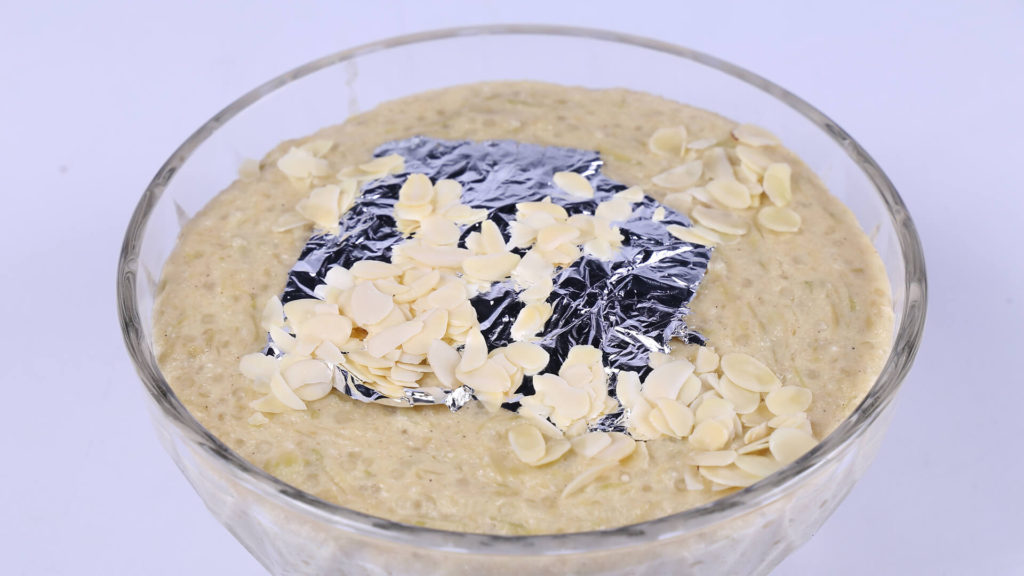 May 18, 2022 at 02:10 AM (GMT -04:00)

Check out the Gul e Firdaus Recipe in Urdu. Learn how to make best Gul e Firdaus Recipe, cooking at its finest by chef Zarnak Sidhwa at Masala TV show Food Diaries. Check all the Pakistan Cooking recipes in Urdu of Masala TV. Also Check Gul e Firdaus Recipe, ingredients and complete Method.
The Gul e Firdaus Recipe is a simple milk pudding made with very simple ingredients! Give this special dessert recipe a try and share your reviews.
Watch this Masala TV video to learn how to make Gul e Firdaus ,Chicken nuggets and Thai Pineapple Vegetable Curry Recipes. This show of Food Diaries with Chef Zarnak Sidhwa aired on 26 December 2019.
Ingredients:
Milk 1-1/2 liters
Bottle gourd (grated) 3/4 cup
Tapioca Pearls 3 tbsp
Rice ½ cup
Powdered almonds 3 tbsp
Cardamom powder ¼ tbsp
Saffron few strands
Vanilla essence 1 tbsp
Condensed milk 200 gm
Slivered almonds ½ tbsp
Clarified butter 2 tbsp
Edible Silver Leaf 1
Method:
Wash and soak sago for 1 hour. Wash rice and pat to dry. Spread rice on a clean muslin cloth for 30-40 minutes under fan and allow it to dry. Once the rice is dry, grind to coarse powder. In a pan, add ghee and roast the slivered almonds. Once they turn light golden using a slotted spoon remove the almonds onto kitchen paper and set aside.
In the same ghee add grated bottle gourd and on medium flame saute for 2-3 minutes until the bottle gourd begins to leave its liquids. At this stage add half of milk and 1-1/2 cups of water to bottle gourd and cook until bottle gourd is soft. In another pan, add remaining milk, add the coarsely ground rice along with soaked sago and cook till done. Take care to keep stirring this mixture so it does not stick at the bottom of the pan. Now add condensed milk, cardamom powder, almond powder, vanilla essence and the boiled milk and bottle gourd mixture. Stir gently to combine all the ingredients well. Cook on low flame and stir until everything combines together. Cook till you get kheer-like consistency. If the mixture is getting too thick, then you can add 1/2 cup milk or water to give it a better consistency. Garnish the Gil-E-Firdaus with golden fried slivered almonds and edible silver leaf. Serve chilled.
Ingredients:
Chicken breast fillets 2
Milk 1 cup
Lemon juice of 1 lemon
Egg 1
Chopped spring onions ¼ cup
Grated Parmesan cheese ¼ cup
Soy sauce 3 tbsp
Tabasco sauce 1 tsp
Lemon juice of 1 lemon
Salt 1 tsp
Black pepper 1 tsp
Oil for frying
Flour 1 cup
Eggs 3
Bread crumbs 2 cups
Method:
Mix milk with lemon juice to make buttermilk. Marinate the chicken pieces in buttermilk. Cover with plastic wrap and leave in the refrigerator overnight. This will tenderize the chicken. Heat oil. Drain and discard the buttermilk. In a food processor, grind the marinated chicken, egg, spring onions, Parmesan cheese, soy sauce, Tabasco sauce, lemon juice, salt and pepper. Make about 2-inch nuggets. Coat the nuggets in flour, then egg, and then the breadcrumbs and heat oil. Deep fry in small batches until golden brown, about 5 minutes. Serve with any spicy sauces.
Ingredients to Grind:
Chopped garlic 6 cloves
Chopped ginger 1 inch piece
Chopped spring onions 2
Chopped lemongrass 3 Stalks
Green Chilies 2
Coriander Seeds 1 tbsp
Water ¼ cup
Cauliflower 1 small
Capsicum 1
Green beans ½ cup
Pineapple chunks 1 cup
Coconut milk 200 ml
Brown sugar 1 tsp
Soy sauce 1 tsp
Salt to taste
Basil leaves few
Oil 1 tbsp
Method:
Grind the garlic, ginger, spring onions, lemongrass, and coriander seeds into a smooth paste using little water. Heat oil in a wok and add the capsicum, cauliflower, beans and sprinkle salt and saute until the vegetables are lightly cooked. In another pan add oil. Add the Curry paste and saute for two minutes till the aromas are released. Add the coconut milk, brown sugar and soy sauce and the cooked vegetables, pineapple, water, cover and simmer for 3 to 4 minutes. Check the salt and adjust to taste accordingly. Once done, stir in torn basil leaves and serve curry with rice.

Gul e Firdaus Recipe in Urdu and English
At Masala TV you can check complete Gul e Firdaus Recipe in Urdu and English. This is one of the best recipes by chef Zarnak Sidhwa at Masala TV show Food Diaries. Check out the other best recipes of chefs Zarnak Sidhwa.
Top relevant recipes of Gul e Firdaus Recipe in Urdu