Hareesa Recipe | Mehboob's Kitchen | Mehboob Khan | Desi Food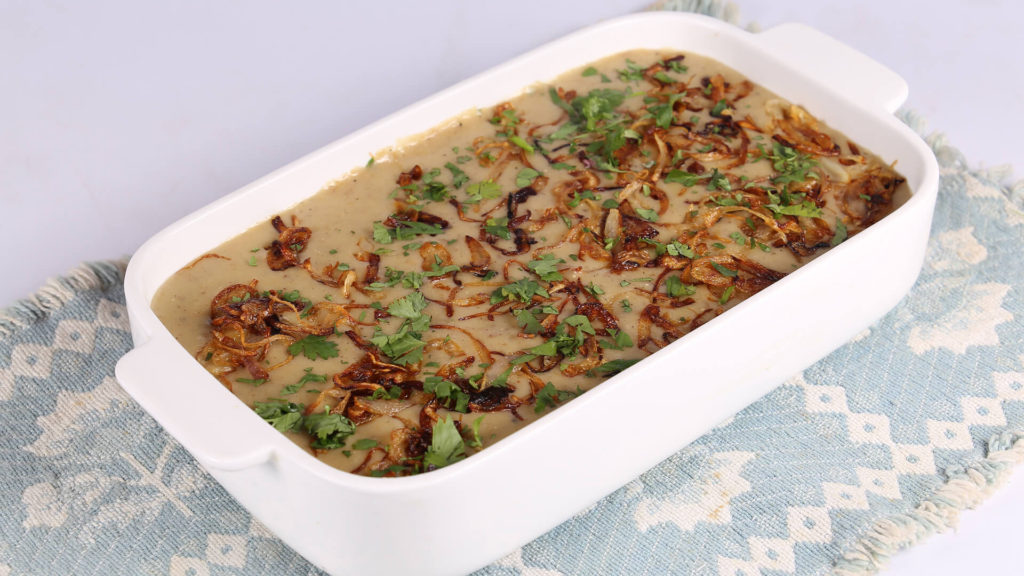 May 31, 2023 at 11:44 AM (GMT -04:00)

Check out the Hareesa Recipe in Urdu. Learn how to make best Hareesa Recipe , cooking at its finest by chef Mehboob Khan at Masala TV show Mehboob's Kitchen. Check all the Pakistan Cooking recipes in Urdu of Masala TV. Also Check Hareesa Recipe , ingredients and complete Method.
Hareesa has an arcadian taste to it. Its traditional, it's classy and it's moreish. It's the ideal thing to serve at parties to make your guests love it. Give it a try and fall in love with Hareesa all-over again!
Watch this Masala TV video to learn how to make Hareesa ,Bengali Fish Kabab and Sobat Recipes. This show of Mehboob's Kitchen with Chef Mehboob Khan aired on 21 January 2020.
Ingredients:
Mutton 1 kg
Whole wheat oat ½ kg
Clarified butter ½ cup
Salt 1 tbsp
Cinnamon powder ½ tsp
Aniseed 2 tbsp
Ginger 1 tbsp
Garlic 1 tbsp
Split green gram 1 cup
Rice 1 cup
Black pepper 1 tbsp
Dry ginger powder 2 tbsp
Onions (sliced) 2
Milk 4 cup
Green cardamom 1 tsp
Oil ¼ cup
Method:
In a pan heat oil, fry onions and take it out half the onions. Then fry the mutton for about 5 minutes. Now add ginger garlic, fry well. Now another pan add whole wheat oats, rice and split green gram. Cook until it becomes soft. Then grind them to make a paste. Now add the paste to the mutton mixture, also add black pepper, cinnamon powder, aniseed, cardamom powder, milk, salt and dry ginger powder. Mix and cook well. Then heat clarified butter in a pan and add hareesa and garnish it with fried onions. Serve.
Ingredients:
Fish (boneless) 750 gm
Potato (boiled) 500 gm
Onions 2
Green coriander ½ bunch
Eggs 2
Garlic 1 tbsp
Ginger 1 tbsp
Coriander powder 1 tbsp
Cumin powder 1 tbsp
Red chili powder 2 tbsp
Turmeric powder ½ tsp
Salt 1 ½ tsp
Carom seeds 1 tsp
Green chilies 6-8
All spice powder 2 tbsp
Eggs (boiled) 5
Oil as required
Method:
In a pot except potatoes, oil and eggs, add all the ingredients with 2 cups of water until it gets a boil. Cook for about 15 minutes. Once the water is dried add potatoes and set the flame on high. Then add eggs to the mixture and make small round shape kababs. Now heat the oil in a pan and fry on both sides for about 5 minutes. Serve hot.
Ingredients:
Chicken (12 pieces) 1
Chaptatiyan 10
Onions (large) 2
Tomatoes 6
Dry plums ½ cup
Whole spice powder 2 tbsp
Garlic 1 tbsp
Ginger 1 tbsp
Salt 2 tbsp
Oil ½ cup
Turmeric powder 1 tsp
Red chili powder 1 tbsp
Green chilies 4
Green coriander 1 cup
Cumin 1 tbsp
Coriander powder 1 tbsp
Black pepper (crushed) 1 ½ tbsp
For The Chutney:
Green coriander ½ cup
Garlic 5 cloves
Green chilies 4
Vinegar ½ cup
Water 1 ½ cup
Salt ½ tsp
Method:
In a wok fry the onions well. Then add ginger and garlic. Fry for a minute. Now add tomatoes, whole spice powder, cumin, red chili powder, turmeric powder, coriander powder and dry plumps. Cook well for 5 minutes. Then add chicken, water and salt. Cook until it gets a boil. Once the chicken is tender take it out. Now make small pieces of chapatti (roti) and add into the gravy. Then add chopped green chilies, green coriander and crushed black pepper. Cook for another 5 minutes. Now set the chapati mixture over a platter and set the chicken over it.
For the chutney mix green coriander, garlic, green chilies, vinegar, water and salt. Blend well and serve with the dish.

Hareesa Recipe in Urdu and English
At Masala TV you can check complete Hareesa Recipe in Urdu and English. This is one of the best recipes by chef Mehboob Khan at Masala TV show Mehboob's Kitchen. Check out the other best recipes of chefs Mehboob Khan.
Top relevant recipes of Hareesa Recipe in Urdu