Jheenga Fry Recipe | Flame On Hai | Desi Food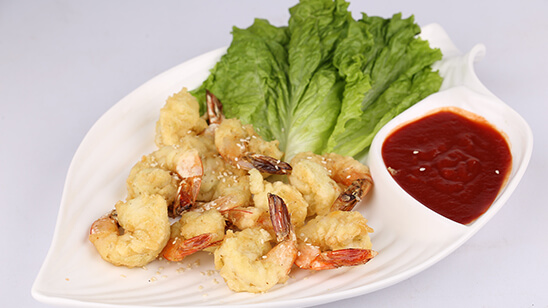 Jul 07, 2022 at 03:46 AM (GMT -04:00)

Check out the Jheenga Fry Recipe in Urdu. Learn how to make best Jheenga Fry Recipe , cooking at its finest by chef Irfan Wasti at Masala TV show Flame On Hai. Check all the Pakistan Cooking recipes in Urdu of Masala TV. Also Check Jheenga Fry Recipe , ingredients and complete Method.
Jheenga Fry is just what we need to enjoy the arrival of winters. Try this dish for dinner today!
Watch this Masala TV video to learn how to make Jheenga Fry , Kastoori Doodh , Khatty Aalu Ki Salad and Aalu Kofta Biryani Recipes. This show of Flame On Hai with Chef Irfan Wasti aired on 8 November 2020.
Ingredients:
Prawns 10-12
Garlic paste 1 tbsp
Green chili paste 1 tbsp
Lemon juice 2tbsp
Salt as required
White pepper ½ tsp
Ingredients for Batter:
Eggs 2
Flour 1 tbsp
Corn flour 2-3tbsp
Baking powder 1 pinch
Oil as required
Salt as required
Sesame seeds 1 tbsp
METHOD:
In mixing bowl add prawns and all the spices mix it and leave for 1 hour in fridge. For batter add egg, flour, corn flour, baking powder and salt in blender ,add oil from top and blend it once batter becomes thick take out in bowl and add sesame seeds in batter, now heat oil in a wok, dip shrimps in a batter and cook in hot oil. Serve hot.
Ingredients:
Potato boiled 1 cup
Meat balls 8-10
Rice 2 cups
Oil ¼ cup
Onion sliced 2
Ginger garlic paste 1 tbsp
Green chili paste 2tbsp
Curry leaves 12-15
Salt as required
Red chili powder 1 tbsp
Coriander powder 1 tbsp
Turmeric powder 1/2 tsp
Whole all spice 1 tbsp
Yogurt ½ cup
Food color few drops
Screw pine essence few drops
Star anise powder 1 tsp
Coriander 3 tbsp
Mint 3 tbsp
Green chilies 3-4
Tomato sliced 2-4
METHOD:
To make a gravi add onion in hot oil in pan until it become brown, add garlic and ginger paste and sauté it, add curry leaves, red chilli paste and all the spices and sauté well till the paste form, add meat balls and some water and leave it for 8 to 10mins, once meal balls dissolved add boiled potatoes, in separate bowl add yogurt, colour, Screw pine essence, Star anise powder and mix it,in another separate bowl add tomato slice, coriander, mint, and green chili and mix it and add meat balls potato gravi over the top ,mix boiled rice with food color then add with oil and leave for simmer 15 to 20 mins
Ingredients:
Potato boiled cubes 1 cup
Tamarind ½ cup
Salt as required
Chaat masala 1 tsp
Chili sauce 2-3tbsp
Tomato ketchup ¼ cup
Lemon juice 2tbsp
Onion cubes ½ cup
Cucumber cubes ¼ cup
Tomato cubes ¼ cup
Salad leaves for garnish
METHOD:
Take all the ingredients in mixing bowl and mix it then add salad leaves in serving plate and add salad over the top and serve it.

Jheenga Fry Recipe in Urdu and English
At Masala TV you can check complete Jheenga Fry Recipe in Urdu and English. This is one of the best recipes by chef Irfan Wasti at Masala TV show Flame On Hai. Check out the other best recipes of chefs Irfan Wasti.
Top relevant recipes of Jheenga Fry Recipe in Urdu