Mong Gosht Recipe | Dawat | Abida Baloch | Desi Food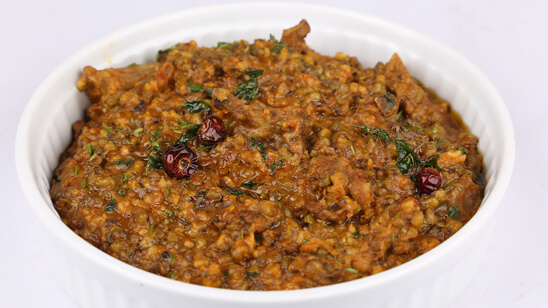 Jul 01, 2022 at 07:39 PM (GMT -04:00)

Check out the Mong Gosht Recipe in Urdu. Learn how to make best Mong Gosht Recipe , cooking at its finest by chef Abida Baloch at Masala TV show Dawat. Check all the Pakistan Cooking recipes in Urdu of Masala TV. Also Check Mong Gosht Recipe , ingredients and complete Method.
Mong Gosht is the Desi dinner dish that will be loved by all. It's simple, elegant and works perfectly for a mid-week dinner dish.
Watch this Masala TV video to learn how to make Moong Gosht and Lauki ka Zarda Recipes. This show of Dawat with Chef Abida Baloch aired on 18 November 2020 .
Ingredients:
Mutton boiled 500 gm
Tomato purees 3
Onion fried 1
Coriander powder 1 tbsp
Cumin roasted and grind 1 tsp
Turmeric ½ tsp
Red chili powder 2 tbsp
Salt 1 tbsp
Mixed whole spices 1 tbsp
Split Green gram 1 cup boiled
Ginger garlic paste 1 tbsp
Whole all spice 1 tsp
Clarified butter 1/4 cup
Ingredients for Tempering:
Clarified butter ¼ cup
Whole red chilies 6 -8
White cumin 1 tsp
Curry leaves 20
Coriander to garnish
Method
heat ghee add whole spices with ginger garlic paste, salt, chili powder, coriander, cumin, turmeric and blended tomatoes, fry well. Add mutton fry well. Add spices, boiled split green gram lentil cook well. Add water as required.
lastly give baghar by heating ¼ cup clarified butter with 6 to 8 red chilies, 1 tsp white cumin curry leaves . pour on lentil and with garnish with chopped coriander& fried onion, serve
Ingredients:
Bottle gourd grated 500 grams
Clarified butter ¼ cup
Nuts to finish
Milk 1 cup
Sugar 1- 1/2 cup
Whole dried milk 1/2 cup
Boiled rice 1 cup
Green cardamoms 2-3
Saffron ¼ tsp
Green food color 1 pinch
Silver wrap to finish
Method:
Boil bottle gourd in milk. Heat clarified butter add cardamom fry well. Add grated bottle gourd sauté for 5 minute. Add sugar and green food color mix well till sugar is dissolved. Add boiled rice in bottle gourd mixture stir continuously till water is dries out. Add saffron with whole dried milk, nut and silver wrap.

Mong Gosht Recipe in Urdu and English
At Masala TV you can check complete Mong Gosht Recipe in Urdu and English. This is one of the best recipes by chef Abida Baloch at Masala TV show Dawat. Check out the other best recipes of chefs Abida Baloch.
Top relevant recipes of Mong Gosht Recipe in Urdu