Mughlai Paratha Recipe | Masala Mornings | Shireen Anwar | Appetizer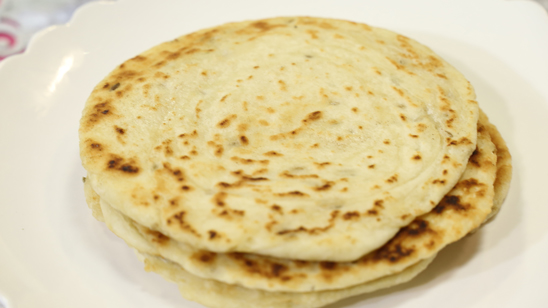 Sep 24, 2023 at 01:55 PM (GMT -04:00)

Check out the Mughlai Paratha Recipe in Urdu. Learn how to make best Mughlai Paratha Recipe , cooking at its finest by chef Shireen Anwar at Masala TV show Masala Mornings. Check all the Pakistan Cooking recipes in Urdu of Masala TV. Also Check Mughlai Paratha Recipe , ingredients and complete Method.
This Mughlai Paratha is crispy on the outside but once you start making bites out of it, it's layers will leave you mesmerized.
Watch this Masala TV video to learn how to make Mughlai Paratha ,Mughlai Kebab And Kebabi Masala Koftay Recipe. This show of Masala Mornings with Chef Shireen Anwar aired on 16 April 2020.
Ingredients:
Flour 3 cups
Lukewarm milk ½ cup
Sugar 1 tbsp
Salt ½ tsp
Yeast 1 tsp heaped
Fennel powdered 1 tsp
Ghee for frying
METHOD:
Mix all together and knead the dough with little water if needed to make a soft dough, cover and leave for 45 mins, knead again, divide the dough into 10 equal parts, shape into balls, roll out into saucer size, spread with ghee and sprinkle flour, roll like swiss roll, again form into a ball, keep aside for 10 mins, roll into paratha, cook on tawa adding 1 tbsp ghee on each paratha, serve with koftay.
Ingredients:
Chicken 1 kg whole
Eggs 3 beaten
Flour 2 tbsp heaped
Bread crumbs 1 cup
Milk ¼ cup
Onion 1 sliced
Ginger garlic 1 tbsp
Green chilies 2
Coriander leaves ½ cup
Allspice 1 ½ tsp
Cumin 1 ½ tsp
Nutmeg ¼ tsp
Mace ¼ tsp
Salt 1 ½ tsp
Chili powder 1 tsp
Yogurt 1 cup
Tomato 1 blanched and blended
Saffron essence ¼ tsp
Almonds 15
Oil for frying
Silver paper as required
Cream ¼ cup
Pistachio sliced for garnishing
METHOD:
Blend together eggs, flour, 2 tbsp bread crumbs, milk and ½ tsp salt, prick the chicken well with fork. Grind the onion, ginger garlic, green chilies and coriander leaves to a very smooth paste, mix with allspice, cumin, nutmeg, mace, chili powder and salt, rub well on the chicken both inside and out, steam cook the chicken till tender about 20 mins, mix together yogurt, tomato puree, saffron, ½ tsp salt rubbing into the steam chicken, keep it aside for 15 mins. Take the chicken out of the marinade and roll it well in bread crumbs, keep aside for 15 mins. Now cover the chicken nicely with the prepared egg batter and deep fry until chicken light golden on slow fire, drain, cool, cover entire chicken with silver warq. Heat curd mixture and put in the cream and grinded almonds and cook till the mixture urns thick, remove from fire and sprinkle a few chopped pistachio on top, serve this with the kebab, these kebabs are eaten by breaking the piece of chicken and dipping into the curd sauce.
Ingredients:
Chicken mince ½ kg chopperised
Ginger garlic 1 tsp heaped
Green chilies 1 tsp grinded
Salt 1 tsp
Allspice ½ tsp
Bread slice soaked in milk
Corn flour 1 tbsp
Egg 1
Ingredients for Gravy:
Coriander roasted & crushed 1 tbsp
Cumin roasted & crushed 1 tsp
Almonds grinded 10
Allspice ½ tsp
Chili powder 2 tsp
Tomatoes blended 3 and sieved
Ginger garlic 1 tsp
Onion chopped ½ cup
METHOD FOR KOFTAY:
Put all the ingredients in chopper,chopperize well, make into balls, shallow fry and keep aside.
METHOD FOR GRAVY:
Heat ¼ cup oil, fry till light golden, add ginger garlic paste with all the rest, fry well till oil comes on top, add koftas, leave on dum, lastly sprinkle chopped coriander leaves, serve with mughlai paratha.

Mughlai Paratha Recipe in Urdu and English
At Masala TV you can check complete Mughlai Paratha Recipe in Urdu and English. This is one of the best recipes by chef Shireen Anwar at Masala TV show Masala Mornings. Check out the other best recipes of chefs Shireen Anwar.
Top relevant recipes of Mughlai Paratha Recipe in Urdu