Mughlai Mutton Stew Recipe | Masala Mornings | Shireen Anwar | Desi Food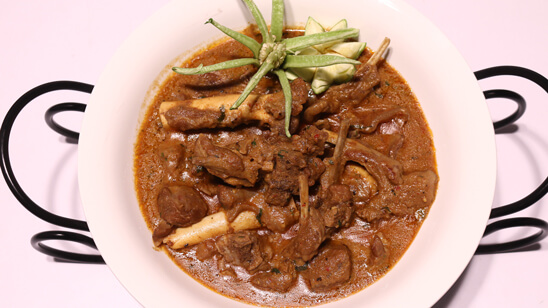 Sep 28, 2023 at 03:48 AM (GMT -04:00)

Check out the Mughlai Mutton Stew Recipe in Urdu. Learn how to make best Mughlai Mutton Stew Recipe , cooking at its finest by chef Shireen Anwar at Masala TV show Masala Mornings. Check all the Pakistan Cooking recipes in Urdu of Masala TV. Also Check Mughlai Mutton Stew Recipe , ingredients and complete Method.
Mughlai Mutton Stew will melt on your tongue and satisfy your Stew cravings like never before. Pair it with hot tandoori naan to double the flavor!
Watch this Masala TV video to learn how to make Mughlai Mutton Stew , Apple Almond Cake  and Qeemay ki qatliyan Recipes. This show of Masala Mornings with Shireen Anwar aired on 25 December 2020.
Ingredients:
Mutton 750 gm
Ghee ½ cup
Oil ¼ cup
Cloves 6 crushed
Pepper corn 6 crushed
Green cardamom 2 crushed
Cinnamon 1 stick crushed
Mace 1 crushed
Bay leaf 1
Onion boiled and blended 1 large
Ginger garlic 2 tbsp heaped
Yogurt ½ cup
Salt 1 ½ tsp
Screw pine essence 1 tbsp
Grind together
Brown onion ½ cup
Red button chilies 8
Cashew nuts 8
Melon seeds 1 tbsp
Poppy seeds 1 tbsp
Method:
Heat ghee and oil in a pressure cooker, when ghee is hot add all the crushed whole spices, bay leaf, boiled onion paste, fry until golden, add ginger garlic paste, fry until onion is brown, keep adding little water, add mutton, fry for 5 mins, add yogurt, salt and grinded masala with 2 cups of water, close pressure cooker and cook until mutton is done. Lastly add kewra , mix well, serve with nan.
Ingredients for cake:
Butter 125 gm
Caster sugar 2/3 cup
Flour 1 cup heaped
Milk 1/3 cup
Eggs 2
Apple essence ¼ tsp
Baking powder 2 tsp
Ingredients for topping:
Grated apple 1
Flaked almonds ¼ cup
Method:
Grease 8 inch round pan, sieve flour and baking powder together, beat butter and sugar until light and fluffy, add in eggs 1 at a time along with essence, beat until mixed, stir in half the sifted flour and half the milk then stir in remaining sifted flour and milk, spread the mixture into the prepared tin, sprinkle with grated apple and flaked almonds, bake on 180 d for 45 mins.
Ingredients:
Mince 750 gm
Ginger garlic 1 tbsp
Turmeric ¼ tsp
Chili powder 1 tsp
Yogurt ½ cup
Salt 1 tsp
water ½ cup
Parathas to serve
Other ingredients:
Eggs boiled and sliced 3
Salt ½ tsp
Black pepper ½ tsp
Oil ¼ cup
More ingredients:
Egg beaten 1
Onion chopped 1 cup
Coriander leaves ½ cup
Green chilies small ones 4 chopped
Melon seeds 1 tbsp fried golden
Almonds sliced 2 tbsp fried golden
bread crumbs ½ cup
Method:
Brush square pan with oil, put mince, ginger garlic, turmeric, chili powder, yogurt and salt with half cup water in a pan, cook until tender and dry, grind to a fine paste, then add all the ingredients in column 2 except the fried nuts, brush square pan with oil, divide mixture into two, spread one mixture on a greased tray, spread with sliced eggs on the mince, spread the remaining mince in a layer to cover the eggs, brush the top of mince with oil, sprinkle fried nuts, bake till golden for 20 mins on 180 d, cut into square, spread with silver warq.

Mughlai Mutton Stew Recipe in Urdu and English
At Masala TV you can check complete Mughlai Mutton Stew Recipe in Urdu and English. This is one of the best recipes by chef Shireen Anwar at Masala TV show Masala Mornings. Check out the other best recipes of chefs Shireen Anwar.
Top relevant recipes of Mughlai Mutton Stew Recipe in Urdu