Patakha Chicken Recipe | Lively Weekends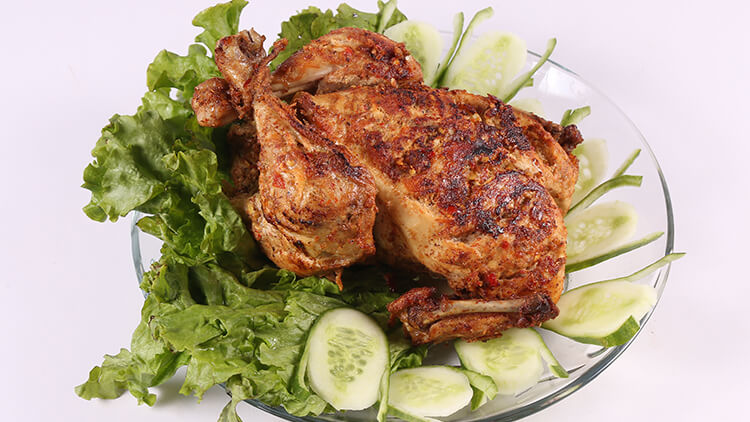 Oct 24, 2021 at 01:26 AM (GMT -04:00)

Check out the Patakha Chicken Recipe in Urdu. Learn how to make best Patakha Chicken Recipe, cooking at its finest by chef at Masala TV show Lively Weekends. Check all the Pakistan Cooking recipes in Urdu of Masala TV. Also Check Patakha Chicken Recipe, ingredients and complete Method.
Rich with flavor, this patakha chicken is well marinated with different spices soaked well till its core. Give it a try!
Watch this Masala TV video to learn how to make Patakha Chicken,Kibbeh, Cookie Cheesecake, Pomegranate Colada and Saucy Chops Recipe. This show of Lively Weekend with Host Kiran Khan aired on 26 October 2019.
Ingredients:
Whole chicken 1
Coriander roasted and crushed 1 tbsp
Cumin roasted and crushed 1 tbsp
Whole red chillies 10-12
Salt to taste
Cardamoms 1/2 tsp
Ginger garlic paste 2 tbsp
Yogurt 1/2 cup
Oil for frying
Ingredients for Dip:
Yogurt 1-1/2 cup
Black pepper powder 1/2 tsp
Chaat masala 1/2 tsp
Green chilli paste 1 -1/2 tsp
Cumin powder 1/2 tsp
Patakha Chicken Method:
Mix all the dry ingredients with yogurt
Marinate the chicken with yogurt (mix with spices)
Steam chicken for 15-20 min then fry until golden
Serve with dip
Dip:
Mix green chilli paste, cumin powder, chaat masala and black pepper powder in yogurt.
Kibbeh Ingredients:
Beef minced ½ kg
Onion finely chopped 1
Ginger and garlic chopped 2 tbsp
Green chillies chopped 4
Coriander leaves as required
Crushed red chilli 1 tsp
Red chilli powder 1 tsp
Nuts 1 cup
Butter ½ cup
Coriander roasted and crushed 1- ½ tsp
Cumin seeds roasted crushed 1 tsp
All spice 1 tsp
Salt as required
Ingredients for Coating:
Beef minced ½ kg
Bulgur wheat soaked 1 cup
Salt to taste
Red chilli powder 1 tsp
Onion finely chopped ½ cup
Ingredients for Peri Peri Sauce:
Thai chilli 6
Whole red chilli 12
Onion 1
Garlic 6 cloves
Vinegar 1/2 cup
Lemon juice 4 tbsp
Black pepper powder 1/4 tsp
Salt 1/2 tsp
Lemon juice 4 tbsp
Oil 1/4 cup
Ingredients for base:
Chocolate cookies 6 half rolls
Butter 4tbsp
Crushed biscuits as required
Method for base
In a pan add the butter and biscuits mixture spread it well and refrigerate
Ingredients for Cream Layers:
Whipping cream 2 cups
Cream cheese 1 cup
Gelatine dissolved 2 tbsp
Hot water 2 tbsp
Cooking chocolate ½ cup
White chocolate ½ cup
Coffee 2 tbsp
Kibbeh Method Filling Preparation:
heat the pan with butter add onion fry till light golden color then add ginger garlic and mince , now add all spices , cook for 10 min
For coating Preparation:
Add 1/4 cup of water to the bulgur wheat in a large bowl (just enough to soak but not to submerge)
Rest the wheat for 10- 15min
Grind the wheat and minced add onion, red chilli powder and salt. Cover the bowl and keep in refrigerator for 20 min
Combine the mixture and make a boll with whole inside and put the filling mixture in it and fry until golden colour.
Crispy kibbeh's is ready serve hot
Peri peri sauce Method :
Soak Thai chilli, whole red chilli, garlic and onion in 2 cup of water for 2 hours
Now boiled the Thai chilli, whole red chilli, garlic and onion for 20 min
Now add the boiled mixture, add vinegar, lemon juice, black pepper powder, salt in a mixture and add oil blend well.
Cookie Cheesecake Method:
Whipped cream well with cheese and divide in 3 equal portions in first portion add melted cooking chocolate. In second portions add coffee. In third portions add white chocolate. Add the gelatine equally in 3 portions. Now add cooking chocolate mixture in a base. Let set for 20 min and then add coffee mixture and set for 20 min. In the end add white chocolate mixture. Refrigerate for 1/2 hour
Cheese cake is ready
Pomegranate Colada Ingredients:
Pomegranate 2
Pineapple juice 1 cup
Coconut milk or cream 1 cup
Cream 4 tbsp
Lemon juice 1 tbsp
Sugar 4 tbsp
White drink 3/4 cup
Saucy Chops Ingredients:
Mutton chops 1 kg
Ginger garlic paste 2 tbsp
Red chilli powder 1 tsp
Salt 1 tsp
All spice powder 1 tsp
Cumin roasted & crushed ½ tsp
Coriander roasted & crushed ½ tsp
Chaat masala ½ tsp
Green chilli chopped 1 tbsp
Lemon juice 2 tbsp
Red chilli crushed ½ tsp
Black pepper crushed 1 tsp
Yogurt 1 – ½ cups
Oil ¾ cup
Onion fried & crushed ½ cup
Pomegranate Colada Method:
Blend pomegranate and strain out the pulp
Then add all ingredients with pomegranate pulp
Pomegranate colada is ready
Saucy Chops Method:
In bowl, add ginger garlic paste, red chilli powder, salt, all spice powder, cumin, coriander seeds, chaat masala, green chilli, lemon juice, red chilli crushed, black pepper crushed, yogurt, oil and mix well.
Add mutton chops mix well and marinate for 2 hours.
In pot add marinated chops and mix well cover and cook until tender (35-40 minutes approx.) or cook until oil separates.
Garnish with fried onion and serve.

Patakha Chicken Recipe in Urdu and English
At Masala TV you can check complete Patakha Chicken Recipe in Urdu and English. This is one of the best recipes by chef at Masala TV show Lively Weekends. Check out the other best recipes of chefs .
Top relevant recipes of Patakha Chicken Recipe in Urdu