Pizza Chicken Platter Recipe | Masala Mornings | Shireen Anwer | 14 Oct 2022 | Masala Tv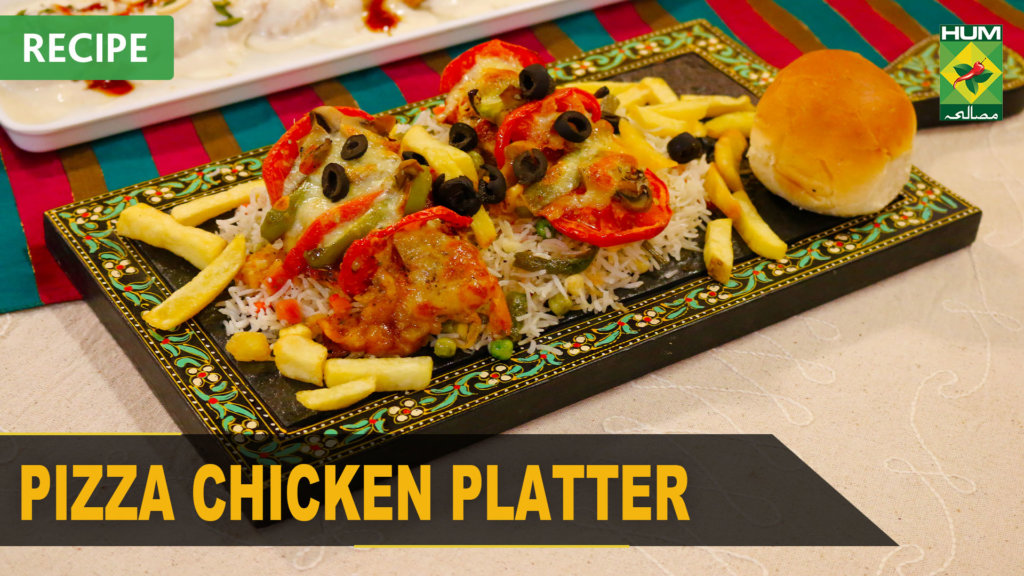 Jan 26, 2023 at 05:58 PM (GMT -05:00)

Check out the Pizza Chicken Platter Recipe in Urdu. Learn how to make best Pizza Chicken Platter Recipe , cooking at its finest by chef Shireen Anwar at Masala TV show Masala Mornings. Check all the Pakistan Cooking recipes in Urdu of Masala TV. Also Check Pizza Chicken Platter Recipe , ingredients and complete Method.
Subscribe To Masala TV Recipes YouTube Channel! https://bit.ly/MasalaTV
The show features the renowned Chef Shireen Anwar who cooks audience-centric South Asian and Continental cuisines for her audience. The chef makes sure to interact with her audience by taking in live-calls during her show and answering queries related to cooking which are often asked by house-wives.
Pizza Chicken Platter Bowl Recipe will help you achieve the perfect combination of flavours. Try out this Amazing recipe!
Ingredients
Servings – 8
INGREDIENTS
Milk 800 ml
Milk powder 60 gm
Superfine sugar 2 tbsp
Corn flour 2 tbsp
Warm milk 70 ml
Cardamom powder 1/4 tsp
White bread slices 8
Oil for frying
Water 500 ml
Sugar 150 gm
Desiccated coconut 2 tbsp
Almonds 2 tbsp
Pistachios 2 tbsp
Desiccated coconut for garnishing
Almonds for garnishing
Pistachios for garnishing
Caramel sauce 2 tbsp
PREPARATION
1. In a heavy skillet, 800 milliliters milk and stir well.
2. Add 60 grams milk powder, 2 tablespoons superfine sugar and stir well.
3. In a bowl, add 2 teaspoons corn flour, 70 milliliters warm milk and mix it well.
4. Pour it in the heavy skillet and mix it well.
5. Add 1/4 teaspoon cardamom powder and cook for 3 – 4 minutes. Keep aside.
6. On a board, place bread slice and cut it into round shape.
7. Heat sufficient oil in a heavy skillet and deep fry these until golden brown and crispy.
8. Remove it from heat and drain it on an absorbent paper.
9. In a pan, add 500 milliliters water, 150 grams sugar and mix it well until sugar dissolve properly. Keep aside.
10. On a plate, place fried bread and pour prepared syrup on it .
11. Add 2 tablespoons desiccated coconut, 2 tablespoons almonds, 2 tablespoons pistachios, prepared milk mixture on it.
12. Garnish with desiccated coconut, almonds and pistachios.
13. Refrigerate for 2 hours.
14. Drizzle some caramel sauce on it.
15. Serve.
INGREDIENTS
Chicken breasts 3
Salt, black pepper to taste
Pizza sauce 1 cup
Sliced mushrooms 4 tbsp
Sliced tomato ½
Olives 4 tbsp
Julienned capsicum 4 tbsp
Oregano 1 tbsp
Red chili flakes 1 tbsp
Mozzarella cheese 1 cup
TO SERVE:
Oil 1 tbsp
Boiled rice 2 cups
Crushed garlic 1 tsp
Frozen mix vegetables 1 cup
French fries for garnish
Small buns for garnish
PREPARATION
• Give cuts onto the chicken breasts. Add in salt and black pepper.
• Add pizza sauce, mushrooms, tomato, olives, capsicums, oregano and red chili flakes.
• Add in mozzarella cheese and bake it in an oven at 170 c for about 20 minutes.
• In a pan heat oil and sauté boiled rice.
• Add in crushed garlic and frozen vegetables. Sauté well.
• In a serving platter, add the rice first.
• Place the baked chicken.
• Serve hot with French fries and small buns.

Pizza Chicken Platter Recipe in Urdu and English
At Masala TV you can check complete Pizza Chicken Platter Recipe in Urdu and English. This is one of the best recipes by chef Shireen Anwar at Masala TV show Masala Mornings. Check out the other best recipes of chefs Shireen Anwar.
Top relevant recipes of Pizza Chicken Platter Recipe in Urdu