Puff Pastry Recipe | Flame On Hai | Irfan Wasti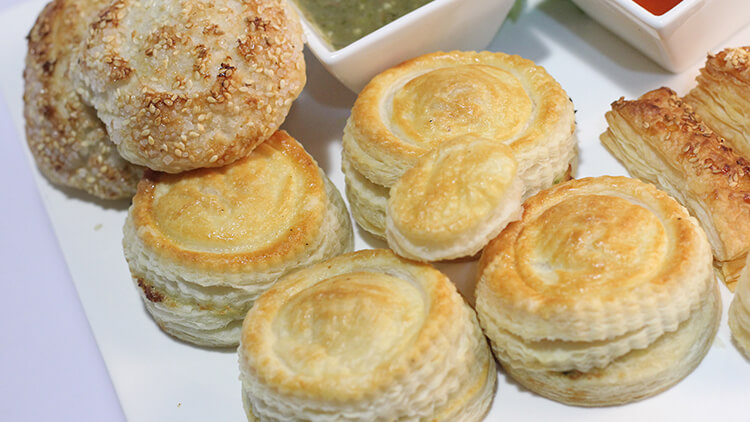 Oct 25, 2020 at 12:30 AM (GMT -04:00)

Check out the Puff Pastry Recipe in Urdu. Learn how to make best Puff Pastry Recipe, cooking at its finest by chef Irfan Wasti at Masala TV show Flame On Hai. Check all the Pakistan Cooking recipes in Urdu of Masala TV. Also Check Puff Pastry Recipe, ingredients and complete Method.
Puff pastry from shop are nice, but why not make one at home? Chef Irfan wasti shows you how to make a puff pastry with just flour, salt, sugar and some margarine. You can make it however buttery you want, try it out!
Watch this Masala TV video to learn how to make Puff Pastry,Lal Chutney,Kharay Biscuits ,Chicken Patties and Bakarkhani Recipes. This show of Flame On Hai with Chef Irfan Wasti aired on 16 November 2019.
Puff Pastry Ingredients:
Flour 1 kg
Sugar 1 tbsp
Salt 1 tbsp
Water 500 ml
Margarine 800 gm
Kharay Biscuits Ingredients:
Puff pastry as required
Egg 1
Puff Pastry Method:
Mix sugar and water in a mixing bowl. Now add flour and knead a hard dough. Let the dough set for 15 minutes. Roll the dough on the kitchen counter top, spread the margarine and fold the dough. Put it aside for 15 minutes. Now roll the dough in a thin layer and fold again. Repeat this process again. Puff pastry is ready to use.
Kharay Biscuits Method:
Roll puff pastry half inch thick and cut in the shape of kharay biscuits. Place the biscuits in a baking tray, egg wash with beaten egg. Bake for 20 to 25 minutes in a preheated oven at 180 degrees centigrade.
Lal Chutney:
Tomato ketchup as required
Sugar as required
Water as required
Corn flour as required
Red food colour a pinch
Green Chutney Ingredients:
Green chilli (small) 4-5
Mint leaves ¼ cup
Coriander leaves ¼ cup
Water 1 cup
Corn flour as required
Salt to taste
Crushed cumin seeds 1 tsp
Black pepper ½ tsp
Green food color few drops
Tamarind pulp ¼ cup
Lal Chutney Method:
Cook tomato ketchup, sugar, water, corn flour, and red food color until thick.
Green Chutney Method:
In a blender, blend small green chillies, mint leaves, coriander leaves, water, salt, Crushed cumin seeds, black pepper, green food colour and tamarind pulp. Cook the blended ingredients in a frying pan until boils. Now add corn flour to thicken the sauce.
Chicken Patties Ingredients for Filling:
Chicken boneless (boiled & shredded) 1 cup
Oil ¼ cup
Onion slices ¼ cup
Ginger & garlic paste 1 tbsp
Green chili paste 1 tbsp
Flour 1 tbsp
Salt to taste
White pepper 1 tsp
Chicken powder 1 tbsp
Chicken stock / Milk 1 cup
Egg 1
Bakarkhani Ingredients:
Puff Pastry as required
Sesame seeds as required
Sugar as required
Chicken PattiesMethod:
Dust the counter with flour and roll the puff pastry in less than half inch thick layer and cut in round shape for the top of patties. Roll rest of the dough in thin layer and cut in the same round size with cutter. Brush a little water on thin parts of the puff pastry. Prepare the patties filling with boiled and shredded chicken, onion slices, ginger and garlic paste, salt, white pepper, chicken powder and chicken stock. Place as required filling on the lower part of the patties and cover with upper thick layer. Beat an egg and brush the top of patties. Bake in an oven, preheated at 180 degrees centigrade for 20-25 minutes.
Bakarkhani  Method:
Roll the puff pastry and brush with a little water. Roll the dough in a cylinder shape and cut in 2-inch long pieces. Mix sesame seeds and sugar in a plate. One by one, press every piece of puff pastry lengthwise on sugar and sesame mixture and place on baking tray. Bake the bakarkhani for 20-25 minutes in a preheated oven at 180 degrees centigrade.

Puff Pastry Recipe in Urdu and English
At Masala TV you can check complete Puff Pastry Recipe in Urdu and English. This is one of the best recipes by chef Irfan Wasti at Masala TV show Flame On Hai. Check out the other best recipes of chefs Irfan Wasti.
Top relevant recipes of Puff Pastry Recipe in Urdu