Rose Milkshake Recipe | Food Diaries | Zarnak Sidhwa | Beverage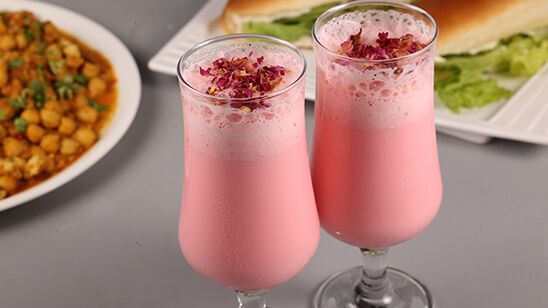 Sep 21, 2023 at 11:52 AM (GMT -04:00)

Check out the Rose Milkshake Recipe in Urdu. Learn how to make best Rose Milkshake Recipe , cooking at its finest by chef Zarnak Sidhwa at Masala TV show Food Diaries. Check all the Pakistan Cooking recipes in Urdu of Masala TV. Also Check Rose Milkshake Recipe , ingredients and complete Method.
Rose Milkshake indulgent masterpiece is one special treat for kids. Perfect your presentation and serve up this chilled drink with their favorite flavor.
Watch this Masala TV video to learn how to make Rose Milk Shake , Chicken Mayonnaise Rolls and Chawal Choley Recipes. This show of Food Diaries with Chef Zarnak Sidhwa aired on 3 May 2021.
Ingredients:
Milk ½ liter
Red syrup ½ cup
Basil seeds 1 tsp
Ice as required
Rose leaves 1 tbsp
Rose water as required
Method:
Basil seeds soaked in water. after this in a blender all ingredients add and blend it. finally add chia seeds and pour in glass and serve.
Ingredients:
Chicken ¼ kg
Ginger-garlic paste 1 tsp
Salt to taste
Black pepper to taste
Lettuce leaves as required
Mayonnaise as required
Bread slice as required
Method:
Boil chicken with 1 tsp ginger-garlic paste, salt n pepper. Once cooked, shred the chicken. Keep the shredded chicken in fridge to cool. Wash and shred lettuce and spin in a salad spinner so it dries quickly and then put in fridge to retain crispness. For assemble the rolls, mix enough mayo with the shredded chicken to give a spreading consistency. Slice the bread rolls through the center; be careful not to split them separate. Spread some mayonnaise on both sides of the roll. On one side spread the chicken-mayo mixture and the shredded lettuce on the other. Close the roll and serve.
Ingredients:
Chickpeas 2 cups
Oil as required
Onion blended 1
Tomatoes 3 blended
Ginger garlic paste 1 tbsp
Salt to taste
Red chili powder 1 tbsp
Crushed cumin 1 tsp
Red chili flakes 1 tsp
Turmeric 1 tsp
Coriander powder 1 tsp
Green chilies 2-3
Yogurt 1/2 cup
Boiled red lentils 1/2 cup
All spice 1/2 tsp
Black pepper 1 tsp
Tamarind pulp 2 tbsp
Baking soda 1 tsp
Ingredients for Chicken:
Chicken breasts 2
Garlic 2 cloves
Green chilies 2
Salt ½ tsp
Black pepper ½ tsp
Boiled rice to serve
Method:
Soak chickpeas with baking soda overnight. Next day wash and boil chickpeas with water. Reserve the stock for later use. Heat 2 tbsp. oil in a pan then add blended onion and tomatoes. Cook until water dries out. Add oil, ginger garlic paste, salt, red chili powder, cumin powder, coriander powder, red chili flakes, turmeric, green chilies, yogurt and cook for a minute. Add boiled chickpeas, boiled red lentils and mix it well. Add chickpea stock and cook. Add Black pepper, garam masala, tamarind pulp and mix well. In another pan, boil water, add chicken, garlic cloves, green chili, salt, black pepper and cook chicken until gets tender. Shred the chicken. Add into the chickpea mixture. Serve hot with boiled rice.

Rose Milkshake Recipe in Urdu and English
At Masala TV you can check complete Rose Milkshake Recipe in Urdu and English. This is one of the best recipes by chef Zarnak Sidhwa at Masala TV show Food Diaries. Check out the other best recipes of chefs Zarnak Sidhwa.
Top relevant recipes of Rose Milkshake Recipe in Urdu