Rose Qalalqand Kheer Recipe | Lazzat | Masala TV | Samina Jalil | Dessert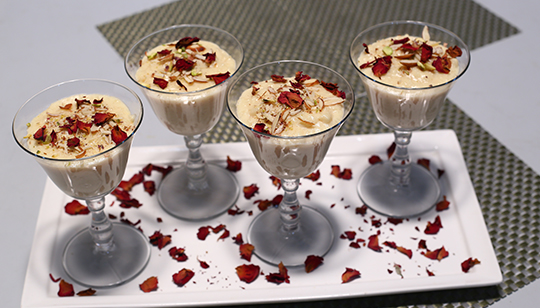 Sep 28, 2023 at 02:54 AM (GMT -04:00)

Check out the Rose Qalalqand Kheer Recipe in Urdu. Learn how to make best Rose Qalalqand Kheer Recipe , cooking at its finest by chef Samina Jalil at Masala TV show Lazzat. Check all the Pakistan Cooking recipes in Urdu of Masala TV. Also Check Rose Qalalqand Kheer Recipe , ingredients and complete Method.
Start your weekend on a sweeter note with this divine tasting Rose Qalalqand Kheer. Trust us, it's finger licking good!
Watch this Masala TV video to learn how to make Rose Qalalqand Kheer, Nauratan Qeema and Boondi Kachumar Raita Recipes. This show of Lazzat with Chef Samina Jalil aired on 2 September 2021.
Ingredients for kheer:
Milk 1 liter
Qalaqand ¾ cup
Boiled rice ¾ cup
Rose water ½ cup
Sugar as required
Rose leaves for garnishing
Pistachios for garnishing
Method:
In milk add rice and cook till rice cook and mix well .then add Qalaqand,sugar and rose water and cook till Qalalqand mix .when kheer gets thickened dish out and garnish with pistachios and rose leaves and serve .
Ingredients:
Mince (chicken) 250 gm
Mince (beef) 500 gm
Brain (mutton) 2
Ginger Garlic Paste 2 tbsp
Fried Onion ½ cup
Yogurt ¾ cup
Cream 6 tbsp
Cheddar Cheese 6tbsp
Almond Powder 1 tbsp
Cumin Seeds Powder 1 tbsp
Salt 1-1/2 tsp
Red chili Powder 1 tbsp
Green Chili Paste 1 tbsp
All spice Powder 1 tsp
Papaya Paste 1-1/2 tbsp
Nutmeg, Mace Powder ½ tsp
Clarified butter ¾ cup
Turmeric ½ tsp
Butter 4 tbsp
Fenugreek Leaves as required
Finely Chopped Ginger for garnish
Green Chilies, Coriander Leaves for garnish
Coal 1 piece
Method:
In a pan, add water,brain, turmeric and boil.
Now in a chicken mince add beef mince, salt, ginger garlic paste, papaya paste, red chili powder, turmeric, fried onion, cumin seeds powder, all spice powder, nutmeg, mace powder, clarified butter and leave it 4 to 5 hours. Then heat clarified butter add marinated mince and fry.
Now add almond powder, cream, cheddar cheese, butter, red chili powder and fry well. Add boiled brain and mix. After this, add fenugreek leaves and let it simmer for few minutes.
Then give coal steam.In the end, take it out in a dish garnish with onion, ginger, green chilies , coriander leaves and serve.
Ingredients:
Boondi ½ cup
Yogurt 250gm
Tomatoes 1
Onion 4tbsp
Coriander, green chilies 2tbsp
Salt as required
Cumin ¾ tsp
Red chili ¾ tsp
Garlic 1tsp
Turmeric 2pinches
Curry leaves 3-4
Oil as required
Method:
Soak boondis in water , when it gets soft so remove it from water . now in yogurt add salt . now add onion, tomatoes, coriander , green chilies and cumin , now heat oil in a pan add curry leaves and garlic fry well . Then add turmeric and red chili , lastly add this batter on bondis and serve .

Rose Qalalqand Kheer Recipe in Urdu and English
At Masala TV you can check complete Rose Qalalqand Kheer Recipe in Urdu and English. This is one of the best recipes by chef Samina Jalil at Masala TV show Lazzat. Check out the other best recipes of chefs Samina Jalil.
Top relevant recipes of Rose Qalalqand Kheer Recipe in Urdu