Shinwari Karahi Recipe | Dawat | Abida Baloch | Desi Food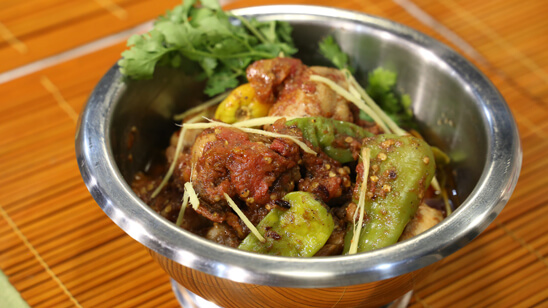 Nov 28, 2021 at 09:13 AM (GMT -05:00)

Check out the Shinwari Karahi Recipe in Urdu. Learn how to make best Shinwari Karahi Recipe , cooking at its finest by chef Abida Baloch at Masala TV show Dawat. Check all the Pakistan Cooking recipes in Urdu of Masala TV. Also Check Shinwari Karahi Recipe , ingredients and complete Method.
Shinwari Karahi will blow away your mind! It's so delicious that won't be able to stop yourself if you have it once.
Watch this Masala TV video to learn how to make Shinwari Karahi and Moussaka Recipes. This show of Tarka with Chef Rida Aftab aired on 21 August 2020.
Ingredients:
Chicken ½ kg
Garlic paste 1 tbsp
All spice powder 1 tsp
Oil ½ Cup
Tomatoes (peeled) 500 gm
Salt 1 tsp
Crushed black pepper 1 tsp
Green chilies 7-8
Ginger julienne as required
Fresh coriander as required
Method:
Fry chicken in oil. Then remove tomato skin and cut in half. Now add tomatoes and garlic and cook well. Add salt and black pepper. When meat gets tender then adds all spice powder, ginger, green chilies, coriander and cook then serve.
INGREDIENTS FOR EGGPLANT:
Eggplant thick slices 1/2 kg
Salt 1 tsp
Olive oil 2 – 3 tbsp
FOR THE FILLING:
Olive oil 4 tbsp
Onion, diced 1
Garlic 3 cloves, minced
Ground beef 300gm
Crushed tomatoes 1 cup
Tomato paste 3 tbsp
Beef broth 1 cup
Bay leaves 2
Sugar 1 ½ tsp
Dried oregano 2 tsp
Cinnamon 1/2 tsp
Salt and paper
BECHAMEL SAUCE:
Butter 4 tbsp
Plain flour 3 tbsp
Milk 2 cups
Nutmeg, freshly grated 1/4 tsp
Pepper 1 tsp
FOR THE TOPPING:
METHOD:
Preheat oven to 240C
Place eggplant on parchment paper lined trays brush with oil and sprinkle salt on
Bake 15 – 20 minutes
FOR MEAT FILLING:
Heat olive oil in a large pot add garlic and onion, sauté for 2 minutes. Add the beef and cook until it changes from pink to brown, Add remaining ingredients and stir to combine. Bring to a simmer, then lower heat to medium low and cook for 15 minutes, or until reduced to a thick sauce.
FOR BECHAMEL SAUCE:
Melt butter in a pan over medium heat. Add flour and cook for 1 minute, stirring constantly slowly add the milk. Then stir regularly for 3 to 5 minutes or until it thickens Remove from the stove and whisk in cheese, nutmeg, salt and pepper.
TO ASSEMBLE:
Place half the eggplant in the bottom of a baking dish then top with all the Filling.
Top with remaining eggplant, then pour over the Béchamel Sauce, sprinkle with breadcrumbs.
Bake for 30 – 40 minutes or until golden brown.

Shinwari Karahi Recipe in Urdu and English
At Masala TV you can check complete Shinwari Karahi Recipe in Urdu and English. This is one of the best recipes by chef Abida Baloch at Masala TV show Dawat. Check out the other best recipes of chefs Abida Baloch.
Top relevant recipes of Shinwari Karahi Recipe in Urdu