Sindhi Daal Kadhi Recipe | Food Diaries | Zarnak Sidhwa | Desi Food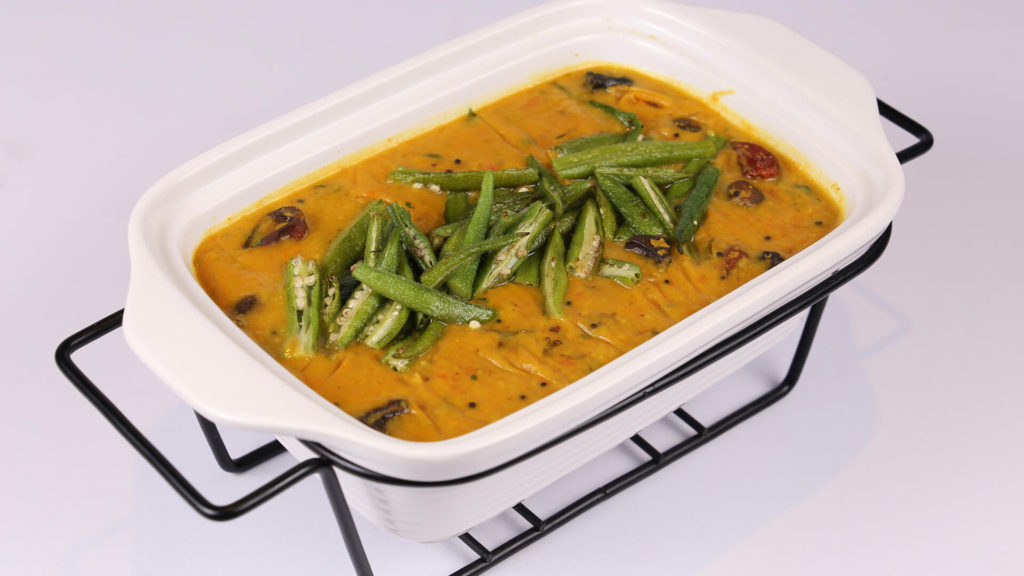 Feb 03, 2023 at 12:31 PM (GMT -05:00)

Check out the Sindhi Daal Kadhi Recipe in Urdu. Learn how to make best Sindhi Daal Kadhi Recipe, cooking at its finest by chef Zarnak Sidhwa at Masala TV show Food Diaries. Check all the Pakistan Cooking recipes in Urdu of Masala TV. Also Check Sindhi Daal Kadhi Recipe, ingredients and complete Method.
This Sindhi Daal Kadhi is a must try. The perfect combination of spices and so flavourful! Follow this recipe step by step to obtain the desired taste.
Watch this Masala TV video to learn how to make Sindhi Daal Kadhi and Gujrati Golpapri Recipes. This show of Tarka with Chef Rida Aftab aired on 2 January 2020.
Ingredients:
Split red gram (arhar daal) 1 cup
Tomato 1
Okra split lengthwise 1 cup
Oil 2tbsp
Fenugreek seeds 1tsp
Mustard seeds 1tsp
Dry red chilies 2
Curry leaves 10
Gram flour 2tbsp
red chili powder 1tsp
Tamarind paste 1tbsp
turmeric powder 1tsp
jaggery powdered 1tbsp
Salt to taste
Method :
Wash and soak the arhar daal overnight. Cook in a pressure cooker along with tomatoes and enough water to completely submerge the daal. Blend the daal till smooth. Heat 1 tablespoon oil. Add the slit okras and saute until they become crisp. Set aside. In the same pan heat the remaining oil. Add mustard seeds, fenugreek seeds, curry leaves and red chillies sauté and then add the gramflour, lightly roast the gramflour. Add a cup of water while continuously whisking, making sure that there are no lumps. Add the puréed daal to it and allow to simmer gently, then add the tamarind paste, jaggery and bring the sindhi daal kadhi to a boil and then allow it to simmer for a couple of minutes. Lastly, add the cooked okra and serve.
Ingredients:
Whole wheat flour 1 cup
Clarified butter ¼ cup
jaggery ground ¼ cup
Almonds finely sliced as required
Cardamom powder ground 1tsp
Coconut desiccated 1tbsp
Method :
Melt the ghee and add the wheat flour and cardamom powder, stirring constantly till it turns golden brown and releases the roasted aroma. This process takes about 10 minutes on medium heat. Turn off the heat and add the jaggery and coconut and stir well, so the jaggery melts quickly in the heat into the wheat flour. As soon as the jaggery melts, and the mixture is still warm, pour the mixture into a greased tin and spread it evenly with a 3/4th inch thickness. Sprinkle the sliced almonds and cut into diamond/square shapes while it is still warm. Set the golpapdi aside and allow it to sit untouched. After about an hour, once it has cooled, crisp golpapdi is ready.

Sindhi Daal Kadhi Recipe in Urdu and English
At Masala TV you can check complete Sindhi Daal Kadhi Recipe in Urdu and English. This is one of the best recipes by chef Zarnak Sidhwa at Masala TV show Food Diaries. Check out the other best recipes of chefs Zarnak Sidhwa.
Top relevant recipes of Sindhi Daal Kadhi Recipe in Urdu