Spinach Pancakes Recipe | Food Diaries | Zarnak Sidhwa | Hawaiian Food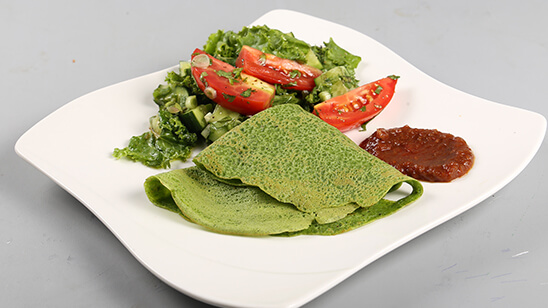 Feb 07, 2023 at 12:46 AM (GMT -05:00)

Check out the Spinach Pancakes Recipe in Urdu. Learn how to make best Spinach Pancakes Recipe , cooking at its finest by chef Zarnak Sidhwa at Masala TV show Food Diaries. Check all the Pakistan Cooking recipes in Urdu of Masala TV. Also Check Spinach Pancakes Recipe , ingredients and complete Method.
Spinach Pancakes are all you need at the lunch table to fulfil all your cravings. Try it out!
Watch this Masala TV video to learn how to make Spinach Pancakes and Tomato Chutney Recipes. This show of Dawat with Chef Abida Baloch aired on 7 April 2021.
Ingredients:
Salad:
tomatoes cut in wedges 2
Salad leaves Few
cucumber diced 1
spring onions 2
coriander ½ bunch
lemon 1
extra-virgin olive oil 2 tbsp
Salt and pepper as required
For Pancakes:
Spinach 100 gm
Egg 1
Flour 1 cup
Baking powder 1 tsp
Milk 1 cup
olive oil to brush
For topping:
cottage cheese 300 grams
hot chilli sauce as required
Method:
For the salad, mix the tomato wedges with extra-virgin olive oil, spring onions, coriander leaves, salad leaves, cucumber, lemon juice, salt and pepper and set aside to chill. For the pancakes, add the egg in a blender with the flour, milk, spinach, salt and pepper, then blitz until smooth. Brush a pancake pan with little olive oil, then pour in a thin layer of batter, swirling it up and around the edges. Cook on one side only for 2 minutes, or until lightly golden, then stack up on a plate with greaseproof paper in between so they don't stick and repeat. Top each pancake with dollops of cottage cheese and drizzle chilli sauce on it. Serve open or wrapped in a semicircle or triangle. Put the salad on the side. A large tablespoon of the tomato chutney goes well with the spinach pancakes.
Ingredients:
Onion chopped 1
Tomatoes chopped 750 g
Apples with skin chopped 2
Garlic chopped 4 cloves
Brown sugar 125 g
Ground ginger 1 tsp
All spice powder ½ tsp
Ground cloves ¼ tsp
Cider vinegar 250 ml
Method:
Put chopped tomatoes, chopped onion, chopped apples, and chopped garlic cloves in a large pan with brown sugar. Add ground ginger, allspice powder and ground cloves and stir in cider vinegar. Heat gently stirring until the sugar has dissolved. Bring to a gentle boil and cook uncovered for about 1½ hours until the chutney has reduced and thickened. Stir often to prevent the mixture from burning on the base of the pan. When the chutney is ready, you will be able to draw a spoon through the mixture and it will leave a trail. Spoon into sterilized jars and seal, once the jars are cold, place in the fridge for about 3 weeks before eating for the flavor to mature.

Spinach Pancakes Recipe in Urdu and English
At Masala TV you can check complete Spinach Pancakes Recipe in Urdu and English. This is one of the best recipes by chef Zarnak Sidhwa at Masala TV show Food Diaries. Check out the other best recipes of chefs Zarnak Sidhwa.
Top relevant recipes of Spinach Pancakes Recipe in Urdu