Vegetable Casserole Recipe | Food Diaries | Zarnak Sidhwa | Dessert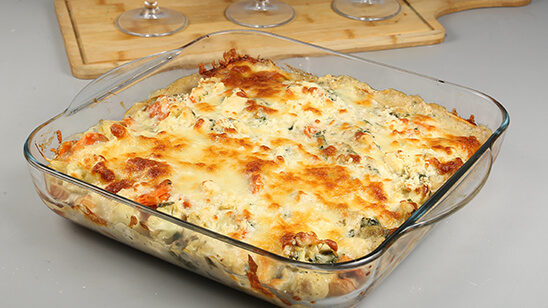 Mar 23, 2023 at 02:08 PM (GMT -04:00)

Check out the Vegetable Casserole Recipe in Urdu. Learn how to make best Vegetable Casserole Recipe , cooking at its finest by chef Zarnak Sidhwa at Masala TV show Food Diaries. Check all the Pakistan Cooking recipes in Urdu of Masala TV. Also Check Vegetable Casserole Recipe , ingredients and complete Method.
Vegetable Casserole is the perfect blend of vegetable and spices, with a delicious sauce. Try out this recipe and let us know.
Watch this Masala TV video to learn how to make Vegetable Casserole , Ice Lollies and Coffee Pudding Recipes. This show of Food Diaries with Chef Zarnak Sidhwa aired on 24 May 2021.
Ingredients:
Bread slices (toasted) 4
Spring onions 4
Garlic (chopped) 4 cloves
Mushrooms 200 gm
Cauliflower 1 small (florets separated)
Carrots (sliced) 2
Spinach (chopped) 20 leaves
Italian seasoning 2 tbsp
Butter 2 tbsp
Cheddar cheese 1/4 cup
Mozzarella cheese 1/4 cup
For White Sauce:
Flour 1 tbsp
Butter 2 tbsp
Milk 1 cup
Cream 4 tbsp
Pepper 1 tbsp
Salt 1 tsp
Nutmeg a pinch
Method:
Heat butter in a pan and add flour, sauté, add milk and stir continuously. Add cream, salt, pepper and nutmeg, set aside. In boiling water blanch carrots and cauliflower florets for just two minutes. Drain water and refresh vegetables immediately in iced water. After 5 minutes drain water and keep vegetables aside. Heat butter, add spring onions and garlic, sauté. Add mushrooms and spinach and cook till spinach wilts down. Add the blanched cauliflower and carrots. Sprinkle Italian seasoning fold in white sauce. Put butter on the toasts. Line the toasts at the bottom of a greased pyrex dish.
Pour over the vegetable mixture and with the help of a spoon spread it evenly over the toasts.
Mix both the cheese and sprinkle over vegetables. Bake at 180 degrees C for 10-15 minutes till cheese melts and is golden on top.
Ingredients:
Red syrup 2 tbsp
Basil seeds 2 tbsp
Water as required
Sugar 1 tbsp
Lemon juice 1 tbsp
Method:
Soak the basil seeds in a cup of water. Add red syrup to the soaked basil seeds after 30 minutes. Add lemon juice and sugar if required. Fill in the popsicle moulds and freeze for an hour. Serve frozen.
Ingredients for Vanilla Pudding:
Milk 2 cups
Dry milk powder 2 tbsp
Sugar ½ cup
Sea salt ¼ tsp
Egg yolks 2
Corn flour 3 tbsp
Vanilla essence 2 tsp
Unsalted butter 2 tbsp
For Dalgona Coffee Topping:
Coffee 5 tbsp
Caster sugar 5 tbsp
Boiling water 5 tbsp
Method for Vanilla pudding:
Whisk the egg yolks, corn flour and ¼ cup of the milk to form a smooth paste. Set aside.
In a saucepan, heat the rest of the milk, milk powder, sugar and salt. Take about ½ cup of the hot milk and slowly pour it into the egg yolk mixture, while whisking the egg yolk mixture constantly. Here you're only adding enough milk to warm the egg yolk mixture. Add the warmed egg yolk mixture back into the saucepan with the hot milk. Heat the pudding mixture while whisking constantly until it starts to thicken. Remove the pudding from the heat and add the vanilla essence and butter. Whisk until the butter completely mixes in with the pudding. Transfer the pudding into a bowl and cover the surface directly with plastic wrap, to prevent a skin from forming. Let it chill in the fridge for a few hours.
For the Dalgona coffee topping, place the coffee and sugar in a tall container to avoid splashing. Add the hot water and stir to dissolve. Using a hand mixer (with a whisk attachment), start whipping the coffee mixture. It will slowly become paler in color and thicker in consistency. Whisk until the coffee has a soft peaky consistency
Remove the plastic wrap from the chilled vanilla pudding, and whisk it until smooth and creamy. Spoon into individual bowls or glasses and top with dalgona coffee topping and serve immediately.

Vegetable Casserole Recipe in Urdu and English
At Masala TV you can check complete Vegetable Casserole Recipe in Urdu and English. This is one of the best recipes by chef Zarnak Sidhwa at Masala TV show Food Diaries. Check out the other best recipes of chefs Zarnak Sidhwa.
Top relevant recipes of Vegetable Casserole Recipe in Urdu