Zafrani Chaanp Pulao Recipe | Masala Mornings | Masala TV | Shireen Anwar | Desi Food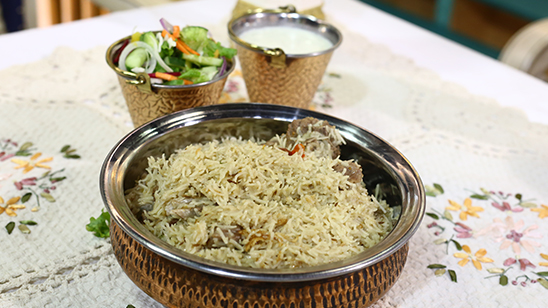 Dec 09, 2023 at 01:13 PM (GMT -05:00)

Check out the Zafrani Chaanp Pulao Recipe in Urdu. Learn how to make best Zafrani Chaanp Pulao Recipe , cooking at its finest by chef Shireen Anwar at Masala TV show Masala Mornings. Check all the Pakistan Cooking recipes in Urdu of Masala TV. Also Check Zafrani Chaanp Pulao Recipe , ingredients and complete Method.
Zafrani Chaanp Pulao has an enchanting aroma that will make you want to have it even before it is fully cooked. This is a perfect dish to serve on family dinners to receive praise from everyone.
Watch this Masala TV video to learn how to make Zafrani Chaanp Pulao , Makhani kofta karahi and Three milk cake Recipes. This show of Masala Mornings with Chef Shireen Anwar aired on 30 July 2021.
Ingredients:
Mutton chops 750 gm
Soaked rice 750 gm
Ingredients for stock:
Cinnamon sticks 2
Fennel seeds 2 tbsp
Coriander seeds 2 tbsp
Black cardamom 2
Small cardamom 4
White cumin seeds 1 tbsp
Black pepper whole 1 tsp
Water 6 glasses
Garlic cloves 8
Ginger 2 inch
Button red chilies 10
Ingredients for pulao:
Oil ½ cup
Ginger garlic paste 1 tbsp
Yogurt ½ cup
Green chilies chopped 6
Cumin seeds 1 tbsp
Nutmeg ground ¼ tsp
Mace ground ¼ tsp
Green cardamom ground ½ tsp
Salt 2 tsp
Saffron soaked in milk ½ tsp
Fried onion 1 cup
Black pepper powder ½ tsp
Brown spice mixture to taste
Fennel roasted & grinded 1 tsp
Coriander seeds ground 1 tbsp
Cumin seeds ground 1 tsp
Method:
Put all the ingredients under stock in a muslin and make a potli, put that potli in a pan with water, ginger garlic chopped, button red chilies, and chops, cover and cook till chops tender, strain the stock, keep aside, remove the chops, discard the potli. Heat oil in a pan, add chops, ginger garlic paste, chopped green chilies, fennel seeds, cumin seeds, fry for a min, add yogurt, salt, add the grounded spice mix, add in stock about 4 cups, let it come to a boil, add soaked rice, cover and cook till water nearly dries, add the dissolved saffron with milk, pour over the rice, add chopped coriander, fried onions, cover and leave it on dum for 20 mins.
Ingredients for kofta:
Mince ½ kg
Ginger garlic paste 1 tsp
Bread slices soaked in milk 2
Cream 2 tbsp
Poppy seeds grinded 2 tbsp
Desiccated coconut grinded 2 tbsp
Allspice 1 tsp
Salt 1 tsp
Almonds grounded 1 tbsp
Onion finely chopped 1 cup
Green chili grinded 6
Ingredients for karahi masala:
Clarified butter ¼ cup
Oil ¼ cup
Ginger garlic paste 1 tbsp
Tomatoes chopperised 4
Crushed red pepper 1 tbsp
Black pepper 1 tsp
Dried fenugreek 1 tsp
Roasted & crushed cumin 1 tbsp
Roasted and crushed coriander 1 tbsp
Large green chilies 4
Butter 2 ounce
Cream ¼ cup
Salt 1 tsp
Karahi masala 2 tbsp
Method :
for kofta Put beef mince, ginger garlic paste, soaked bread, cream and all the spices in a chopper and grind until smooth, make into balls, deep fry, keep aside. Heat oil and ghee in a wok, add ginger garlic paste, chopperised tomatoes, fry well, add whole chilies, butter and cream, finally add all the dry spices, karahi masala, add in the fried koftas, top with coriander leaves, ginger julienne, 1 ounce of butter on top, serve in karahi with nan.
Ingredients for cake:
Eggs 5
Sugar 5 ounce
Vanilla essence 1 tsp
Flour 5 ounce
Oil ¼ cup
Ingredients for milk mixture:
Condensed milk 1 cup
Evaporated milk 1 cup
Fresh milk 1 cup
Tetra pack cream ½ cup
Vanilla essence few drops
Ingredients for topping:
Whipped cream 1 ½ cup
Biscuit spread ¾ cup
Oil ¼ cup
biscuits 4-6 for decoration
Method for cake:
Beat egg, sugar and essence for about 10 mins till double in volume. Now lower the speed of your beater, fold in the flour and oil, put the batter in the prepared cake tin, bake in a pre-heated oven on 180 d for 15 – 18 mins, remove the sponge on a pyrex dish and freeze for few hours, now mix together all the ingredients for milk mixture. In another bowl mix together the lotus spread and oil for topping. Now start poking the cake from all the sides and top with a toothpick and start pouring three milk mixture over it, cake should be completely soaked with milk mixture, cool in the fridge for few hours, frost the cake with whipped cream, finally pour the lotus glaze on top of the cake, use a spatula to spread it evenly all around, sprinkle crushed lotus biscuits all around the cake, let it chill overnight and decorate with whole lotus biscuit.

Zafrani Chaanp Pulao Recipe in Urdu and English
At Masala TV you can check complete Zafrani Chaanp Pulao Recipe in Urdu and English. This is one of the best recipes by chef Shireen Anwar at Masala TV show Masala Mornings. Check out the other best recipes of chefs Shireen Anwar.
Top relevant recipes of Zafrani Chaanp Pulao Recipe in Urdu