Achari Arvi Recipe | Tarka | Rida Aftab | Desi Food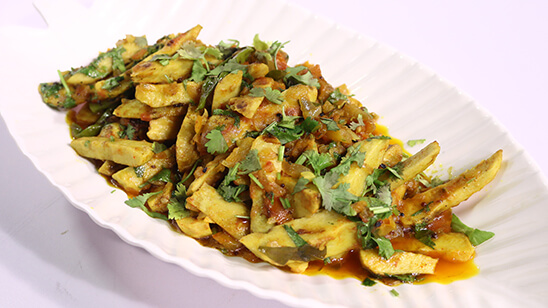 Sep 28, 2023 at 03:14 AM (GMT -04:00)

Check out the Achari Arvi Recipe in Urdu. Learn how to make best Achari Arvi Recipe , cooking at its finest by chef Rida Aftab at Masala TV show Tarka. Check all the Pakistan Cooking recipes in Urdu of Masala TV. Also Check Achari Arvi Recipe , ingredients and complete Method.
Achari Arvi is a unique desi recipe which we all need to try to get some change of taste.
Watch this Masala TV video to learn how to make Achari Arvi , Chicken Kasturi and Saffron Rice Recipes. This show of Tarka with Chef Rida Aftab aired on 7 October 2020.
Ingredients:
Taro root 1/2 kg
Oil ½ cup
Onions (sliced) 2
Tomatoes 2
Curry leaves 6
Mustard seeds 1 tsp
Nigella seeds 1/2 tsp
Fennel seeds 1/2 tsp
Fenugreek seeds 1 tsp
Red chili powder 2 tsp
Turmeric powder 1 tsp
Garlic 1 tsp
Salt to taste
Butter 1 tsp
Green chilies 6
Fresh coriander for garnish
Method:
Cut taro root and fry it well. Then remove and set aside. Now heat oil and butter add mustard seeds, nigella seeds, fennel seeds, fenugreek seeds and curry leaves. Fry well. Then add sliced onions and sauté well. Now add red chili powder, turmeric powder, garlic and salt. Cook well. Then add tomatoes and fried taro root. Cook properly. Lastly add green chilies and garnish with fresh coriander. Serve hot.
Ingredients:
Chicken (without bones) 1/2 kg
Oil 4 tbsp
Ginger garlic paste 1 tbsp
All spice powder 1 tsp
Lemon juice 4 tbsp
Black pepper 1 tsp
White pepper 1/2 tsp
Milk 4 tbsp
Saffron 1/2 tsp
Salt 1 tsp
Butter 50 gm
Red chili flakes 1 tsp
Cumin (roasted) 1 tsp
Pistachio (grinded) 2 tbsp
Cheddar cheese 1 cup
Method:
In a bowl add chicken, black pepper, white pepper, ginger garlic paste, red chili flakes, grinded pistachio, salt, all spice powder, lemon juice and butter. Then in the milk and dissolve saffron. Now add this mixture in the chicken mixture and marinate it well for about half an hour. Then heat oil in a wok and cook chicken for about 20 minutes. Once the water becomes dry place the chicken onto the oven proof dish and add cheddar cheese on top. Bake it in an oven for about 5 minutes. Lastly remove and serve hot.
Ingredients:
Boiled rice 1/2 kg
Coconut (grinded) 1/2 cup
Saffron 1/2 tsp
Salt 1 tsp
Coconut milk 1 cup
Black pepper 1 tsp
Cumin 1 tsp
Fresh coriander 1/2 bunch
Garlic (chopped) 1 tsp
Green onions 1 cup
Oil 4 tbsp
Method:
Heat oil in a pan and fry the garlic. Then add cumin, salt and boiled rice. Mix well. Now add grinded coconut, green onions and black pepper. Mix well. Then in the coconut milk dissolve saffron and add to the rice mixture. Cover and cook for about 5 more minutes. Lastly place it in a serving platter and sprinkle fresh coriander. Serve hot.

Achari Arvi Recipe in Urdu and English
At Masala TV you can check complete Achari Arvi Recipe in Urdu and English. This is one of the best recipes by chef Rida Aftab at Masala TV show Tarka. Check out the other best recipes of chefs Rida Aftab.
Top relevant recipes of Achari Arvi Recipe in Urdu