Bengali Chicken Roast Recipe | Lazzat | Masala TV | Samina Jalil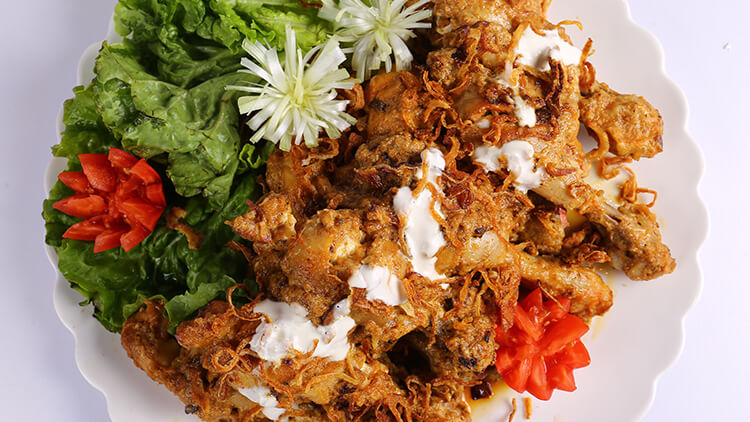 Sep 24, 2023 at 04:41 PM (GMT -04:00)

Check out the Bengali Chicken Roast Recipe in Urdu. Learn how to make best Bengali Chicken Roast Recipe, cooking at its finest by chef Samina Jalil at Masala TV show Lazzat. Check all the Pakistan Cooking recipes in Urdu of Masala TV. Also Check Bengali Chicken Roast Recipe, ingredients and complete Method.
Bengali Chicken Roast will have you screaming, it's THAT good! Not your regular roast but something better. Give it a try!
Watch this Masala TV video to learn how to make Bengali Chicken Roast,Methi Matar Malai and Bajray Ka Halwa Recipes. This show of Lazzat with Chef Samina Jalil aired on 29 November 2019.
Ingredients:
Boiled peas 2 cups
Fenugreek leaves ¾ cup
Cream ½ cup
Butter 2 tbsp
Fenugreek 2 pinches
Salt as required
All spice powder ½ tsp
Cumin powder ½ tsp
Turmeric 2 pinches
Ingredients for Masala:
Onion 1
Cashew 6-7
Green chilies 3-4
Ginger 1 piece
Cardamoms 2 (small)
Butter 2 tbsp
Method:
To prepare masala, heat butter and fry onion. Add green chilies, ginger, cashew and cardamom, cook well. Add ½ cup of water blend well. Heat butter in a separate pan add all spice, turmeric, salt and cumin cook well. Add boiled peas and fenugreek leaves mix well. Add ½ cup of water, cream, all spice and fenugreek cook till becomes thicken. Dish out and serve immediately.
Ingredients:
Chicken tikka pieces 4
Fried onion ½ cup
Ginger garlic paste 1 tbsp
Onion grinded 4 tbsp
Cream ½ cup
All spice powder 1 tsp
Nutmeg, mace powder ½ tsp
Red chili powder 1 tbsp
Mustard oil 4 tbsp
Clarified butter 2 tbsp
Salt to taste
Turmeric ¼ tsp
Yogurt 4 tbsp
White pepper powder 1 tsp
White cumin powder 1 tsp
Method:
Cut on chicken pieces add salt, red chili powder and turmeric marinate for 2 to 3 hour. Heat oil fry chicken on high flame. Add ginger garlic paste, onion grinded, salt, chili ,turmeric, white pepper powder and yogurt mix well. Add fried chicken, all spice powder, mace nutmeg powder and cumin powder. After that add ½ cup of water cook chicken done. Add cream cook for 5 minute more. Dish out and garnish with fried onion, serve.
Ingredients:
Pearl millet flour ¾ cup
Whole wheat flour ½ cup
Semolina 2 tbsp
Clarified butter ¾ cup
Sugar 1 cup
Green cardamom powder ½ tsp
Chopped almonds, pistachio as required
Cashew nuts 6-7
Raisins 2 tbsp
Rose leaves dried 2 tbsp
Whole dried milk ½ cup
Milk 1 cup
Silver paper 1
Method:
Heat clarified butter fry semolina. Add pearl millet flour and whole wheat flour roast slightly. add sugar, when it mix add milk and cook. After that add whole dried milk cook well. Add cardamom and half nuts. Dish out and add remaining nuts. Garnish with rose leaves. serve

Bengali Chicken Roast Recipe in Urdu and English
At Masala TV you can check complete Bengali Chicken Roast Recipe in Urdu and English. This is one of the best recipes by chef Samina Jalil at Masala TV show Lazzat. Check out the other best recipes of chefs Samina Jalil.
Top relevant recipes of Bengali Chicken Roast Recipe in Urdu