Bengali Fish Fry Recipe | Food Diaries | Zarnak Sidhwa | Bengali Food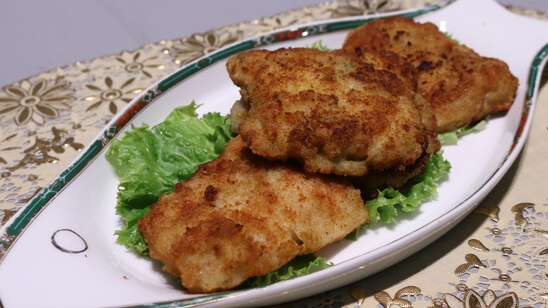 Nov 28, 2022 at 01:16 PM (GMT -05:00)

Check out the Bengali Fish Fry Recipe in Urdu. Learn how to make best Bengali Fish Fry Recipe , cooking at its finest by chef Zarnak Sidhwa at Masala TV show Food Diaries. Check all the Pakistan Cooking recipes in Urdu of Masala TV. Also Check Bengali Fish Fry Recipe , ingredients and complete Method.
Bengali Fish Fry will make your day. You'll absolutely love this Bengali style of fried fish.
Watch this Masala TV video to learn how to make Bengali Fish Fry And Strawberry Pistachio Parfait Recipes. This show of Food Diaries with Chef Zarnak Sidhwa aired on 2 March 2021.
Ingredients:
Fish fillets 2
Green chilies 2
Small onion 1
Garlic cloves 3
Ginger 1 inch ka piece
Salt 1 tsp
Egg 1
Flour 100gm
Bread crumbs as required
Oil 2-3 tbsp
Method:
In a blender puree the onion, green chilies, ginger, garlic and salt. Marinate fish with it. Dip each side of it into the flour patting to coat evenly so no onion mixture is exposed. Then the egg and finally the breadcrumbs. Fry in hot oil, until you have golden brown and crisp fish fillets. You may also grill the fish.
Ingredients:
For the purée:
Strawberries 500g
For the sabayon:
Egg yolks 6
caster sugar 100g
For the meringue:
Caster sugar 125g
Egg whites 2
For the parfait:
Oil for greasing
Cream 300ml
Pistachios chopped, 100g
Pistachios powdered 200g
Strawberries 100g
Method:
Grease a loaf tin with oil, then line with baking parchment. To make the purée, blitz the strawberries in a blender, then pass through a fine sieve into a saucepan. Gently reduce the purée on a low heat until the color has intensified and the purée has reduced to about 200ml. Remove from the heat and leave to cool. Beat the egg yolks and sugar in a glass bowl over a pan of simmering water for 10 minutes until the eggs are pale, thick and doubled in volume. Next, put the sugar in a saucepan with 2 tbsp water and heat until the syrup reaches 120C on a thermometer. Whisk the egg whites simultaneously. Once the sugar has reached 120 degrees C, carefully pour onto the egg whites and whisk until the whites are cool. In another bowl, whisk the cream until it has soft peaks. Add the purée and chopped pistachios, then fold in the yolks. Once combined, fold in half the whites. Add the strawberries with the remaining whites, gently fold together, then pour into the lined loaf tin. Put in the freezer overnight. The next day, remove the parfait from the tin. Cover it completely in the blitzed pistachios, freeze for a while and serve sliced.

Bengali Fish Fry Recipe in Urdu and English
At Masala TV you can check complete Bengali Fish Fry Recipe in Urdu and English. This is one of the best recipes by chef Zarnak Sidhwa at Masala TV show Food Diaries. Check out the other best recipes of chefs Zarnak Sidhwa.
Top relevant recipes of Bengali Fish Fry Recipe in Urdu