Bihari Kabab Recipe | Dawat | Abida Baloch | Desi Food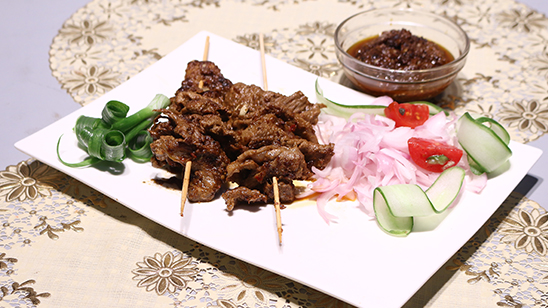 Jun 19, 2021 at 05:34 PM (GMT -04:00)

Check out the Bihari Kabab Recipe in Urdu. Learn how to make best Bihari Kabab Recipe , cooking at its finest by chef Abida Baloch at Masala TV show Dawat. Check all the Pakistan Cooking recipes in Urdu of Masala TV. Also Check Bihari Kabab Recipe , ingredients and complete Method.
Bihari Kabab are just irresistible. These are soft, spicy and pair beautifully with a fresh Naan and some Chutney.
Watch this Masala TV video to learn how to make Bihari Kabab , Chocolate Cake and Pasta Salad Recipes. This show of Dawat with Chef Abida Baloch aired on 9 March 2021.
Ingredients:
Beef strips flattened 500 gm
Mustard oil 1/4 cup
Onion (fried & grinded) 1
Green cardamom 2
Bay leaves 2
Coriander seeds 1 tsp
White cumin 1 tsp
Poppy seeds 1 tsp
Red chilies 4-5
Mace powder 1/4 tsp
Nutmeg powder 1/4 tsp
Salt 1 tsp
Red chili powder 1 tsp
Paprika powder 1 tsp
All spice powder 1 tsp
Papaya paste 1 tbsp
Yogurt 1/4 cup
Ginger garlic paste 1 tbsp
Method:
Heat a pan. Add green cardamom, bay leaves, poppy seeds, coriander seeds, white cumin, black cumin and red button chilies. Roast these for 1-2 mins and Grind till they turn into a powder. IN this powder, further add all the remaining Ingredients. IN the beef strips, add this mixture and the mustard oil. Mix well and leave to marinate for 2-4 hours. Take a metal or wooden skewer. Take a strip of beef and start threading it into your skewer. Barbecue these kababs on a grill or pan-frying in a pan. Garnish with fresh coriander, lemon wedges and onion slices.
Ingredients:
Flour 1 ½ cup
Caster sugar ½ cup
Brown sugar ¼ cup
Baking powder 1 ½ tsp
Baking soda 1 tsp
Cocoa powder 1 tsp
Salt ¼ tsp
Vanilla essence 1 tsp
Oil 1/3 cup
Milk 1/3 cup
Eggs 2
Cooking chocolate ½ cup
Method:
Preheat oven on 180 c. Then grease the mold with oil. Now in a bowl add flour, salt, baking powder and baking soda. Sieve and mix well. Then in another bowl add eggs, oil, sugar, brown sugar and vanilla essence. Beat well. Now in the flour add eggs mixture and fold it properly. Then add milk and mix well until the batter is well light and smooth. Now add cooking chocolate chunks. Then pour the batter onto the greased mold and bake it for about 35-40 minutes.
Ingredients:
Pasta boiled 1 packet
Bell pepper sliced 1 cup
Cucumber sliced 1 cup
Cherry tomatoes 1 cup
Scallions sliced 1/2 cup
Mixed olives 1/2 cup
Grated cottage cheese 1 cup
For Dressing:
Vinegar 2 tbsp
Salt to taste
Black pepper to taste
Oregano 1 tsp
Olive oil 1/4 cup
Parsley or Basil 1 /4 cup
Method:
Mix all ingredients of dressing.
Mix all ingredients of salad, then add dressing mix well & serve.

Bihari Kabab Recipe in Urdu and English
At Masala TV you can check complete Bihari Kabab Recipe in Urdu and English. This is one of the best recipes by chef Abida Baloch at Masala TV show Dawat. Check out the other best recipes of chefs Abida Baloch.
Top relevant recipes of Bihari Kabab Recipe in Urdu