Chicken aur Aalu Paratha Recipe | Masala Mornings | Shireen Anwar | Desi Food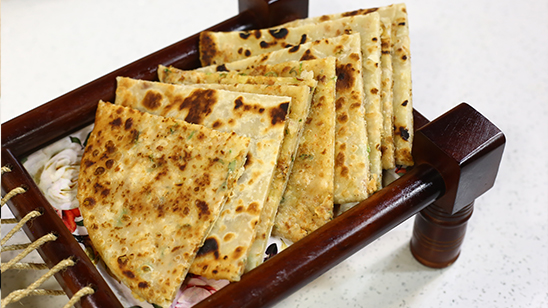 Jul 04, 2022 at 02:18 AM (GMT -04:00)

Check out the Chicken aur Aalu Paratha Recipe in Urdu. Learn how to make best Chicken aur Aalu Paratha Recipe , cooking at its finest by chef Shireen Anwar at Masala TV show Masala Mornings. Check all the Pakistan Cooking recipes in Urdu of Masala TV. Also Check Chicken aur Aalu Paratha Recipe , ingredients and complete Method.
Eat parathas like never before! This recipe of Chicken aur Aalu Paratha is absolutely mouth-watering. Make it at home and enjoy your meal.
Watch this Masala TV video to learn how to make Chicken aur Aalu Paratha , Italian Potato Omelette and Shikanjbeen Recipes. This show of Masala Mornings with Chef Shireen Anwar aired on 10 August 2021.
Ingredients:
Flour 3cups
Salt 1 tsp
Oil 2 tbsp
Water to knead
Ingredients for filling:
Chicken minced 200 gm
Potato boiled and mashed 2
Brown onion 2 tbsp
Ginger garlic 1 tbsp
Salt 1 tsp
Red chili powder 1 tsp
All spice 1 tsp
Coriander leaves 2 tbsp
Green chilies 2 to 3 chopped
Oil 2 tbsp
Method:
Heat oil, fry chopped onion till soft, add ginger garlic, salt, chili powder with ¼ cup water, add chicken mince, cover and cook till done, mix in potatoes with coriander leaves, green chilies and allspice, mix well and keep aside.
Method for paratha:
Sieve together flours with salt, oil, knead into a medium dough with water, make balls, flatten them , on 1 flattened ball spread filling, cover with another flattened ball, roll it, put it to cook on tawa adding ghee until light golden on both sides.
Ingredients:
Grated & soaked potatoes 2
Eggs beaten 4
Coriander leaves chopped 1 tbsp
Parsley finely chopped 1 tbsp
Black pepper ½ tsp
Salt ½ tsp
Oil ¼ cup
Cheese slices 4
Mushrooms finely chopped 4 tbsp
Crushed red pepper 1 tsp
Method:
Peel and grate potatoes, put in salted water, before using drain off excess water from potatoes. Beat eggs well, add in it coriander leaves, parsley, black pepper, salt, crushed red pepper, take a non stick fry pan, keep on low flame, add ¼ cup oil, add half quantity squeezed drained grated potatoes evenly to cover the base of pan, after it pour over the eggs mixture, cook on medium flame covered on low flame for about 8 mins, until the bottom is crispy and top is almost set, add 2 sliced cheese, and now add the remaining squeezed grated potatoes on it, spread nicely and on it sprinkle little salt and black pepper, again cover and cook for another 10 mins, close the flame, flip it over onto a plate, now cook on the other side for another 5 mins until the omelette is set. Serve with toasted bread.
Ingredients:
Lemon juice ¼ cup
Ispaghol 2tbsp
Lemon juice powder 2 tbsp
Crushed ice 1 cup
Mint leaves 20
Sugar 2 tbsp
Water 1 ½ cup
Method:
Blend all till smooth.

Chicken aur Aalu Paratha Recipe in Urdu and English
At Masala TV you can check complete Chicken aur Aalu Paratha Recipe in Urdu and English. This is one of the best recipes by chef Shireen Anwar at Masala TV show Masala Mornings. Check out the other best recipes of chefs Shireen Anwar.
Top relevant recipes of Chicken aur Aalu Paratha Recipe in Urdu