Chicken Handi Recipe | Dawat | Abida Baloch | Desi Food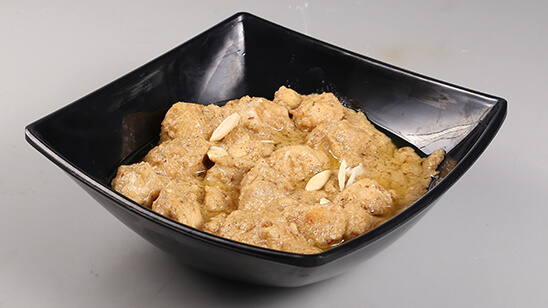 Mar 21, 2023 at 03:05 AM (GMT -04:00)

Check out the Chicken Handi Recipe in Urdu. Learn how to make best Chicken Handi Recipe , cooking at its finest by chef Abida Baloch at Masala TV show Dawat. Check all the Pakistan Cooking recipes in Urdu of Masala TV. Also Check Chicken Handi Recipe , ingredients and complete Method.
This delicious combination of Chicken Handi will have you licking your fingers! Not only does this dish sound tempting but it is also a treat to have!
Watch this Masala TV video to learn how to make Chicken Handi and Chicken Club Sandwich Recipes. This show of Dawat with Chef Abida Baloch aired on 19 May 2020.
Ingredients:
Chicken boneless ½ kg
Boiled onion ½ cup
Oil ½ cup
Yogurt 1 cup
Garlic paste ½ tsp
Ginger paste ½ tsp
Salt 1 tsp
White pepper 1 tsp
Cumin seeds powder ½ tsp
whole spice ½ tsp
Green cardamom powder ½ tsp
Lemon juice 2 tbsp
Saffron few threads
Cashew nuts paste 2 tbsp
Cream ½ cup
Butter 50 gm
Almonds for garnish
Roasted Cashew for garnish
Method:
In a small bowl add 2 tbsp. hot water and leave Saffron for 5 minutes in it for best aroma and color. In another bowl, mix yogurt with garlic paste, ginger paste, salt, green cardamom powder, garam masala powder, lemon juice, white pepper, cumin seeds powder, saffron & add chicken cubes in it. Marinate for 30 minutes.
In cooking pan, heat oil on medium flame. Add boiled onion paste. Cook for 3 to 4 min. Add marinated chicken and cook until oil is getting separated. Add cashew nuts paste and cook for another few minutes. Add cream and mix well. When gravy is thick and ready to serve. Add butter and turn the heat off. In serving dish set and garnish with roasted cashews and almond and serve
Ingredients:
Shredded chicken 1 cup
Yogurt 1 cup
Salt 11/2-2 tsp
Chili powder 1 tbsp
Ginger garlic 1 tbsp
Orange color ½ tbsp
Mayonnaise 4-5 tbsp
Oil 4-5 tbsp
Cheese as required
Bread as required
Lettuce as required
Jalapenos as required
Mushrooms as required
Eggs 2
Salt to taste
Black pepper ½ tsp
Method:
In a pan heat oil and add egg ,salt ,black pepper ,jalapenos and mushroom add then make omelet and set aside .put oil in pan then add ginger garlic and fry until it gets brown. Then cut boneless chicken into cubes and fry it for 5 minutes. Now add salt, chili powder, orange color and mix well. Now beat yogurt into separate bowl then add in the pan and mix it with all the ingredients. Then put the stove on a low flame and wait until the yogurt's water gets dry then turn off the flame and let it cool down. Now cut the sides off the bread and spread the mayonnaise on it then place the omelet on the bread and add a slice of bread on the top then again spread the chicken paste then add a slice of cheese and a slice of bread. Now cut the sandwich diagonally

Chicken Handi Recipe in Urdu and English
At Masala TV you can check complete Chicken Handi Recipe in Urdu and English. This is one of the best recipes by chef Abida Baloch at Masala TV show Dawat. Check out the other best recipes of chefs Abida Baloch.
Top relevant recipes of Chicken Handi Recipe in Urdu